I'm sure I'm not alone in this, but I always find myself with those last 2 or 3 bananas from a bunch that NO ONE wants to eat! Now, I admit I love a good banana bread like any good southern girl, but you can really only handle so many carbs and there is
no way
I'm leaving my oven on that long in this blistering heat!
In the past, we've frozen chunks of bananas for smoothies and used them in
yummy (and healthy) banana ice cream
. I also used a bunch for
homemade baby food
, but now that Baby C has moved on to table food, I found myself scrounging for easy ways to use up these ripening bananas that my children keep thumbing their noses at.
This week, we made these amazingly easy and delicious banana cookies! The kids loved them! The baby loved them! And, I may have had 2 (or 3) myself. Best of all these cookies only require 3 ingredients!
All you'll need is:
2 medium ripe bananas, mashed
1 cup old-fashioned oats
1/4 cup chocolate chips
Preheat oven to 350°F. Spray a cookie sheet with nonstick cooking spray.
Mix the mashed bananas and oats in a bowl.
Fold in the chocolate chips.
Drop mixture by spoonfuls on the cookie sheet. Bake for 12-15 minutes.
This mix makes about a dozen, delicious cookies!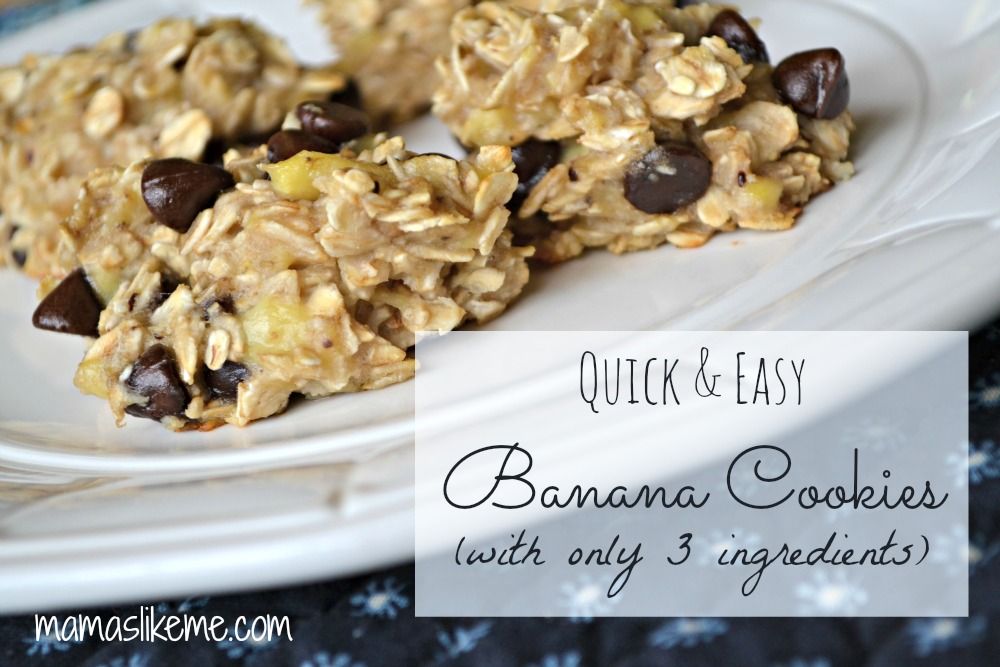 And, if you're looking for more delicious ways to use those bananas, try out some of these recipes:
Chunky Monkey Muffins
Chocolate Chip Banana Bread
Banana Ice Cream
Oatmeal Banana Chocolate Chip Cookies
Frozen Chocolate Covered Bananas
Healthy Apple Banana Oat Muffins
Thanks for stopping by! I'd love to hear from you in the comments and have you join us back again!
Want more ideas for spending time with your kids? Be sure to follow us on our NEW
Facebook
or
Pinterest
pages and
sign up for emails
to keep up with all the latest crafts, activities, and kid-friendly recipes!