We just returned from our first family trip to Disney World. While we were there, we got a TON of compliments about the kids' matching Mickey shirts and our coordinating family shirts. One guy even stopped my husband to ask him where we had purchased our shirts.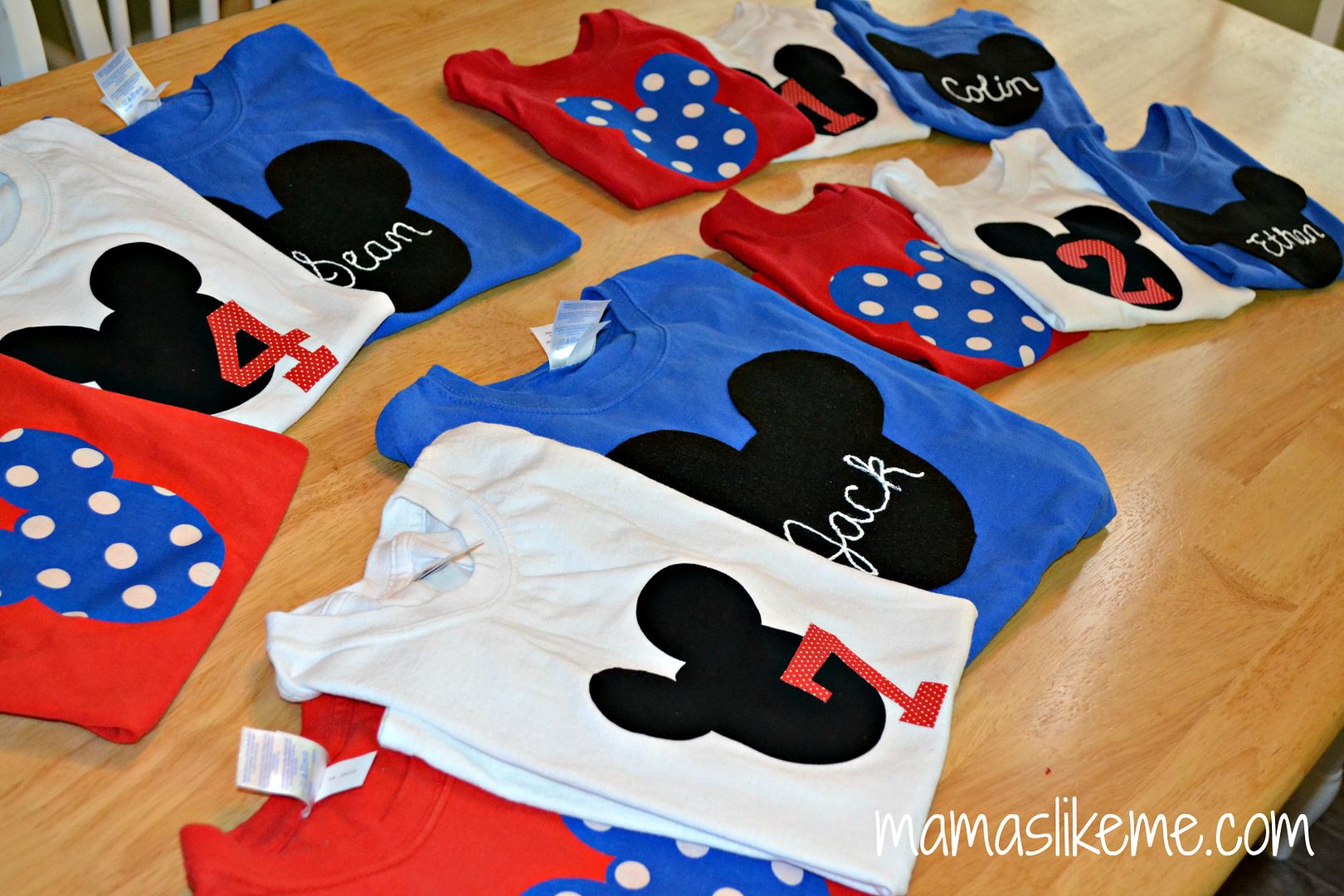 As flattering as all the compliments were, I feel the need to let everyone in on my secret...I don't sew! And, I'm pretty cheap frugal, so I just couldn't bring myself to purchase several personalized Disney shirts for my kids at $20/each.
I made three different shirts for each of the boys. The first two used iron-ons from a cute etsy shop called
Maggie's Castle
. The blue polka-dot Mickeys worked the best. These have been washed a few times and still look brand new. They came in a whole variety of colors and styles.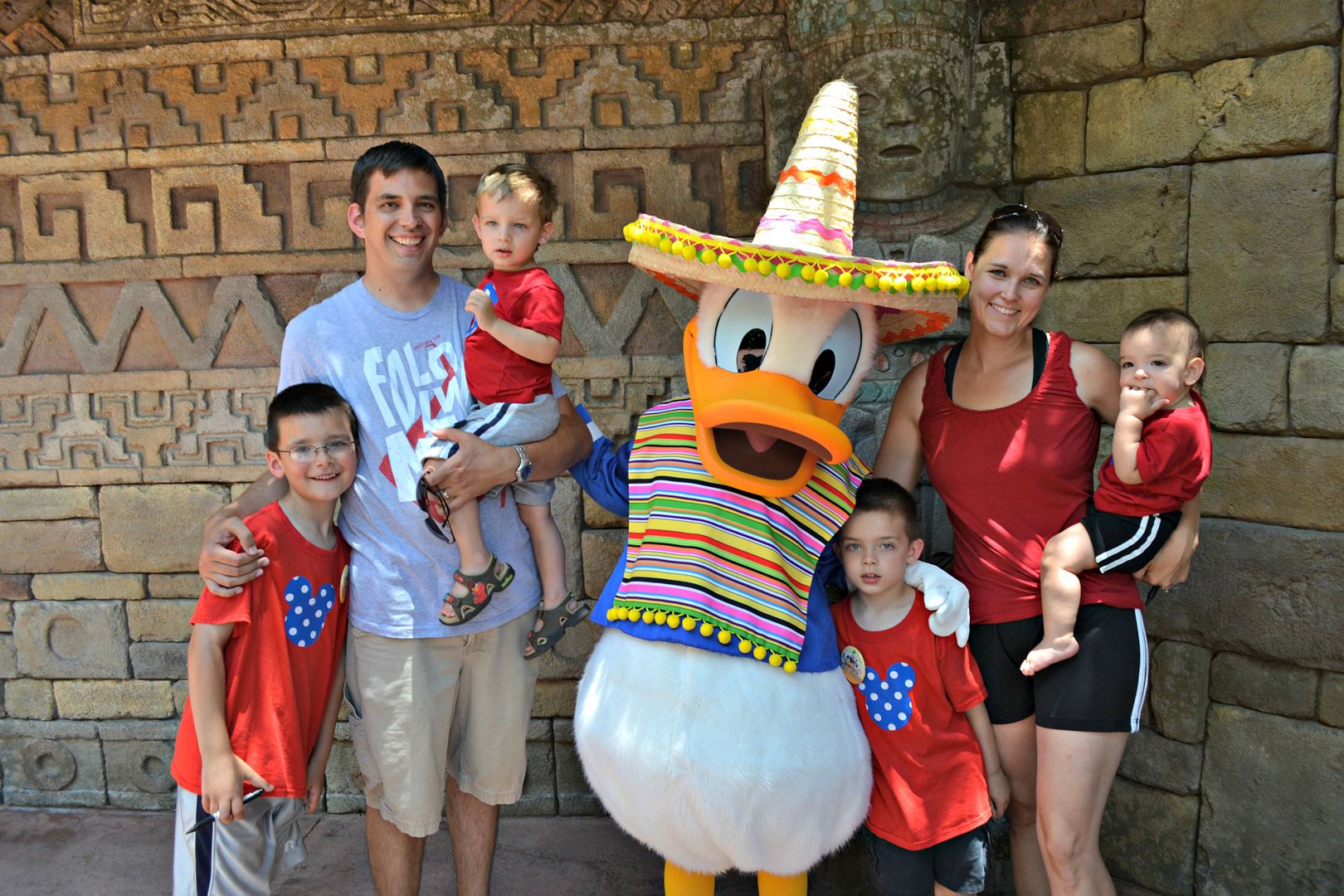 The other iron-on shirts were A-DORABLE! We got matching
shirts with numbers
for the boys for each of their ages. I finished the baby's shirt for his
Mickey Mouse 1st Birthday Party
. Then, I got the coordinating iron-ons for the
Mom
and
Dad
shirts. These looked perfect the first time we wore them, but as soon as they were washed the numbers started to peel. I think the problem was putting another image on top of the iron-on. I was able to fix them with some fabric glue. If you do sew, you could run a quick stitch around the edges to keep them in place, as well. I can't tell you the number of people that stopped us to tell us how much they loved the shirts and have asked me how I did them...well, here you go! Secret revealed! I spent about $5 total for each of the kids' shirts and our shirts were $4 plus the cost of the iron-ons.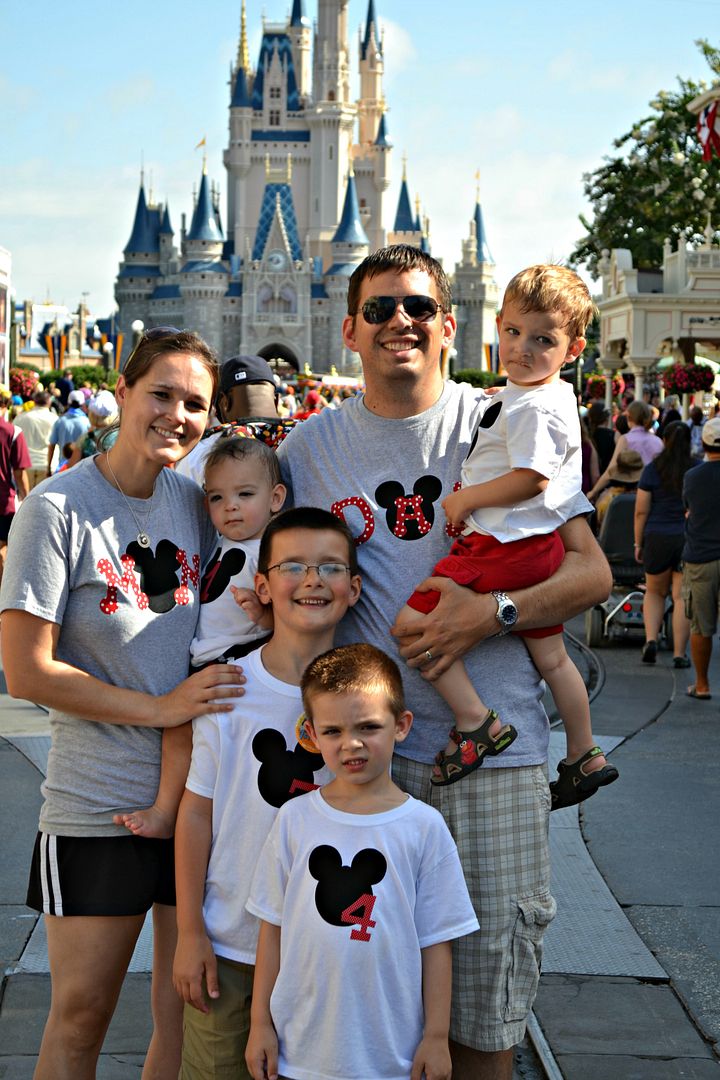 Our third shirts were the ones I made for my son's goodie bags for his
Mickey party
. We got the shirts on sale at Michael's for $2/each.
I made the Mickey Mouse heads out of black felt using bowls and cups for circle templates. Once I made the template on construction paper, I used chalk to trace them on the black felt. (Here's a handy shot of me tracing the Mickeys. I'm not actually left-handed, but I wanted a hand in the picture for you.)
I wrote each of the kid's names in chalk and then traced them in white fabric paint.
Then, I used fabric glue to attach them. At first, I was afraid that the glue would show through so I only used a thin line around the edge. The boys were able to pull them off, so I added a lot more glue and was happy to see that the glue didn't show through. They've been washed now a few times and the glue is still holding strong and the shirts look great!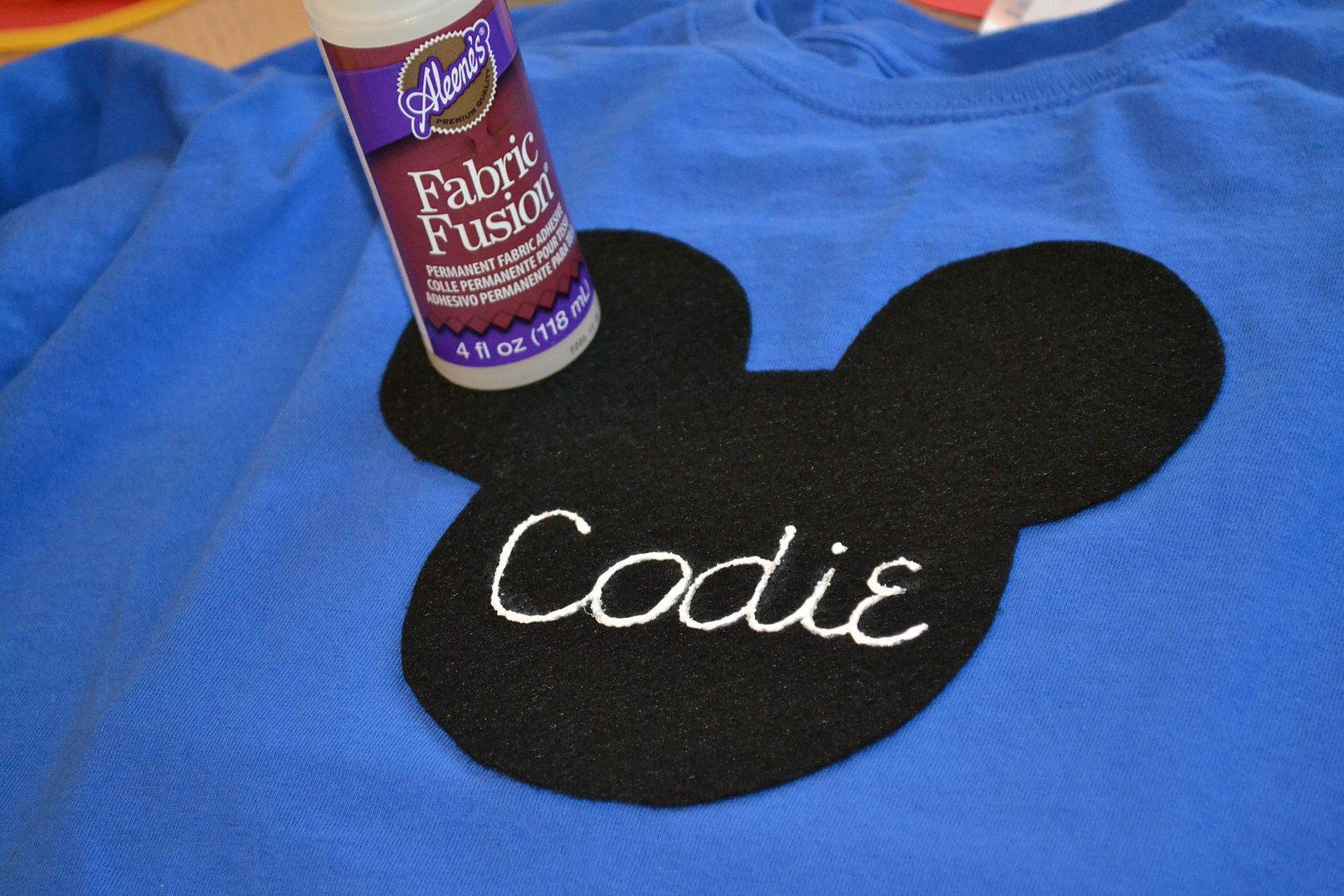 For the Minnie shirts, I added a ribbon bow with the fabric glue. I don't have a "Minnie" of my own so I'm not sure if those stayed on or now. I know a lot of sites recommend using a safety pin to keep them attached and then removing the bows before washing. If your bows begin to fray, a thin coat of clear nail polish will seal the edges right up!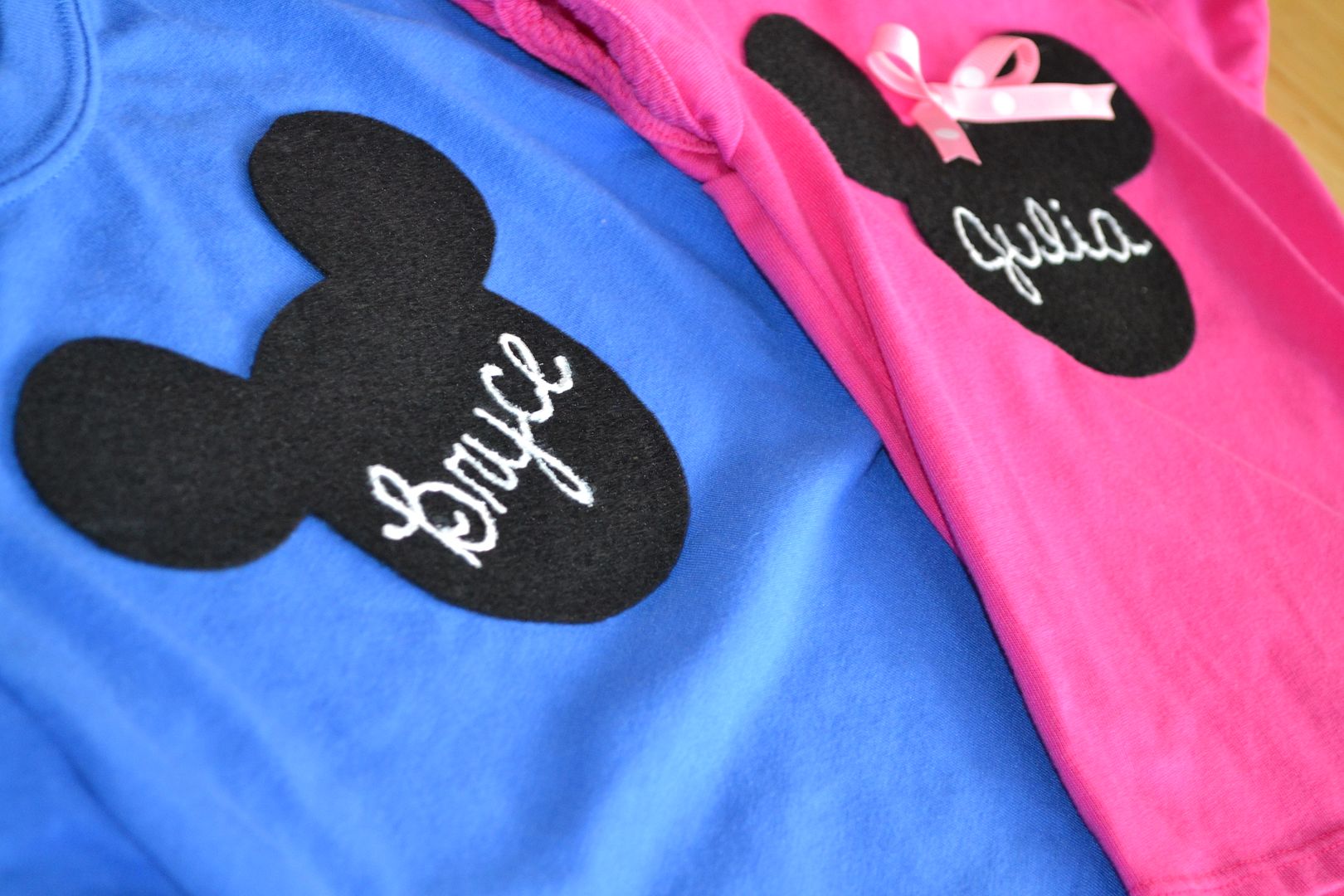 These shirts were great at Disney because all of the cast members will say hello to your child by name if they are wearing something with their name on it. It also came in handy for character pictures because the photographers would call the babies by name to get them to look in the direction of the camera. Be careful, though, because my oldest son wasn't thrilled with all these strangers calling him by name. Oops!!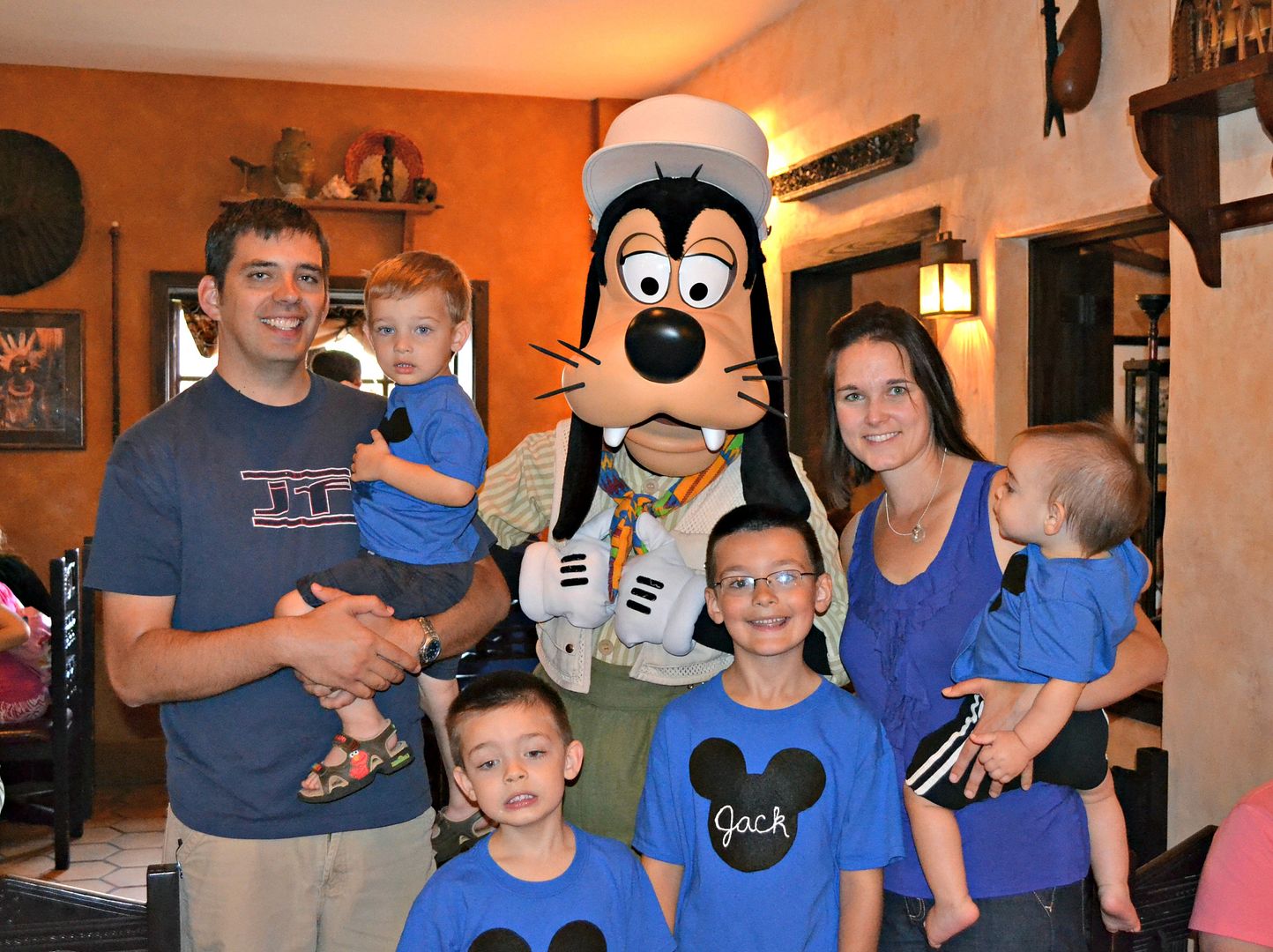 Want more ideas for spending time with your kids? Be sure to follow us on our NEW
Facebook
or
Pinterest
pages and
sign up for emails
to keep up with all the latest crafts, activities, and kid-friendly recipes!