We have 30 days until our first family trip to Disney! To say the boys are excited would be the biggest understatement of the year, so we've been coming up with fun ways to get them involved with the planning (and keep them from asking us every 5 minutes if it's time to go to Disney). We love to countdown to all sorts of things in our house (holidays, the last day of school, birthdays...), so it went without saying that we would need a fun Countdown to Disney! Of course, I turned to my favorite resource, Pinterest, and began searching for something fun and manageable.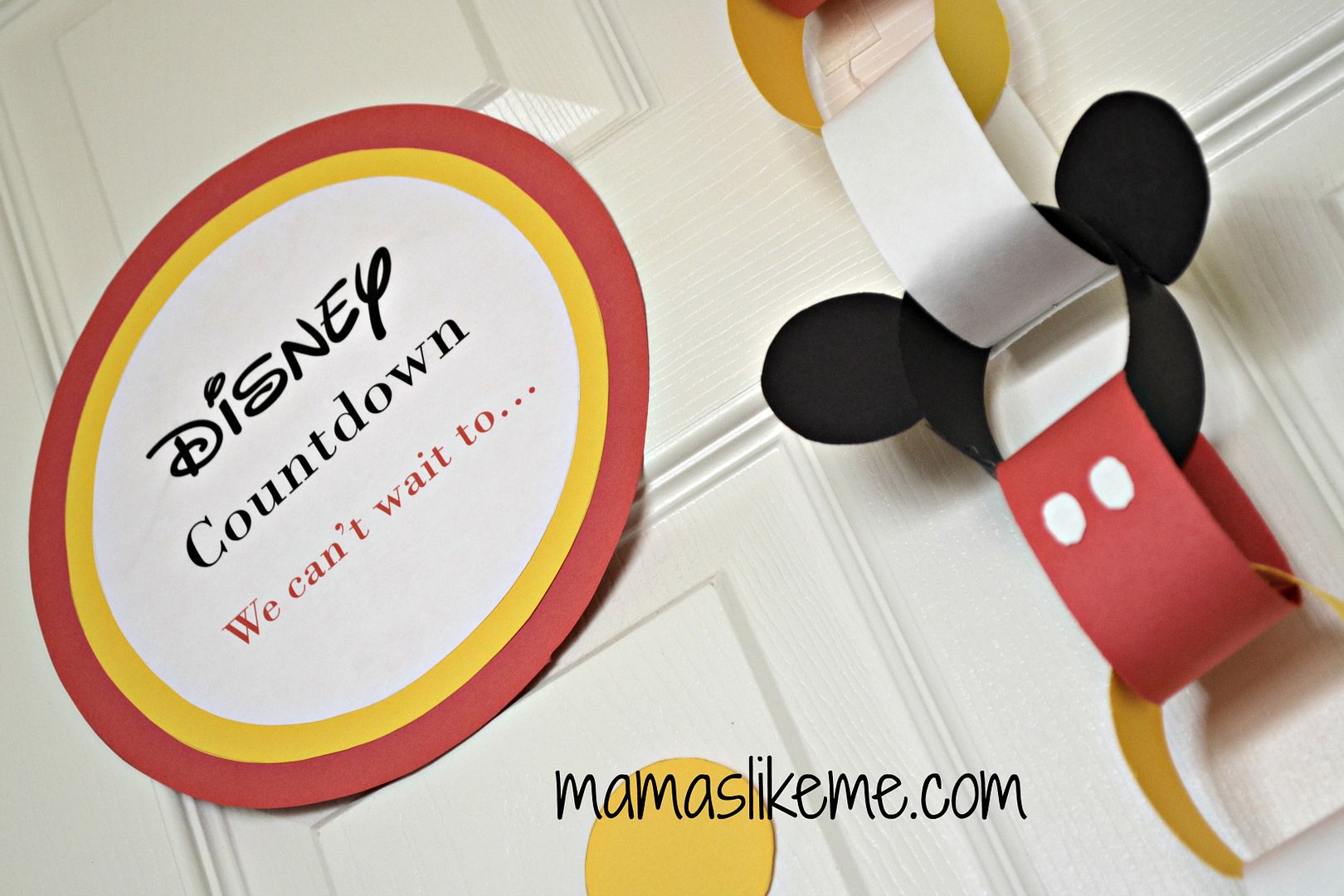 Here are some of the great ideas I found:
A fun
Mickey Mouse countdown
from My Little Gems that uses those Mickey paint chips from Home Depot. She even added fun Disney-related activities to the back of each one. I loved this idea until I realized that I would have to actually "do" all of those fun, Disney-related activities. I don't like that kind of pressure, but I love the magnetic board in her kitchen!!
I absolutely fell in love with this
Countdown Wreath
from Fiddle Dee Me! It's beautiful, right?? Then, I looked at the tutorial and it included things like "cutting machines" and "grommets" and she lost me. Don't get me wrong, I love a good craft, but if I'm going to spend that much time and effort on something, it better hang in my house permanently. The thought of spending that much effort on something just to have to store it away hoping for another trip to Disney just made me sad. So, I'll just drool over the picture a little more and maybe talk one of my kids into having a Disney room so I can make one for them!
Then, I found a simple
Mickey paper chain
and knew I was set. All we needed was construction paper, scissors, a paper cutter, and a glue stick. The kids helped me put it together and I counted it as math review. We
sorted
the colors,
counted
the different strips, and worked on creating
patterns
. Sometimes the teacher in me takes over, what can I say?
Instead of adding activities inside the white strips like the original, I printed up a sign that said "Disney Countdown, We can't wait to..." and then I cut out Mickey heads for each of the kids to write down something that they were excited about doing at Disney. I plan to save those for our Disney scrapbook and put a picture of the kids doing that thing beside it.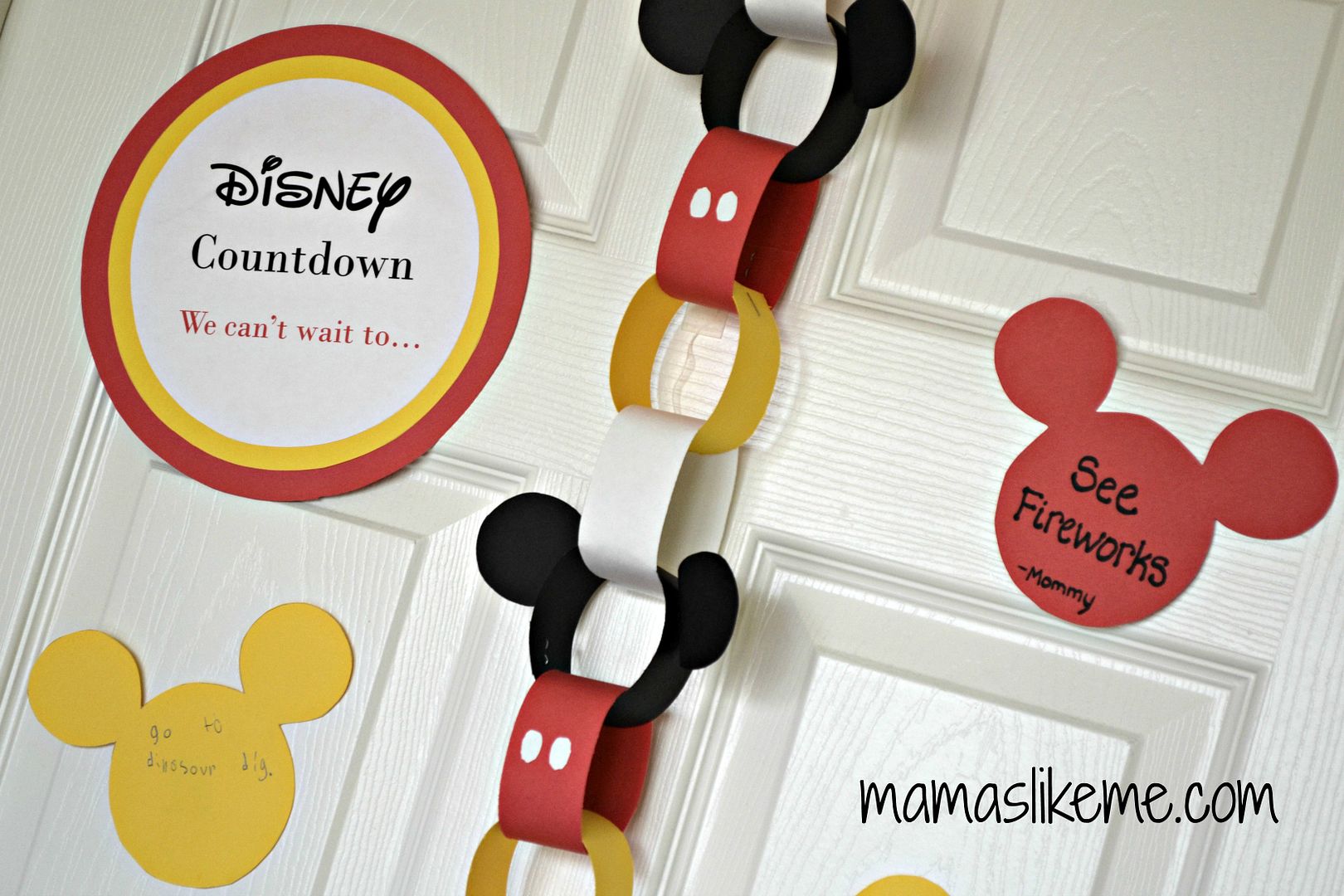 By the way, did you know that you can download many
Disney fonts
for free. It took about 15 seconds for me to download and install the Walter font, and now I have it for our Mickey birthday party coming up! Score!!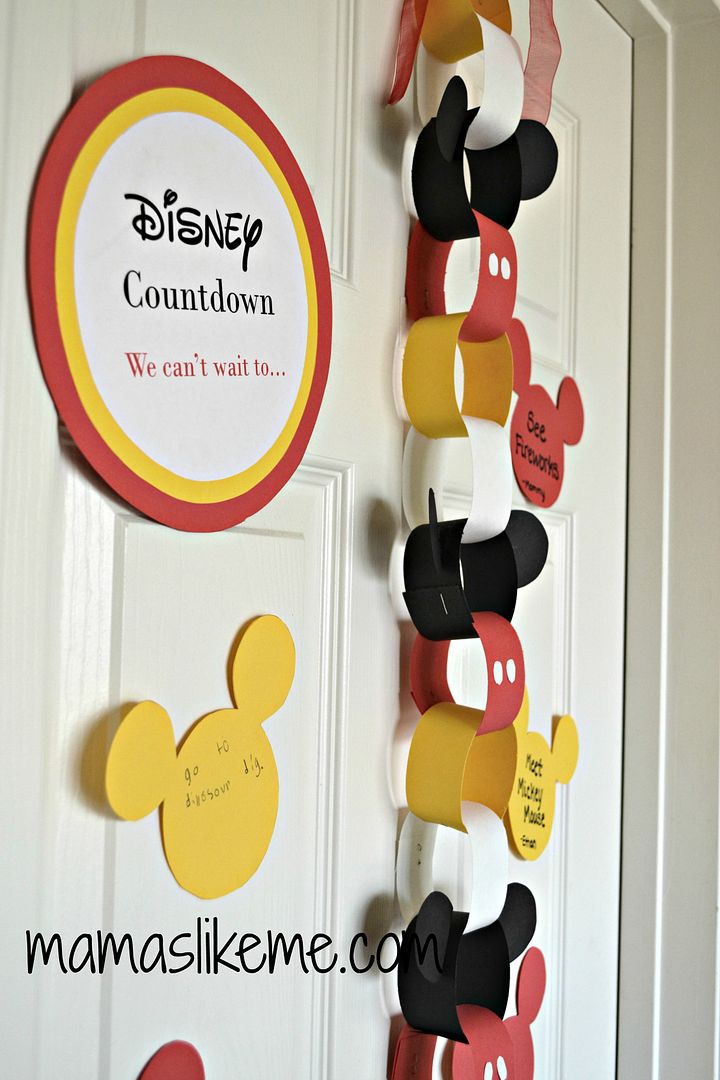 And, before you think I have some wonderful Cricut or other fabulous craft cutter, let me assure you that this was all done by hand. In fact, the Mickey Mouse heads are courtesy of this cup here...
And the red, yellow, and white circles for the sign are thanks to my Pyrex measuring bowls. I would have taken a handy picture of me actually cutting the circles, but I happened to be bouncing a cranky baby while taking these pictures one-handed (now that's Mommy talent!).
Now, we are all set to begin our countdown to Disney! The kids are thrilled with their chain and I'm pretty pleased that it will still be up to serve as a decoration for the baby's Mickey Birthday party in a few weeks!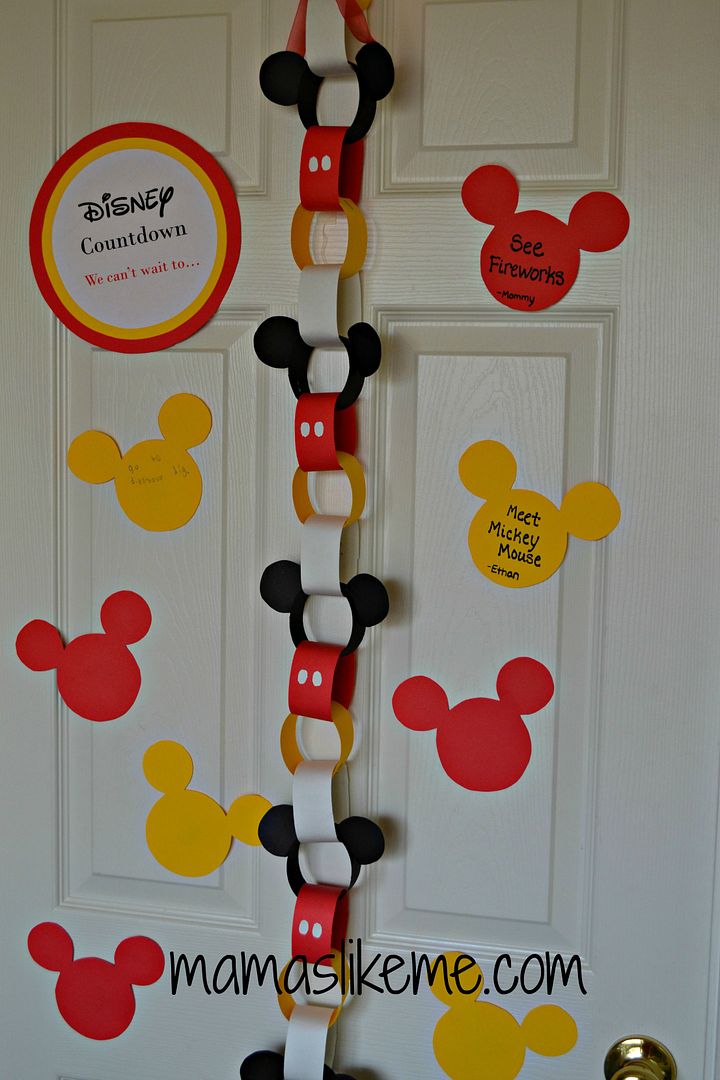 Have you been to Disney? What tips would you give for traveling to Disney with a baby and a toddler?