Today is Read Across America Day. Instead of starting the day off with green eggs and ham and making Dr. Seuss hats with the kids, I spent the morning rushing to make doctor's appointments before my husband leaves for a conference and trying to cover up the evidence of another sleepless night with a sick baby. This is real life, people! I suppose I'll make it up to the kids with a fun after-school snack if I can get the babies to nap.
This week, we started on our St. Patrick's Day Crafts and had lots of fun with rainbow colors.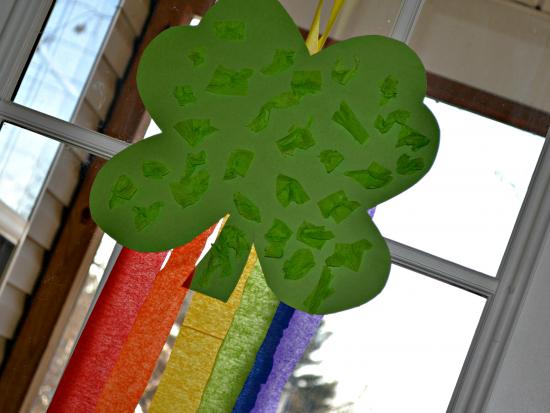 And, I was amazed at how much time my two-year-old spent sorting pom balls with our
Muffin Tin Color Sorting
. He was very meticulous and I could hear him naming the colors as he moved them around.
We also had fun making tissue paper Shamrock Suncatchers.
Next week, we have more Rainbows and Shamrock crafts in store. If you're looking for some ideas, check out our
31 Days of March Crafts for Kids
. This month is going to fly by!!
I just love holidays with kids!
Want more ideas for spending time with your kids? Be sure to follow us on
Facebook
or
Pinterest
and
sign up for emails
to keep up with all the latest crafts, activities, and kid-friendly recipes!