If you read my
goals for 2013
, you know that one of my goals for this year was to have one intentional "date" each month with my husband. The reality is that with 4 young boys, one being a baby who refuses to take a bottle, we don't get out much alone- or ever! In fact, we've scared away all of our "free" (a.k.a. - the relatives) babysitters and we just can't afford to pay a babysitter and then pay to go out, but that doesn't mean that we don't need to. In fact, as many of you know, the more kids you have, the more you need to MAKE time to be alone with your spouse.
In January, we had our "date" at home. In fact, as far as dates go, this was pretty lame. My husband went out for lattes and our favorite snacks and we curled up on the couch to watch T.V. together....and then we made out on the couch. Yes, I said it!! We made-out like teenagers and my husband LOVED it. He was still talking about how much fun he had days later. You see, it wasn't that we really did anything special, it was that he had my undivided attention (did you get that? my UNDIVIDED attention) for those few hours. There was no baby to nurse, no diapers to change, and no one else wanting my attention. It is so seldom that he gets that. (Yes, I'm hanging my head in shame!)
Trust me, when it comes to being short on time and money, I totally get it. Finding time alone can be challenging when you have small children, but it is so worth the investment. In fact, it's crucial that our kids see us making time for our spouses and that they know how important our relationship is to us.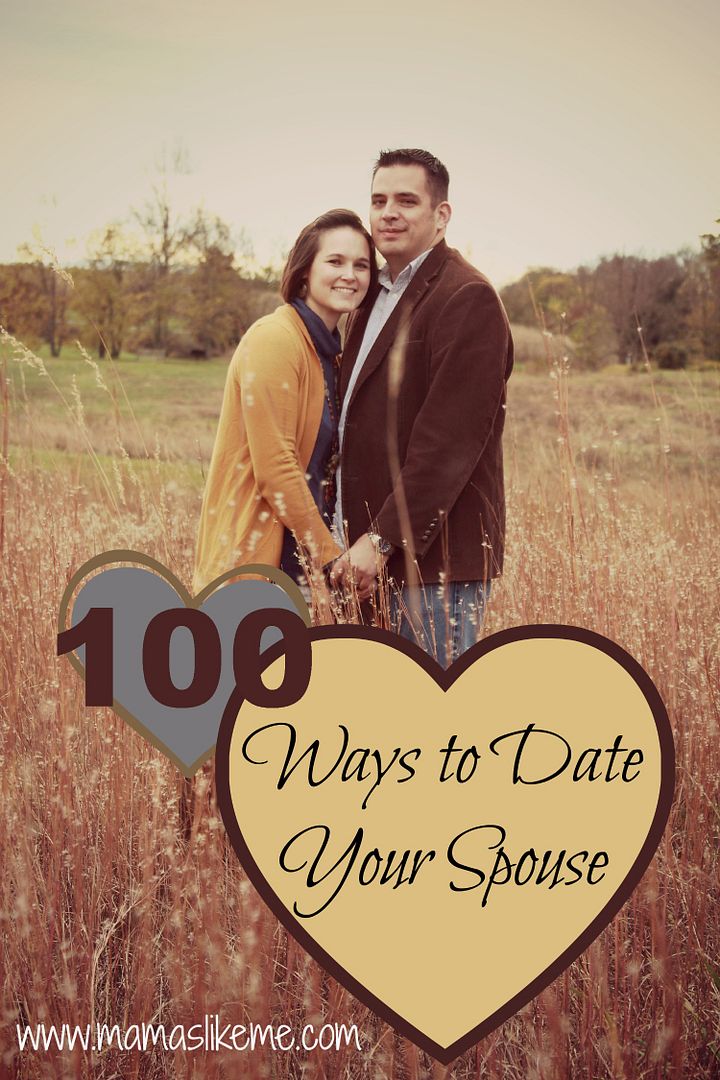 Here are some ideas to get you started.
I promise they won't break the bank and you don't even have to leave the house for most of them!
Pull out your favorite board game or card game for a night of friendly competition.
Cook a meal together for someone in need. Deliver it together with a homemade card.
Go on a hike and take along a picnic.
Pick a home project (like painting or organizing the garage) that you'll both enjoy and work on it together.
Do dinner and a movie from the comfort of your living room.
Volunteer together. Check out your local animal shelter, soup kitchen, or church for ideas.
Read a book together.
Go see a high school play.
Visit each others grandparents. Enjoy the stories of when your spouse was little.
Go ice-skating.
Make handmade Valentines together.
Bake and decorate a cake together.
Go sledding or snow-tubing.
Take a class together. Your local Community Center is a great resource for this!
Browse at your local pet store or animal shelter and play with the puppies. Even if you can't take one home, you'll enjoy the cuddles.
Check out a coffee shop. Bonus points if they have live music!
Go to a baseball game (Little League, Minor League, or Major League).
Create a scrapbook of your relationship together or finally put all those pictures into an album!
Visit a local museum.
Plan your dream vacation (even if you can't go).
Take dance classes together.
Visit a local farm. Many areas have Farm Days or are open to the public on certain days.
Go play at the park.
Go to the gym together.
Make homemade pizza.
Make a special egg hunt for your spouse. Fill the eggs with their favorite candy and love notes.
Bake cookies together.
Go to the local zoo.
Find a local Shakespeare in the Park and attend an outdoor production.
Go fishing!
Try out horseback riding.
Play Frisbee Golf.
Pick flowers together and make a beautiful centerpiece for your kitchen table or give them to someone to brighten their day!
Go play mini-golf.
Try your hand at the batting cages.
Dye Easter eggs together.
Spend an evening looking through each others old yearbooks and photo albums.
Take a tour of a historic home or spend the day strolling through a historic Downtown area.
Put together a puzzle.
Plant something or start a garden together.
Hit the driving range.
Go to Cosco (or a local grocery store) and try all the samples! (Free Lunch!)
Feed the ducks.
Go shooting at a firing range, or make your own out of plastic bottles and use a water gun to knock them down.
Buy some cheap canvases and paint a masterpiece together.
Go hiking.
Make homemade bird feeders.
Go for a bike ride.
Wash the car together and have a water fight.
Lay a blanket in the grass and watch the clouds.
Run a 5K together.
Fill a time capsule together and bury it in your backyard.
Go roller-skaing at a local rink or even in your neighborhood.
Find a free outdoor movie and pack your own snacks.
Make homemade ice cream or popsicles together.
Spend an evening looking at the stars. You can check out a book on constellations at the library and see how many you can find.
Try out geocaching.
Visit a toy store together (WITHOUT the kids). You'll be amazed at how fun the toys can be when you're not telling your kids that you can't buy them!
Go to the State or County Fair.
Search for treasures at garage sales.
Catch fireflies.
Go apple picking.
Visit a Farmer's Market together.
Play in the rain.
Make your own Drive-in movie by watching a movie on your laptop in the front yard.
Search for seashells at the beach.
Make s'mores over a campfire.
Take advantage of the free local fireworks displays or buy some of your own and have your own show.
Tour a local chocolate factory and enjoy the free samples.
Grab some other couples for a game of flashlight hide-and-seek.
Join a book club together.
Play darts (at home).
Enjoy a hayride.
Try karaoke or host your own karaoke night.
Make a slideshow together with old family photos.
Go play at the arcade and challenge each other to a game of PacMan or Skee-Ball.
Tour your local fire station.
Go fly a kite! Better yet, build one together and see if it flies.
Attend a concert in the park.
Learn origami.
Make a scavenger hunt for your spouse.
Try a new food together.
Play in the leaves.
Carve a pumpkin together.
Visit an aquarium.
Cook a new recipe together.
Write love notes to each other.
Have professional photos taken.
Start a new holiday tradition (for any holiday)
Go for a drive to see Christmas lights.
Get a group together to go caroling.
Challenge each other to a billiards competition.
Make your own homemade ornaments.
Attend a local festival.
Go to a parade or join in a help decorate a float for a local church or organization.
Go test-drive your dream car.
Spend an evening at the batting cages.
Go rock-climbing.
Have a picnic (even if it's only on your living room floor).
Honestly, it doesn't matter WHAT you do. The most important thing is to have fun with each other and let each other know how much you enjoy spending time with each other. My husband and I can have fun folding the laundry or cuddling on the couch, especially when the kids are in bed!
It's all in how you approach your relationship.

Special thanks to all the contributors for sharing their great ideas:
Kids Activities Blog
,
My Nearest And Dearest
,
Pleasantest Thing
,
Play Dr Mom
,
Glittering Muffins
,
Inspired By Family Mag
,
Mama Miss
,
Life At The Zoo
,
Toddling Into Madness,
Sense of Wonder
,
The Educators' Spin On It
,
Little Artists
,
Home Learning Journey
,
Frogs And Snails and Puppy dog Tails,
Pragmatic Mom,
The Good Long Road
,
Mamas Like Me
,
Kids Stuff World
,
Toddler Approved
and
Adventures in Mommydom