This week, we're focusing on simple things we can do to get ourselves (and our kids) more organized for 2013. If you missed Part 1, you can check it out
here
. The key to any great organizational system is making it work for YOU. These are all great tips and can get you started, but remember as you're going through these that each of us has different homes with different children in different life stages. What works for my kids may not work for yours.
The best organizational system is one that you will use!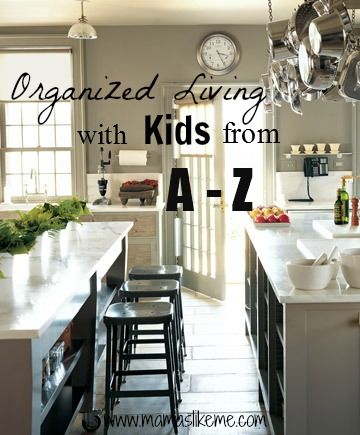 F - Furniture
- No, I'm not suggesting that you go out and buy all new furniture to get your home organized, but if you're looking to replace something this year be sure to look out for how you can make things work for you AND your kids. Last year, I bought this storage piece for the living room because I was tired of those neon colored plastic tubs holding toys in the corner. I wanted something in my house that didn't scream I BELONG TO THE KIDS! I love this! It fits in with our decor, can hold a lot of toys, and has a lid that hides them all away.
When purchasing a bed for your child, consider one that has drawers underneath for extra storage. The storage in this bed makes me drool! I love that it has drawers, a built in desk, and an extra bed perfect for sleepovers!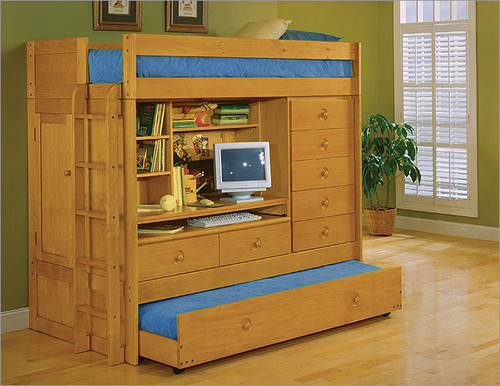 Storage for your children should also be at their height. You'll never get your kids to put their toys away if they can't reach the shelves you want them on. I love this
DIY Pottery Barn Kids storage center
. There's plenty of storage for books and toys, and let's face it, those cabinet doors would come in handy to hide any messes you need to cover up when company is coming over!
G - Game Storage
- When my kids were younger, we kept all of their games in the top shelf of the hall closet. It was great for keeping them safely organized, but it meant that every time they wanted to use one, I had to get it for them. It also meant that they didn't play them as much, because "out of sight, out of mind". Now we keep them on a bookshelf in the living room and there has been a trade-off. They can reach them on their own now, which saves me time, but it also means that they can easily be dumped. We've had to come up with a few tricks to "try" to keep everything more organized. Like Jamie from
the Creative Imperative
, I was sick of the worn-out boxes so we've begun using plastic containers for our game pieces.
I've also started putting all the puzzle pieces in ziplock bags with a picture of the finished puzzle cut out from the box, which I found on
From the Fence Post
.
And, perhaps my favorite thing is our "extra piece bucket". This is absolutely perfect for all those little pieces I find lying around the living room after the kids have finished putting everything away. I just toss them in the bucket and then, once a week, the kids have a job to put all the pieces back in the correct boxes. It's also helpful for the "Mom, I can't find the blue guy for Candyland" moments :)
H - Hooks
- Hooks are helpful for all sorts of organization. We use hooks in the kids rooms to hang their towels on after the shower, but I love this Bathroom Hook Organization from
The Idea Room
. I just love the pictures over each hook of the kids after their baths!
Anna from
My Life and Kids
uses hooks for hanging her children's pajamas on so they don't end up in the hamper every morning!
And, I'm dying for my husband (or someone handy!) to build me this for the garage entrance! I love how
Sharon Barret Interiors
adds pictures of the kids above their hooks and personalizes with their initials!
I also love this idea of using hooks on the back of a highchair to hold bibs. I wish I could have found the original source, but the best I can say is that I found it on
Pinterest
.
Stay tuned tomorrow for more tips and projects for organizing your time and your home with kids!
Want more ideas for spending time with your kids? I'd love it if you joined us on
Facebook
or
Pinterest
or just
sign up for emails
to keep up with all the latest crafts, activities, and kid-friendly recipes! And stay tuned tomorrow for some more organizing ideas!