Every year I make my
New Year's Resolution
to become more organized. I am a fairly organized person by nature, but having kids makes this a constant struggle. The more I clean, the more my toddler dumps. The more clutter I eliminate, the more they bring in. To give us all some motivation in the Organization Battle, I've decided to spend the next few days sharing some tips I've picked up along the way and some projects that I've been meaning to get to. With any luck, this will be the year that I finally win the war on my home organization - or at least take a few more steps in that direction.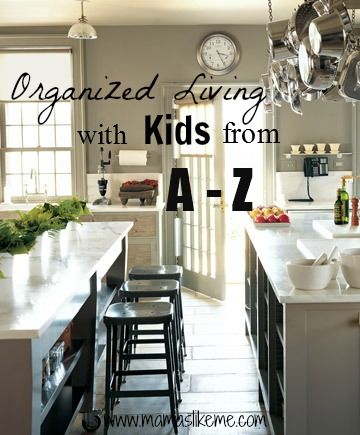 We also have a large container of plastic drawers for our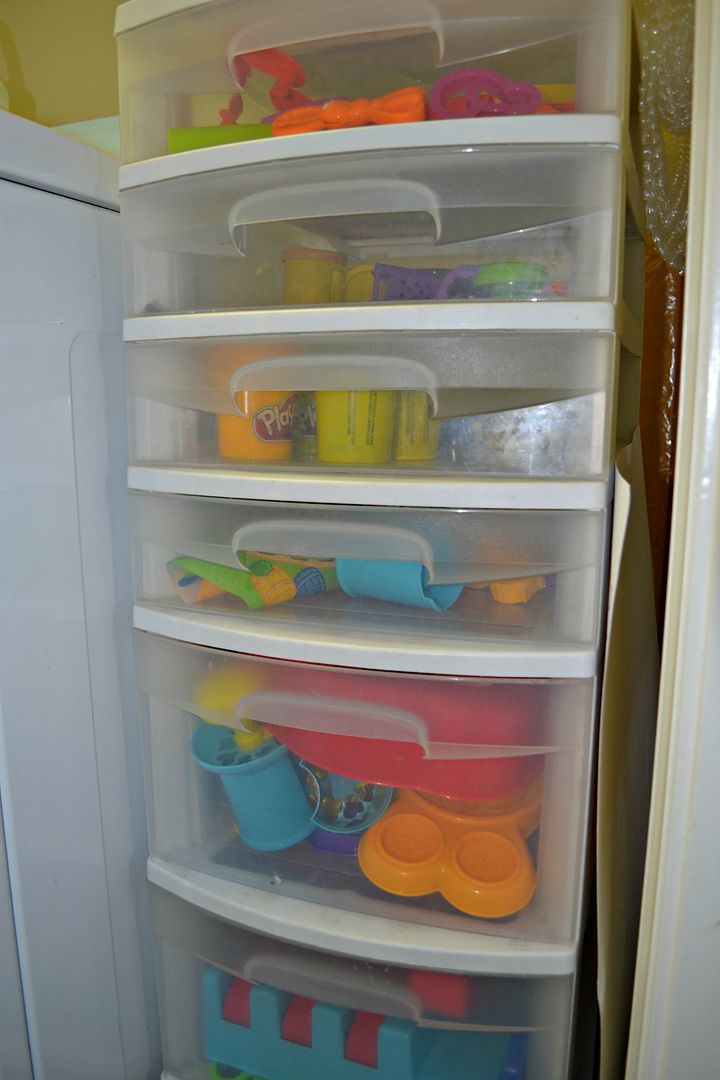 Play-Doh collection. Each of the larger drawers houses a different Play-Doh set. The top drawer holds miscellaneous cookie cutters, scissors, and supplies, while the other smaller drawers hold the actual cans of Play-Doh. Before this, I tried keeping all the supplies in large Tupperware containers and I was constantly looking for specific pieces for the kids. Now they can get their own supplies and return them to the same drawer (in theory) when they're finished.
I keep our paints, construction paper, and stamps in the buffet section of our china cabinet. You can tell that our house is devoted to the kids when we have craft supplies instead of linens and dishes in the china cabinet :) This is actually one of those areas that I'll be organizing as part of my
organizational goals
. You'll have to stay tuned for pictures of that area!
There are lots of other great ideas out there, though, to keep your art supplies handy and organized. Here are some great tricks from some other Mommy Bloggers.
If you have a whole closet to devote to your kids' art supplies, you'll want to check out
The Craft Closet
by Play Dr. Mom. She goes through the different supplies and how she organizes them!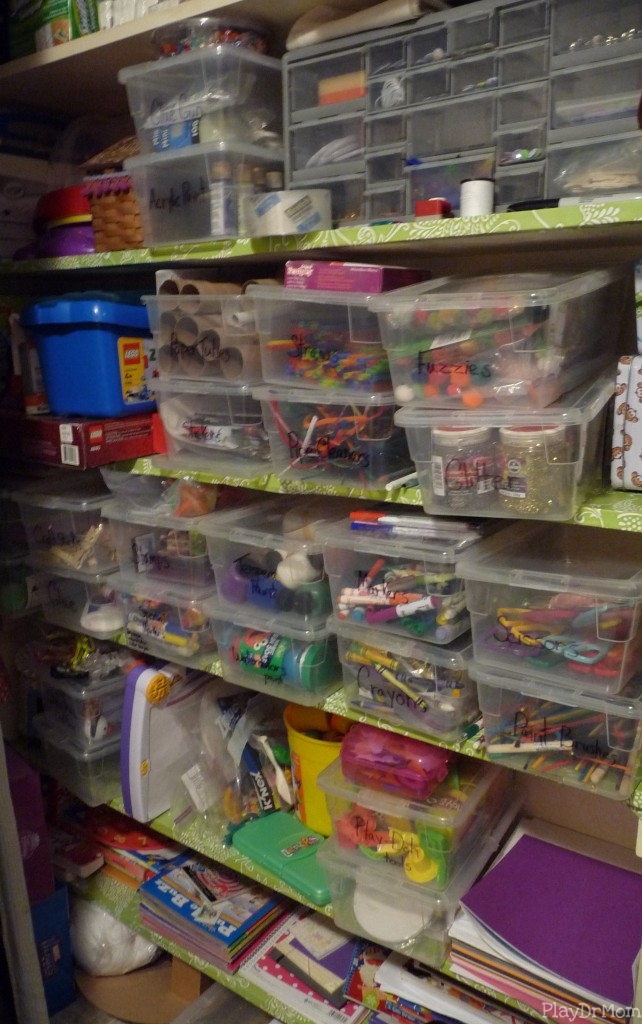 B - Book Storage:
The most important thing about organizing books for kids is to keep it simple and easy for them to get the books they want. We use baskets and small book shelves for our boys.
C - Command Center
- Every home needs a command center. This area, usually in the kitchen, can include any number of things, but it is typically the center of organization for the home. It usually has a large calendar to track everyone's schedule, a place for mail, a board for notes, and a place for you to keep your keys and anything else that you use every day. This is another one of the projects I intend to tackle this year.
I love the little mailboxes and the DIY calendar used in this Command Center from
S.A.S. Interiors
I also love how this Magnetic Command Center from
Landee See Landee Do
incorporates a menu plan and file holders for each child. I could definitely see this coming in handy for all those school forms or even for mail. I even have the perfect spot picked out in the kitchen!
D -Do Your Dishes
- Okay, this isn't necessarily "how to get organized", but trust me on this one. If there are dishes in your sink, it will breed other clutter. There is no way that the kitchen can be neat and tidy if the dishes aren't done, so make sure that you do them before bed each night (and as soon after each meal as you can). I have 4 little ones and a daycare, I understand that there are times when the dishes have to wait, but I also know that I feel so much better when the sink is shiny and the counters are clear. It leaves more room for our endless art projects!
In case you're wondering, I found this great tutorial from
Apartment Therapy
on how to get your sink REALLY clean, not just the I rinsed out all the food and it looks clean to me kind of clean!
E - Encourage Independence:
When organizing anything for your children, your main goal should be to help them accomplish tasks independently. Effective organization makes life easier for everyone. Kids should be able to reach any books or toys without asking for assistance. They should be able to get dressed, find their shoes, and put their clothes away without having to ask you where something is or where something goes. Our children complete their entire morning routine independently. They have a "routine chart" (we'll get to that later), and follow it to get ready. Their closet is organized with hanging organizers that let's them get dressed without me choosing their clothes each morning. I labeled their organizers using index cards and packaging tape so they could easily see which outfit goes with which day. I also labeled them in rainbow order so even before my 4-year-old was reading the days, he could follow the color order.
Okay, I probably could have cleaned their closet for this picture, but you might as well see what real life looks like. The blankets are stored at the top of their closet and you can just see the top of a cardboard box in the bottom right corner. That's where I toss all the clothes as my son outgrows them. There's another box in the bottom left corner.
In Lieu of Preschool
also shares some tips for organizing a closet to encourage independence and allow more choices. These tips would be great for those strong-willed children who don't like Mom making all the decisions.
Stay tuned tomorrow for more tips and ideas to get your home more organized this year. Remember, we're just taking baby steps. I'm not suggesting that you do all of these things at once. Pick one that will make life a little easier. Try that out for a few weeks and once it's working, move on to something else!
Want more ideas for spending time with your kids? Be sure to follow us on
Facebook
or
Pinterest
and
sign up for emails
to keep up with all the latest crafts, activities, and kid-friendly recipes!
Click on the button for more great ABC series for making the most out of our time as Mamas!