I'm not your typical stay-at-home mom. Or, maybe I am and I just don't realize it. Maybe I'll be flooded with comments about readers just like me. I hope so! You see, the women I see at the bus stop are what I always imagined being a stay-at-home-mom would be like. They drop their kids off and head to the gym. Then, they run a few errands, clean their house in peace, volunteer with the PTA, bake some cookies, and pick their kids back up at the bus stop. (Obviously, I'm romanticizing this, but this is what I hear.)
My day is much more hectic than that. My day includes taking care of my kids and my daycare kids. It means breakfast for 10, then off to the bus stop and getting my son ready for preschool. Then, there's cleaning and coloring, laundry and Play-Doh. There's snack time, lessons and craft, outdoor play, lunch and story time, nap time and back to the bus stop. Then, there's homework, cleaning, Quiet Times, and starting dinner. There is NEVER a break. There is NEVER a moment of peace. If I let myself, I will get totally bogged down in the day to day details of my life. I'll feel sorry for myself because my husband is so busy with work and the church. I'll miss teaching and having a life outside of the house. I'll miss getting dressed in the morning and having a quiet commute. Before that happens, I have to step back and remember what it was like to leave my baby. I have to remember why I cried and prayed and begged God to let me be at home with my children...and then I choose gratitude.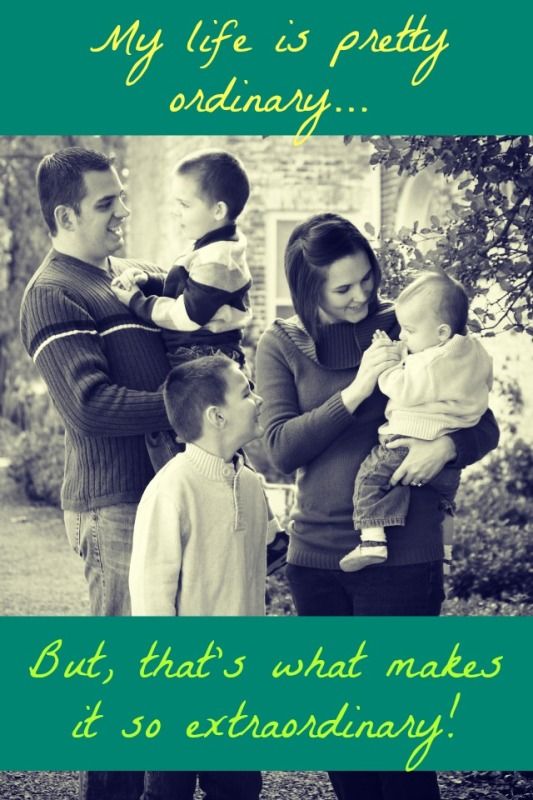 Five years ago, being at home with my children was just a dream. I had one baby boy and I felt bad every morning when I dropped him off at the babysitter. I hated that I was missing the day to day stuff - I could never be sure that the "firsts" I saw were truly his first words or steps. When I got pregnant again, I knew I couldn't do that again and I began the long journey to becoming a stay-at-home-mom. You can read more about that
here
.
When I start to get depressed that I can't be "perfect" vision of a stay-at-home-mom, I remember these things. I remember my prayers that I could be the one home with my children, and I know that God answered them. Even more than that, he gave me opportunities. Opportunities to contribute to our finances so we could slowly work our way out of debt. He gave me opportunities to use my gifts working with children and to share that with all of you (and I get PAID to do these things - how cool is that??).
In my years doing daycare, I see what my working parents are missing. There are so many everyday things that I could never write them all down for the parents to see - funny stories, hugs, cuddles before naptime, dancing in the living room, jumping in the leaves, the joy of learning new things. Because I'm here, I get the opportunity to really be present in every part of my children's lives. Our days are filled with a million small things, things that otherwise might be taken for granted.
I can't pretend that being a stay-at-home-mom is easy - or in my case a "work-at-home-mom". My work day doesn't have a beginning or an end, most of what I do is taken for granted. It's hard and it's wonderful, and I wouldn't trade it for anything!
Want more ideas for spending time with your kids? Be sure to follow us on Facebook or Pinterest and sign up for emails to keep up with all the latest crafts, activities, and kid-friendly recipes!
This post is linked up with: