As part of our Eric Carle bug unit, we made click beetles and used them with our telling of The Very Clumsy Click Beetle. For a tutorial on how to make them,
click here
. The kids had a great time decorating their click beetles and then making them flip.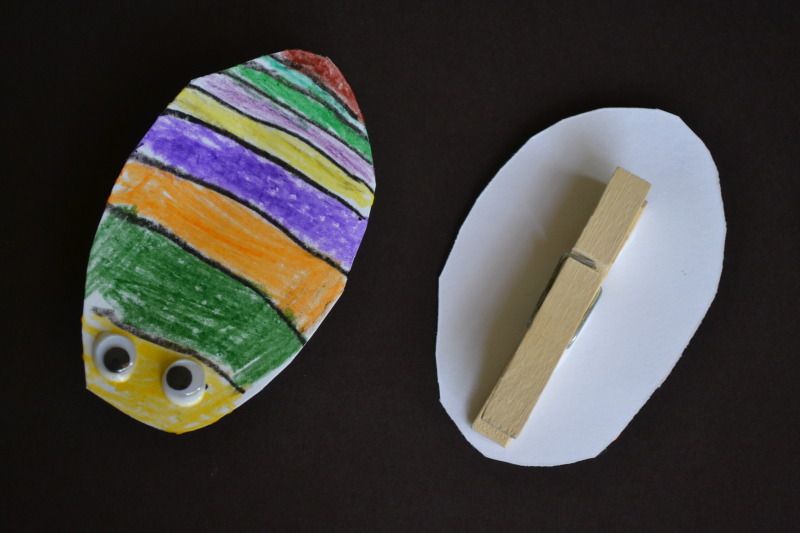 Then, we used our click beetles for some math activities.
1. Probability - First, we talked about making predictions and predicted whether we thought the click beetle was more likely to land on his back or his feet. (Since there are only two options, he is equally likely to land on each side.)
2. Addition, Subtraction, and Math Vocabulary - Then, each child got a chance to click each beetle ten times and we kept track of how many times the beetle landed on his back and how many times he landed on his feet. After each child went, we answered questions using more, less, total, and equal to. For example, "How many more times did _____'s beetle land on it's back than it's feet?", "What was the total number of times the beetle landed on it's back?", "Whose beetle landed on it's back the most?", etc. This is a great opportunity to introduce kids to math vocabulary and get them used to using these math terms.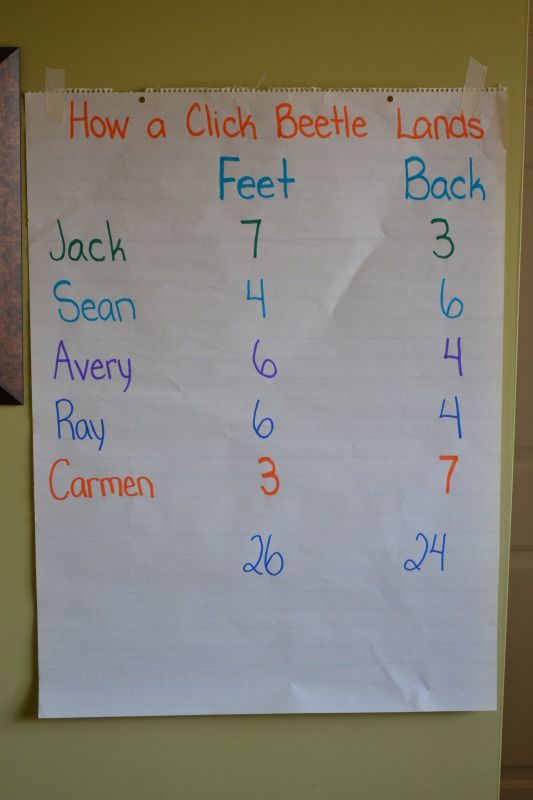 If you're a teacher, you could also use these in your classroom for mean, median, and mode lessons.
As a side note, using chart paper and making lists like this is a great way for preschoolers and young kids to begin recognizing their name and numbers. The kids returned to our chart throughout the week to point out their names and how many times their click beetle had landed on his back and feet.
It always makes me happy to see how excited and engaged the little ones get whenever I pull out the chart paper for a more formal lesson. They love the feeling of being "in school" at home :)
Thanks for stopping by! I'd love to hear from you in the comments and have you join us back again!
Want more ideas for spending time with your kids? Be sure to follow us on our NEW Facebook or Pinterest pages and sign up for emails to keep up with all the latest crafts, activities, and kid-friendly recipes!