This week we dyed an assortment of colored noodles for some upcoming Spring projects. This is a classic activity for preschool children. The kids had so much fun dying and using the noodles and it was a great opportunity for some fine motor skill practice.
To dye noodles, we used:
Rubbing Alcohol (or White Vinegar - I recommend the vinegar, but we had some rubbing alcohol in the first aid kit that I wanted to use up. Dying with vinegar allows you to still use the noodles for cooking and is safer with small children who will inevitably have to put a dyed noodle in their mouth. Since we're only using our noodles for crafts, this gave me a chance to use up our rubbing alcohol.)
Noodles - you can use any kind. We used elbow macaroni for crafts, but I'd also recommend doing some Rigatoni for stringing necklaces. Bow tie pasta and rotini are also fun for collages.
Food Coloring - You can buy this in the 4-pack and combine the colors to make any color that you like
Ziplock Bags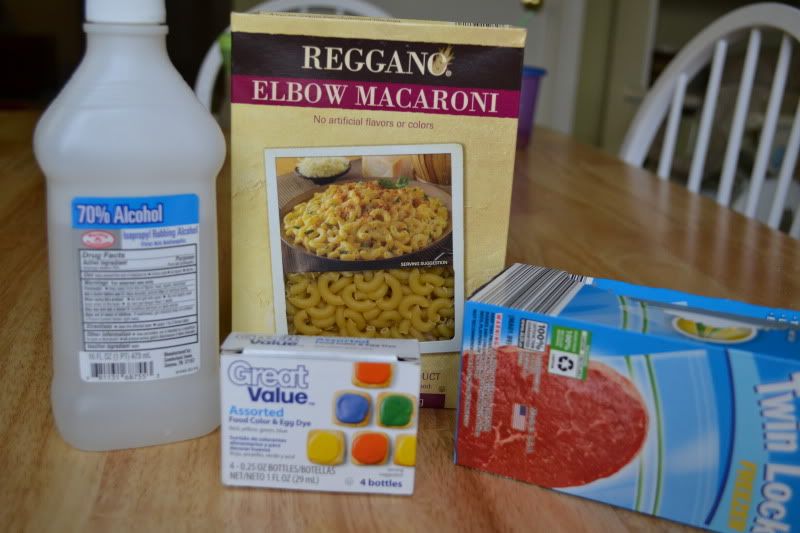 1. First, I poured about 1/4 cup of rubbing alcohol into each Ziplock bag. (If using vinegar, substitute with 2 Tablespoons.)
2. Then, we counted out approximately 7 drops of food coloring. You can use more or less depending on the shade that you want.
3. Next, we added a little less than a cup of noodles to each bag.
4. Seal tightly and then let the kids shake the bags. You can give each child a different color bag or pass the bags around so that every child gets a chance with each color.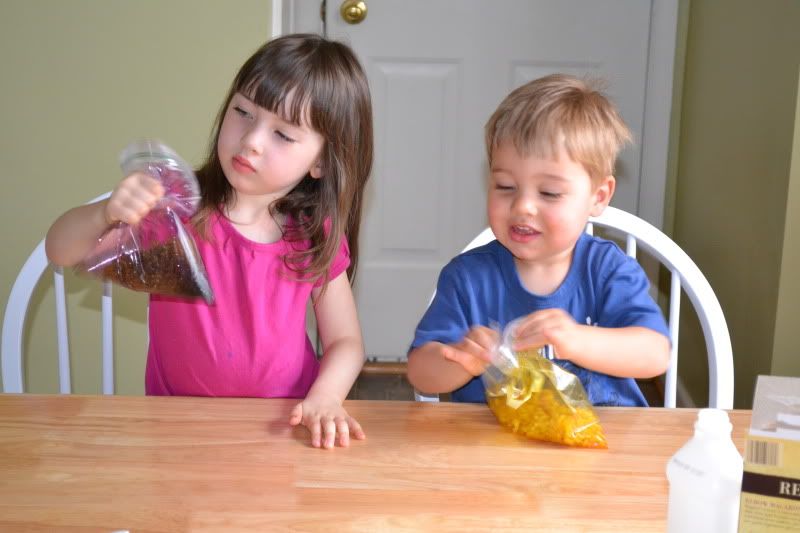 5. Lay the bags flat to absorb the color. I left ours for a few hours.
6. Open the bags and allow to dry overnight. You can also lay them out on a cookie sheet lined with paper towels or newspaper. I wasn't in a rush for ours so I left them in the bags to dry overnight.
The next day, we pulled out our noodles to make these fun rainbows. I also plan to let the kids create Easter Egg collages with their noodles.
What other fun projects have you done with colored noodles?