Let's face it; I've run out of time to share the different Valentine crafts we've done before the big day arrives. Here are some of the things we've been up to and some last minute crafts in case you're looking for something to do with the kiddos today!
Here is Big Brother's first Valentine's Mailbox for school. I don't remember making these at home as a kid. We decorated paper bags at school, but I have to admit that Big Brother, Middle Brother, and I had a lot of fun putting this one together. I showed him a couple examples online and he picked out this crocodile box. I drew the pieces and Big Brother cut them out. Then, he and his brother glued them together. If the idea of drawing a crocodile from a picture makes you nervous, check out this
printable from HP creations
. It makes this idea a breeze if you're working with a tissue box :)
Here are a few more easy crafts I pulled out from our Valentine's Day folder. Some we got to this year and some we'll just have to save for next year.
Handprint Heart Valentines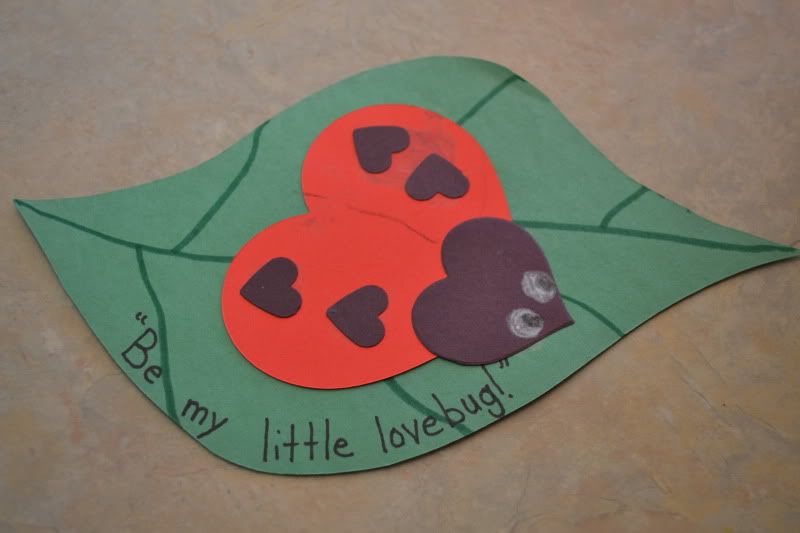 Be My Little Love Bug
This is an adorable stained glass heart that my son made in Sunday School with contact paper, construction paper, and tissue paper.
If you're looking for even more ideas, be sure to check out our
Valentine's Board on Pinterest
or leave a link to your Valentine creations in the comments :)
Happy Valentine's Day Everyone!!
Thanks for stopping by! I'd love to hear from you in the comments and have you join us back again!
Want more ideas for spending time with your kids? Be sure to follow us on our NEW Facebook or Pinterest pages and sign up for emails to keep up with all the latest crafts, activities, and kid-friendly recipes!