We're still working with Middle Brother on his lower case letters. He has most of them, but like most kids, he gets some of them mixed up. This activity gave us a festive opportunity to review our letters and the kids had a great time with their new "game".
To prep for this activity, I cut out 26 hearts in four different colors (red, pink, yellow, and green). You could do them in all one color, but I wanted to add color sorting for the younger kids and make it a little easier for the bigger kids. Each letter was folded in half from tracing and cutting them out so I wrote the capital of each letter on the left side and the lower-case on the right side. Then, I cut each heart in half.
There were several parts to our activity and we ended up spreading it out throughout the morning to keep interest high:
1. We dumped the letter halves out on the table and sorted them by color.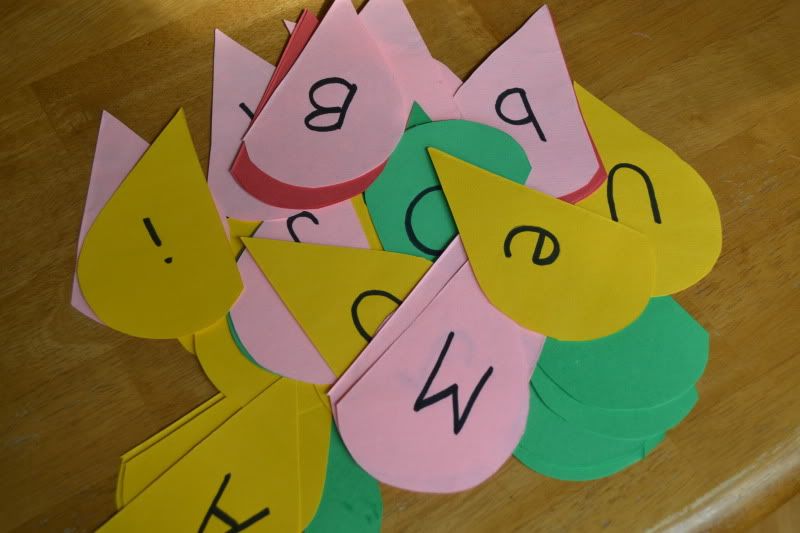 2. If you have kids of the same age, this would be a great time to give them each a color and let them try to match up the capital and lower-case letters. I gave each of the preschool kids a color to work on and then I worked with the little kids on one color.
3. Together, we checked all of the hearts to see if they were correct.
4. Next, we went through the alphabet and put our hearts in order.
5. Finally, we sang the alphabet together while I pointed to each heart.
The kids were very excited about their matching game and wanted to play again with the "big kids" when they got home from school. If you have a laminator, this would be a great activity to laminate and keep for use year after year.
Thanks for stopping by! I'd love to hear from you in the comments and have you join us back again!
Want more ideas for spending time with your kids? Be sure to follow us on our NEW Facebook or Pinterest pages and sign up for emails to keep up with all the latest crafts, activities, and kid-friendly recipes!