As part of our weather unit, we worked with the letter R and the colors of the rainbow. This was such a fun activity for the little kids and it was a great way to work on their fine motor skills.
For this craft we used:
Construction Paper in white and rainbow colors
Scissors
Glue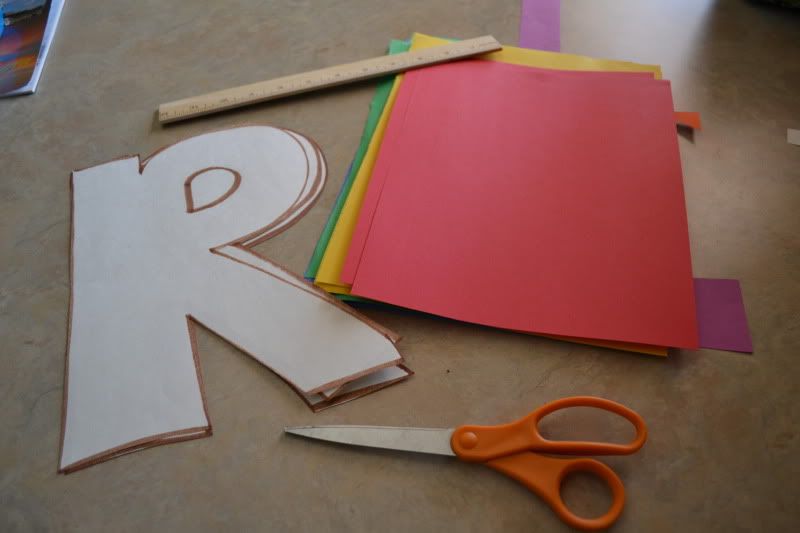 To prep for this activity, I cut Rs out of white construction paper. I also cut one inch strips of paper in all the colors of the rainbow. To make it easier for the little kids to keep their colors straight, I used a ruler to divide the R into sections for red, orange, yellow, green, blue, and purple.
1. Give each child a letter "R". Review the letter and it's sound. We also reviewed the colors of the rainbow and how a rainbow is formed.
2. Give each child a strip of red paper and have them use scissors to cut the strip into squares. Kids that are too young for scissors can tear their strips since tearing is a great "pre-cutting" skill.
3. Once they have finished cutting the color red, have the kids glue their squares into the first section of their 'R'.
4. Once all of their red squares are glued, give each child a strip (or more) of orange paper.
5. Repeat steps 3 & 4 with each color until the whole R is complete.
This is also a fun activity for St. Patrick's Day :)

Thanks for stopping by! I'd love to hear from you in the comments and have you join us back again!
Want more ideas for spending time with your kids? Be sure to follow us on our NEW Facebook or Pinterest pages and sign up for emails to keep up with all the latest crafts, activities, and kid-friendly recipes!