Today, we had fun with Marshmallow Mania. The kids had a blast using (and eating) marshmallows to review math skills and build some cute little igloos.
With a few numbered cups and bag of miniature marshmallows, we were able to do a lot of differentiated math lessons. This just means I was able to work with each child on the math skills they're learning. Here are some of things we did:
Identifying numbers - the kids told me what numbers were on each cup
Ordering - we put the cups in order from smallest to largest
Counting and One-to-one Correspondence - They counted the correct number of marshmallows and put them in the cup
Adding and Subtracting - We worked with adding piles of marshmallows together and counting to 20
*We even worked in some fine motor skills by using tweezers to put the marshmallows in their cups. We did this toward the end since it's hard to count and focus on using tweezers at the same time :) This is a great skill to get kids ready for writing and cutting and something that boys often struggle with.

After our math lessons, we made igloos using:
Foam Cups
White Frosting
Miniature Marshmallows
Spreaders
To prep the cups, I cut a small hole for the 'door' of the igloo. Then, I put each child's cup on a paper plate to help contain the mess and gave them a few spoonfuls of frosting with their spreaders. They spread the frosting on their cups (some of the younger ones needed covering the whole cup) and then stuck the marshmallows on.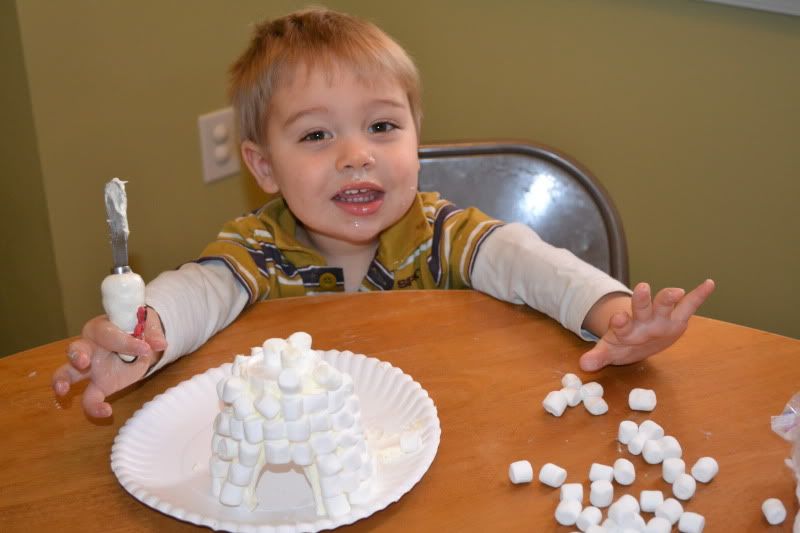 *Be sure to stop back by later in the week for Marshmallow Painting!!
Thanks for stopping by! I'd love to hear from you in the comments and have you join us back again!
Want more ideas for spending time with your kids? Be sure to follow us on our NEW Facebook or Pinterest pages and sign up for emails to keep up with all the latest crafts, activities, and kid-friendly recipes!