I saw a tree like this with Popsicle sticks over at
Joyfully Weary
and knew we had to use them for some Christmas math. She used it as one of her learning trays and I had so much fun looking at all her different ideas. In this activity, the kids worked on spacial reasoning, comparing lengths, counting, and recognizing shapes, but you could also easily add in some pattern work.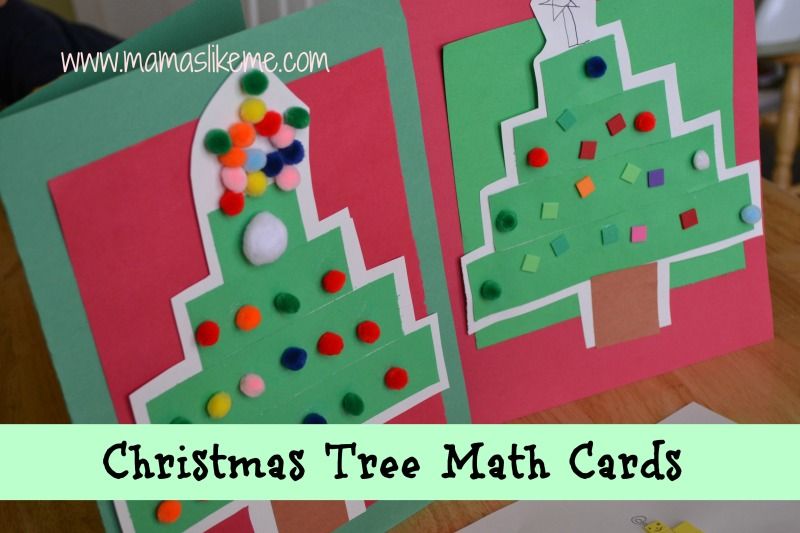 For this craft, we used:
Green, brown, and white construction paper
Paper cutter
Foam shapes
Pom poms
Glue
1. To prepare for this craft, I cut green construction paper into 1 1/2 inch strips. Then I cut the strips in sections, so I had pieces that were approximately 2, 3, 4, 5, and 6 inches as shown.
2. I gave each child a stack of green strips and a piece of white construction paper to work on. I had them sort their pieces with the longest piece on the bottom. Some of them got this right away and some had to work hard to compare each piece. Having them find the shortest and longest pieces for the top and bottom of their tree gave them a good framework to start with.
3. After their tree was constructed, they glued their pieces down.
4. Then, we decorated using foam shapes. We reviewed the different shapes and counted their sides and corners. We also compared their sizes (Which square is bigger? Can you find the biggest heart?). You could also encourage the kids to make patterns on each strip with their shapes.
The kids had a great time with their Christmas trees and we got to sneak some extra math into our morning! Then, we cut around them and mounted them on red and green paper for Christmas cards for the grandparents!
Thanks for stopping by! I'd love to hear from you in the comments and have you join us back again!
Want more ideas for spending time with your kids? Be sure to follow us on our NEW Facebook or Pinterest pages and sign up for emails to keep up with all the latest crafts, activities, and kid-friendly recipes!