Cooler weather means it's time to make a few bird feeders to put out for our feathered friends. These are my favorite to make because they're so simple that even the smallest kids can feel successful, and the only thing left when the birds are done is the string!


Tools & Materials:
bagel
peanut butter
bird seed
string
paper plates
spreaders or plastic knives
scissors


Give each child a paper plate with half a bagel, about 2 Tablespoons of peanut butter, and a spreader.
Then the kids took their time covering their bagels with peanut butter. This is a great way for little hands to gain strength and work on those fine motor skills. All of the extra peanut butter was put to good use to with some yummy crackers when they were finished.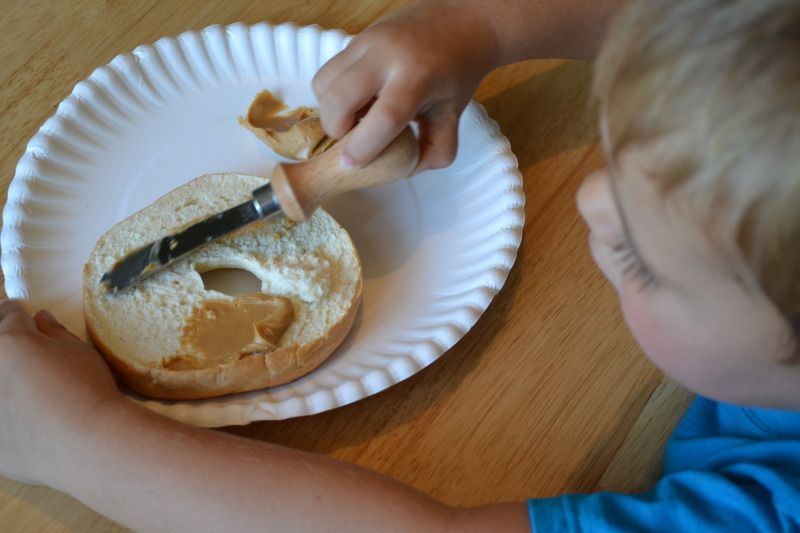 Next, I helped them turn their bagels over and press them into a paper plate filled with bird seed. They had fun scooting their bagels around the plate to make sure they were completely covered. If you use mini bagels, you may have to use the spreader to reopen the hole in the center after this step. With full-size bagels, this usually isn't necessary.
Then, we tied string through the hole in the bagel to hang our feeders.
Make sure to hang your bird feeder in the perfect spot and get ready for some bird-watching.
This is a great activity to accompany the book It's Fall by Linda Glaser
Thanks for stopping by! I'd love to hear from you in the comments and have you join us back again!
Want more ideas for spending time with your kids? Be sure to follow us on our NEW Facebook or Pinterest pages and sign up for emails to keep up with all the latest crafts, activities, and kid-friendly recipes!