If you're like many people, with the start of the new year, you're probably already starting to think about vacations you can take as 2020 progresses. Heading off for a relaxing or exciting trip is fun, that's for sure, but having to lug around a heavy suitcase on your vacation definitely isn't. Plus, who wants to have to pay extra charges at the airport, if your suitcase weighs more than your allotted allowance?
It's always a good idea to look for ways to pack lighter and reduce the luggage you take on your trip. Doing this will make the whole vacation less stressful, and even give you more room to add in new purchases you make while away. Follow these packing tips for lighter luggage on your next trip away.
Allow Enough Time
One of the keys to whittling down luggage is to give yourself plenty of time to pack. Anytime you have to do this job last minute, you'll throw items in without too much thought and will soon have a full, heavy bag. With enough time to think about what you actually need, though, and to create and follow a planned out checklist, you'll better keep your packing in check.
Use a Smaller Suitcase
Another way to keep your luggage to a minimum is to use a smaller suitcase. The bigger your bag, the more space you'll see in front of you and the more inclined you'll be to fill it up. Rather than choosing the roomiest bag you can for a trip, opt for the next size down, or the size below that. Get used to only having a certain amount of room to play with and you'll soon be always packing to this allowance.
Pack Light, Versatile Clothing
Get strategic about the clothing you pack. Choose lighter items wherever possible. For example, rather than lots of heavy jackets, think about taking a puffer jacket, and choose lighter cotton pants or soft, comfortable leggings rather than multiple heavy jeans. Many outdoor stores also sell clothing specifically designed to be as light, so stock up on these pieces for travel.
If you're heading off to a destination in winter and want knee-high boots with you to stay warm, wear these on the plane rather than packing them. You can also wear your heaviest jacket and jeans onboard. Plus, when packing, choose versatile clothing and make multiple outfits out of the same three to four pieces. Leggings, for instance, can be worn with a long cardigan for a day out exploring, like workout gear, and under a dress to keep you warmer. A scarf can keep you warm on the plane, dress up an outfit on a night out, and cover up bare shoulders for visits to temples.
Buy Travel-Sized Toiletries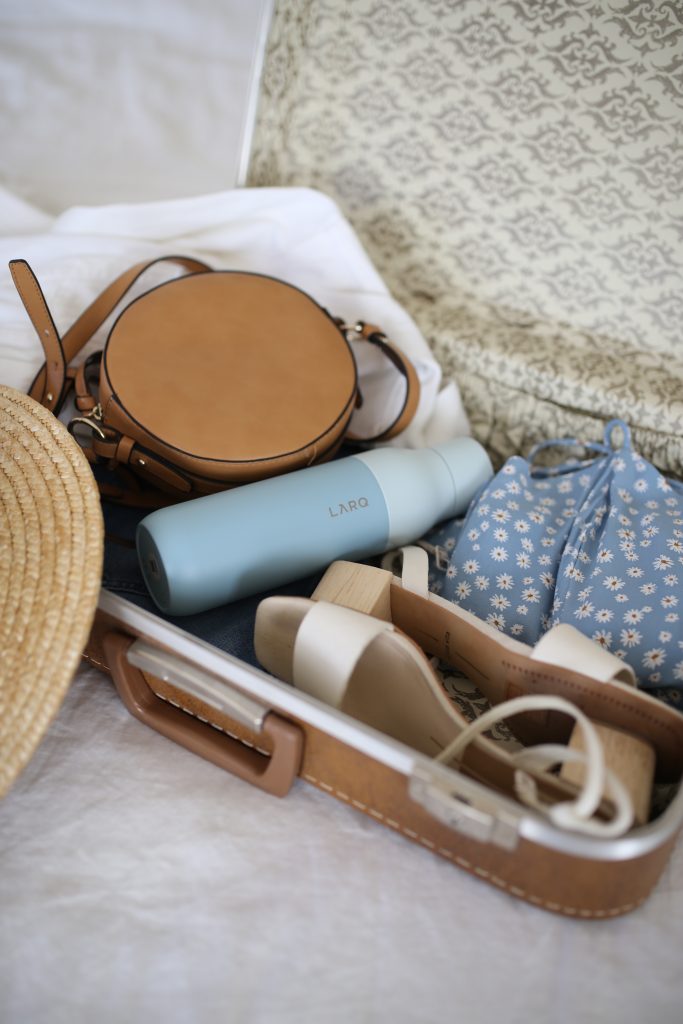 Toiletries can take up a lot of room and add significant weight to a suitcase, so focus on cutting back in this area. Buy or create travel-sized toiletries rather than carrying full-size products with you. Most brands have flight-compatible versions available for onboard convenience, plus you can buy empty travel containers and fill them up with your favorite shampoos, conditioners, cleansers, creams, and the like.
Choose the Right Tech
These days we all have a lot of tech gear we like to have with us at all times. While most of it is quite light, add a few things together and the weight adds up. As such, choose the right gadgets to take away. Your smartphone, for example, is excellent because it provides a host of functionality, giving you the ability to make calls, message people, check emails, post on social media, consult maps, read guidebooks, etc.
However, unless you're going to be working while away, you probably don't need to take your laptop with you too, nor will you need travel converter plugs for every continent if you're only going to Europe. Remember that you can buy tech gear while away if there's something you unexpectedly need.
Pack Twice
You'll end up with a much lighter suitcase if you also pack not once, but twice. Pack your bag the first time like normal, and then leave it for a day or two. Come back to it with fresh eyes and look through everything you've placed in it. What can you remove now? There are sure to be items that, on a second look, you see can be removed.
Packing may be one of the last things you feel like doing when you're busy finishing up work in order to get away, and when you're excited about your trip, but do it right and it will only add to your enjoyment of your travels.