Easter is the perfect time for sweet treats and making memories in the kitchen! As a child, I remember making all sorts of desserts with jelly beans, chocolates, and marshmallows this time of year - and now I get to share those recipes with my own children. I love seeing their eyes light up as I pull out bags and bags of Easter candy for our creations!
Recently, we combined some of our favorite candies to create Bunny Basket treats for our friends. The kids had as much fun making them as they did sharing (and eating) them later.
For our baskets, we used
:
Crispy Rice Cereal
Butter
Marshmallows
Speckled Jelly Beans
Coconut Flakes
Green Food Coloring
Marshmallow Peep Bunnies and Chicks
Rainbow colored licorice
Plastic Easter Egg (optional)
Toothpicks
I started by making a batch of traditional crispy rice treats. There are lots of recipes out there for this, but my favorite is melt 3 tablespoons of butter in a large pot. Combine in one bag of miniature marshmallows and melt completely. Remove from heat and stir in 6 cups of crisped rice cereal.
While the cereal mixture was still warm (but not too hot!), I formed 12 baseball sized balls for the kids. I recommend spraying your hands with a bit of olive oil spray to make sure the mix doesn't stick to them.
The kids then used plastic Easter eggs to create a hole in the ball and create a nest shape.
We colored our coconut with a few drops of green food coloring and mixed it together with a fork. Then, the kids added coconut "grass" to their basket shapes. They added jelly beans to their baskets and then chose their favorite colored Twizzlers to serve as the basket handle. I recommend adding a toothpick inside of the Twizzler and pressing it into the basket to help your handle stay in place.
We added bunnies and chicks to several of our baskets by inserting a toothpick into our peeps and then pressing them into our baskets.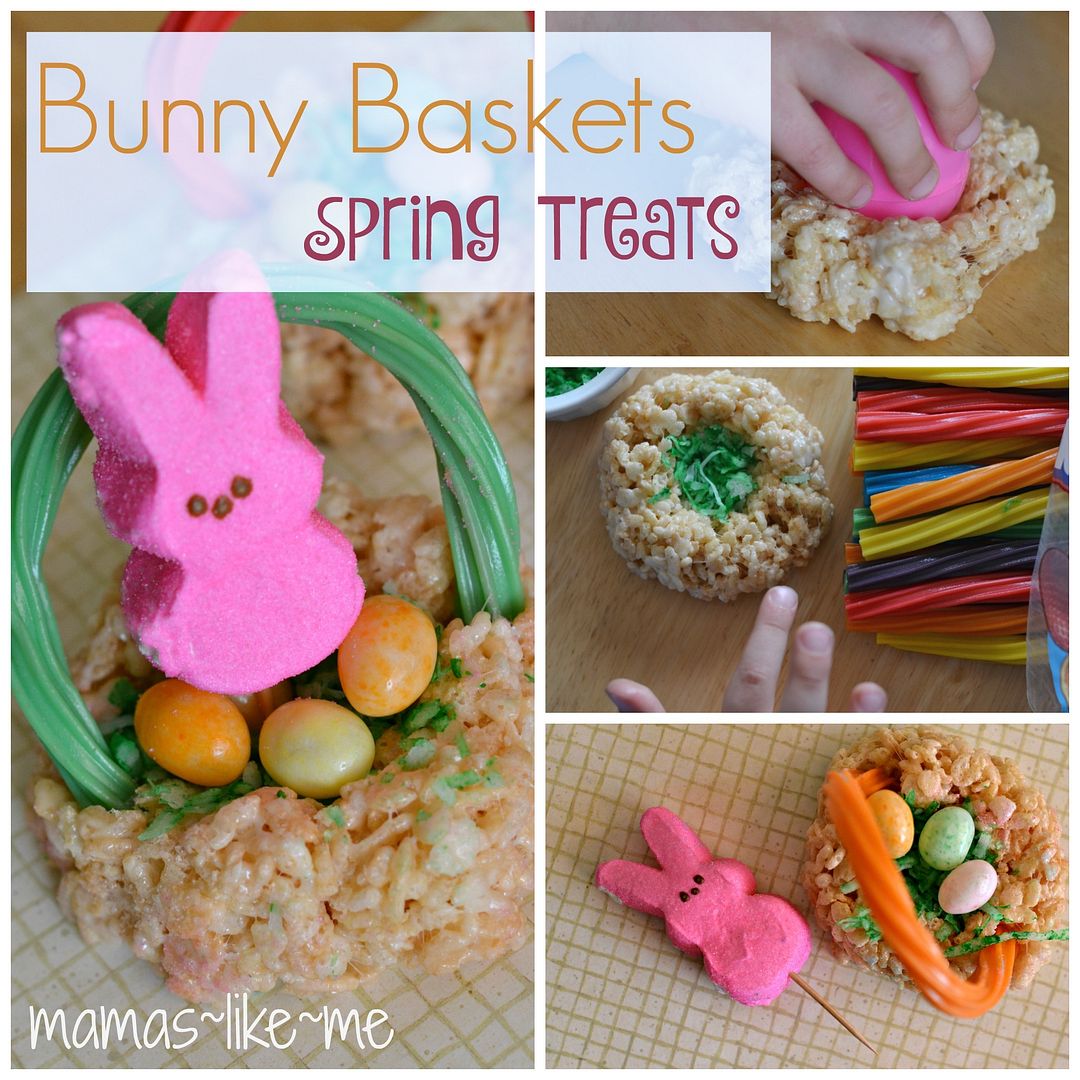 The kids were so proud of their creations and couldn't wait to tell their friends which ones they had each made. Since no real "cooking" is involved with these treats, they're the perfect dessert for the kids to make. They would also be a great classroom activity this Spring. The kids are sure to love all the different colors and candies you can add to this project.
Yields - about 12 baskets
And, when we are all done creating and enjoying all the sugary treats, you can help protect everyone's teeth from the sugar acid with
Aquafresh® Multi-Action Whitening
toothpaste. Aquafresh® Multi-Action Whitening offers cavity protection and strengthens enamel all while giving them pure, fresh breath - and it tastes great! Everyone can benefit from the healthier gums and whiter teeth that come from brushing twice a day. Plus, you'll feel better about letting them enjoy their treats knowing that they have the best cavity protection around. You can find out more about the benefits of Aquafresh® Multi-Action Whitening toothpaste on their
Facebook
and
Twitter
pages. You can grab a coupon to try it right
here
.
Want more ideas for spending time with your kids? Be sure to follow us on
Facebook
or
Pinterest
and
sign up for emails
to keep up with all the latest crafts, activities, and kid-friendly recipes!