Want more ideas for spending time with your kids? Be sure to follow us on our NEW
Facebook
or
Pinterest
pages and
sign up for emails
to keep up with all the latest crafts, activities, and kid-friendly recipes!
We've been focusing on a Transportation Theme this week in Daycare and I just had to share this fun process painting that we did. The kids loved this activity because it combined their favorite things: cars and bubble wrap. My little ones especially got into the different sensory experiences in this activity. Best of all, it used lots of materials we already had on hand!
For this art project, we used:
(affiliate links included for your convenience)
newsprint roll
Washable Paint
Bubble Wrap
Assorted
toy cars
Masking tape
I have been holding on to this
newsprint roll
from our our
Art Easel
for months now planning to use it for gift wrap (I still plan to at some point), but I've discovered that the kids adore just having the table covered in paper so they can draw and paint to their hearts' content!
After taping down the paper with some masking tape, we drizzled
Washable Paint
over the paper. If I were to do this again, I would probably water down the paint a bit more first so it could squish farther.
Then, I covered the paint in bubble wrap that I had been saving from various packages and taped it down in a few places.
I absolutely adore online shopping! With 5 kids, Amazon Prime has saved me so many trips to the store!
Then, I set the kids loose with their favorite
toy cars
to drive over the bubble wrap. My husband took this little video while they were playing and you can see the joy and giggles as they zoomed over the paint and listened to the bubbles popping!
They also managed to push the bubble wrap to the side and do some classic car painting in the paint.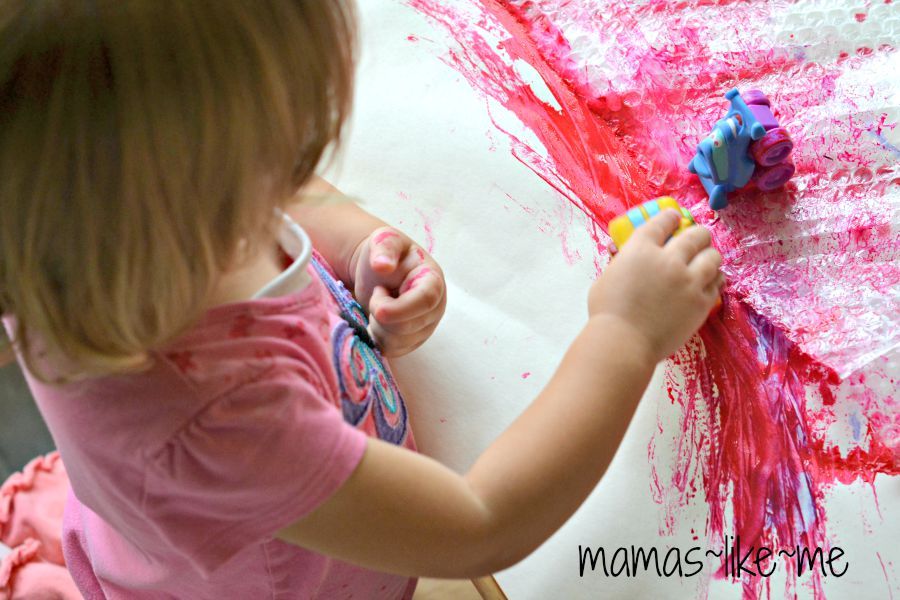 And some of them preferred to just fingerpaint the cars themselves.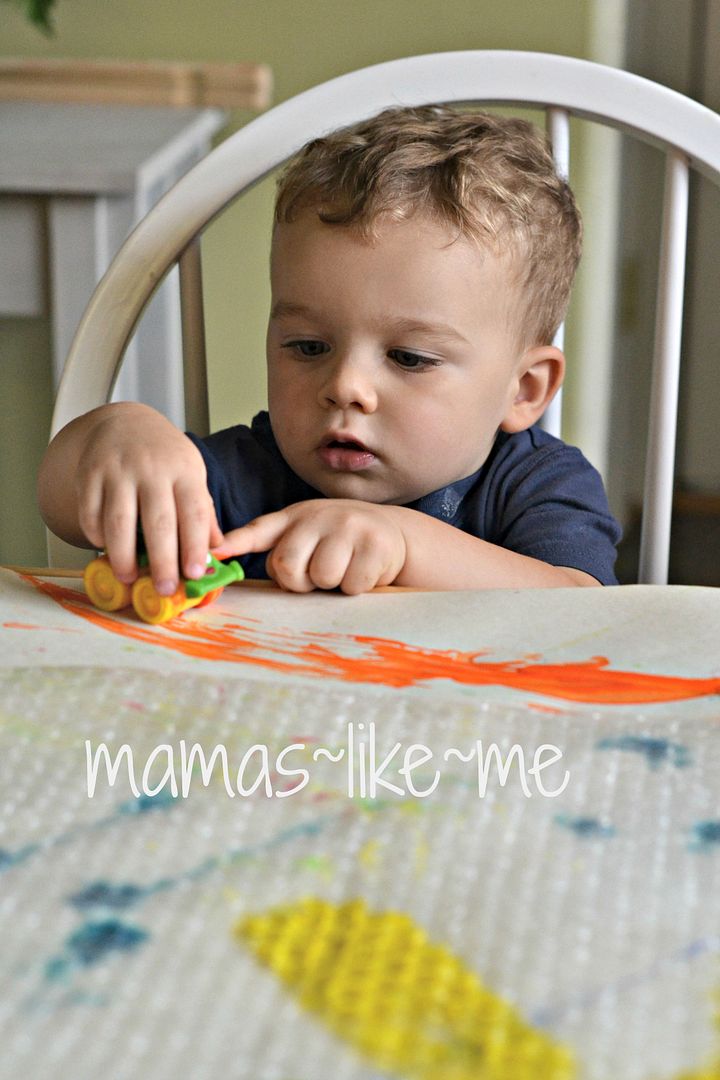 They had a great time exploring with different types of cars and different pressures.
Then, they just started using their fingers to pop the bubble wrap.
When they were finished, we had a gorgeous table display! I ended up cutting it apart and sending pieces home from the kids from the area of the table they sat at.
Like this activity? You might also enjoy: