Want more ideas for spending time with your kids? Be sure to follow us on our
Facebook
or
Pinterest
pages and
sign up for emails
to keep up with all the latest crafts, activities, and kid-friendly recipes!
Lots of research has been done to show that
children develop much of their capacity to learn in the first three years of life
. Parents can help this development by talking, singing, and reading with their children. Literally, there is nothing better that we can do for our children's desire to read than just to read with them and to them. Not only are we exposing them to letters, site words, and vocabulary, we are creating positive memories revolving around reading.
Our favorite times for reading with the kids are right before naptime and bedtime. This is a great way to settle down, snuggle in, and spend time bonding over stories. Over the years, our kids have definitely gravitated to certain favorites and today I'm sharing some of those with you. Hopefully, you'll find some new ones to add to your collection: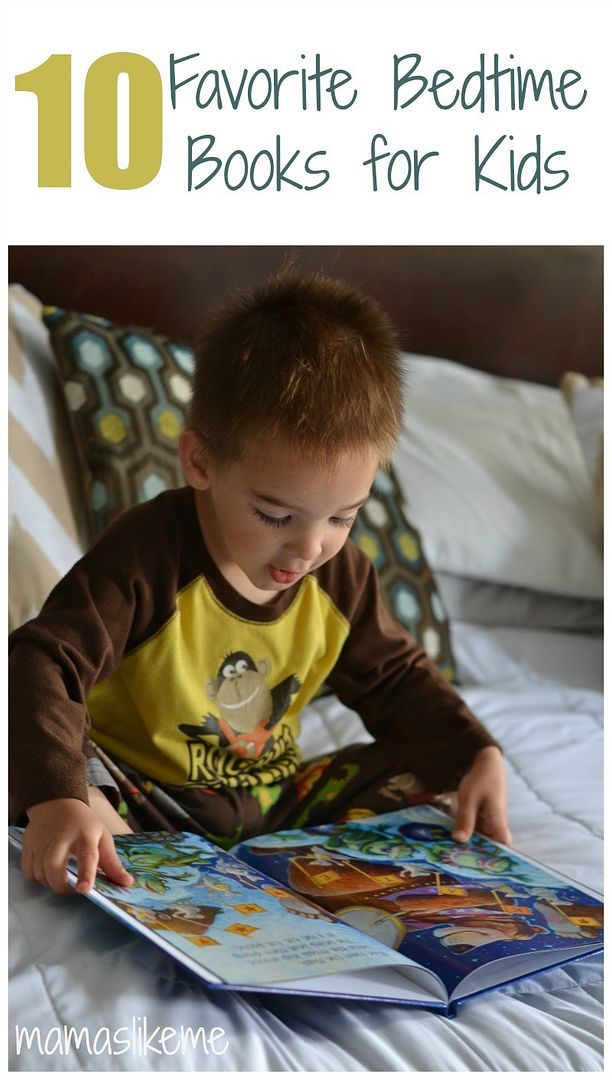 1.
Llama Llama Nighty-Night
- My toddlers love this book because they can follow Llama Llama's nightly routine and identify the parts of their own bedtime routine. My 2-year-old's favorite part is finding the Llama's stuffed llama lovey! The simple pictures and silly rhymes make this an instant favorite for the little ones.
2.
Who Will Tuck Me In Tonight?
- Little Wooly is sleepy and can't find his Mom. This book goes through different farm animals that try their best to fill in for Wooly's mom. I have to admit that my kids' favorite part of this book is listening to me make up funny voices for each of the animals and yelping as poor Wooly gets squished and squeezed and licked by all the wrong animals. Trust me, you don't want to be around when I do my impression of Mrs. Duck singing a lullaby!!
3.
Goodnight Moon
- This is an absolute classic and one that needs to be on every child's bookshelf. My kids love watching the pictures get darker as we turn each page. This book is great for winding down and snuggling together.
4.
Baby Bat's Lullaby
- This is a sweet story of a Mama and Baby bat who explore together through the night and then settle in for bedtime with the dawn. The rhymes are soothing and the beautiful pictures are very calming for the little ones.
5.
Brown Bear, Brown Bear, What Do You See?
- While not technically a "bedtime book", two of my boys have gone through
long
phases where this was their book of choice before bed each night. They love the repeating patterns that let them "read" the story to me. This book is great for the little ones who want to focus on the pictures and naming everything they see together.
6.
Good Night, Gorilla
- My boys love this book where the pictures tell most of the story. A mischievous gorilla swipes the zookeeper's keys and lets the animals at the zoo out to follow the zookeeper home. My boys always laugh to find the gorilla in the zookeeper's bed and follow the animals back to their homes at the zoo. This is a great book for them to "read" to themselves again after they've been tucked in.
7.
How Do Dinosaurs Say Good Night?
- My boys love dinosaurs and this book is especially great for kids who fight the bedtime battle. It asks important questions about what dinosaurs do when Mom and Dad put them to bed (and it's not stomping, or sighing, or pouting, or whining)!
8.
Don't Let the Pigeon Stay Up Late!
- Mo Willems is a bit of a legend in our home. Our boys adore everything he has ever written and anxiously await any additions to their Piggy & Gerald or Pigeon Book collections. In this book, the Pigeon comes up with lots of fun excuses and pleas to stay up late and the kids love to be the ones to tell him "no". It always ends the day with a giggle!
9.
Where the Wild Things Are
- This was my oldest son's absolute favorite bedtime book. Now, almost 7 years later from the nights where I was begged to read it over and over (and over), I can still quote it from memory. The magical pictures and lilting rhythms in this book are perfect before bed. Plus, it's always good to remember that no matter how naughty Max might be, there's always somewhere where "someone loves him best of all"!
10. Goodnight Little Kate - This is a recent addition to our collection from I See Me and my kids are thrilled!
I See Me
sent us one of their
Goodnight Little Me storybooks
and this sweet book is just gorgeous. The whimsical illustrations bring in classic elements from favorite nursery rhymes and add a touch of fun with your child's name hidden in each page. My 2-year-old loves finding the letters to his sister's name in the twinkling stars and the dogs' socks and the kids love reading a story where their sister is the star of the show! As for me, I love the full-glossy pages that give them some added durability when little hands want to turn them over and over. Another added bonus is the sturdy hardback cover and the sweet dedication page that includes a photo of my little one and a note from Mom and Dad making it a truly
unique gift
.
Our I See Me books have become treasured keepsakes for the kids. Our third son still wears his Big Brother medal and pulls out his personalized Super, Incredible Big Brother Book from when he was
preparing for a new sibling
.
May is Get Caught Reading Month and I See Me is celebrating with a their Facebook fans! Facebook fans can use the coupon code GETCAUGHT at checkout on ISeeMe.com for 15% off any personalized book on ISeeMe.com for the month of May. Expires 5/31/15
You can also find I See Me on Twitter, Instagram, Google +, or just sign up to receive their emails directly about special sales and promotions!