This post contains referral and affiliate links. This is not a sponsored post. Signing up using these links will not cost you anything, but will help to support this site. Thanks in advance for your support!
Seven years ago, I left teaching to stay home to raise my kids. It was a choice I made knowing that there would be sacrifices. We don't take large vacations every year. We don't drive fancy cars and we save money any way we can. That means that even though it's March, my husband and I are already budgeting for Christmas and birthdays, and lately we've really been rocking the Swagbucks!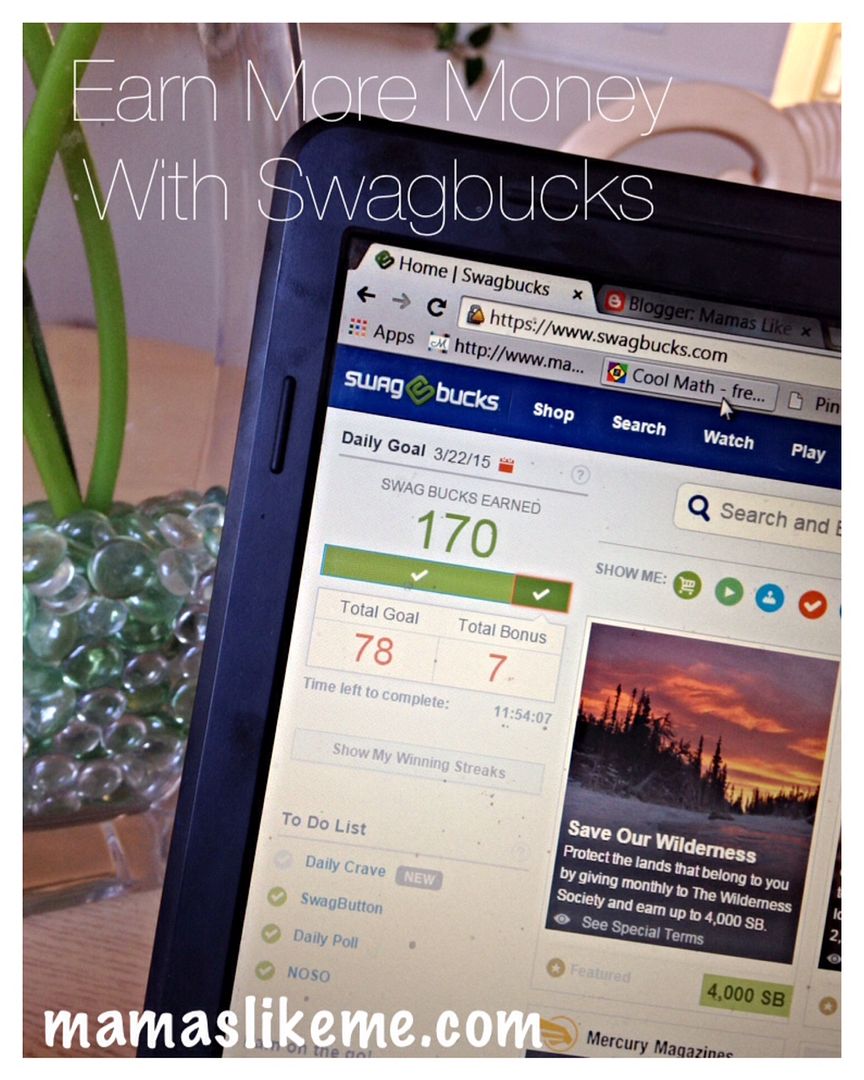 Chances are if you're looking for ways to save money for your family, you've come across
Swagbucks
. Maybe you read a blog about how people are paying for vacations, earning gift cards, or paying down debt with Swagbucks. Maybe you signed up for an account and never used it. Let me inspire you to visit that account again and show you how you can easily earn them without spending a ton of time on your laptop. Seriously, this is free money that everyone should be taking advantage of!
What are Swagbucks and why should you bother with them?
Swagbucks are basically points that you earn for doing things online like taking surveys, watching ads, shopping, or searching the web. These points can then be traded in for gift cards to lots of your favorite places, or even deposited straight to your PayPal account.
We use our
Swagbucks
primarily for Amazon gift cards that we then use to buy birthday and holiday presents. Right now, we are averaging about $50/month. By shopping the Amazon sales, we can finish our holiday shopping early and end up saving a ton of money! I have friends who use theirs for Starbucks gift cards and others who have used theirs to save for Disney vacations.
How can you earn Swagbucks?
1.
Swagbucks TV
app - One of the easiest ways I've found to earn Swagbucks is with the Swagbucks TV app. I simply plug in my phone and let the app run. If it's during the day, I may check on it sporadically to make sure it hasn't frozen, but mostly I just tap it and let it run. You can earn 50 Swagbucks with the app and 150 through Swagbucks TV on your computer. My husband will actually run this app on 3 different devices each day to get his 150 Swagbuck allotment. He's obviously a little more devoted than I am.
2.
Daily Poll
- Answer one quick question each day for an easy Swagbuck.
3.
Surveys
- These can be a bit more time consuming and I don't always do them, but if I have a few minutes to sit during naptime while I nurse the baby, I will click away. I've gotten 50-100 Swagbucks for these. Even if you don't qualify to take a survey, you will still get one Swagbuck just for clicking on them.
4.
Searching with the Swagbucks Toolbar
- You will get one point simply for having the toolbar installed and then you can earn any number of Swagbucks for your regular searches.
5.
NOSO
- No Obligation Special Offers. Click on this link to earn 2 Swagbucks. It will give you the option of signing up for many offers. I don't even look at them. I scroll down to the bottom to click on "more deals" and then type in the code at the end.
6.
Shopping
- Another great way to earn Swagbucks quickly is through online shopping. Most of my shopping is done online because it's just easier for me to do that than to drag 5 kids through a store. You can earn Swagbucks by shopping through lots of stores like Amazon, Kohls, Macy's, Walmart, and Groupon. Before traveling click through the Shop tab on Swagbucks and you can earn by booking flights and rental cars through them.
7.
Daily Goals
- Swagbucks rewards you for earning Swagbucks each day by giving you a monthly bonus based on how many days in a row you met your goal. This is one of my husband's favorite ways to earn.
8.
Referral Points
- Swagbucks also rewards you for referring friends and family. I signed up using my husband's referral code. Now, he gets points every time I earn and he's pretty excited about that.
9.
Swag Codes
- Almost every day, Swagbucks will post a code on their Facebook page or Instagram and give users a certain amount of time to enter it. The Swagbucks app will alert you to all of these codes.
10.
Explore the Swagbucks Homepage
- Take a few minutes to explore the Swagbucks Homepage for free ways to earn Swagbucks. You can often earn Swagbucks just for clicking on an ad, answering a short survey question, or taking a quiz. I just earned 5 Swagbucks for verifying that I "liked" their page on Facebook!
So, how has this actually helped us?
We're trading our Swagbucks in for Amazon gift cards. We're averaging about $50/month in gift cards without too much effort. There are certainly days when I don't earn any at all. So far, we purchased a
Snap Circuits Jr.
for my 6-year-old for his birthday this summer. We also bought another
Wubbanub Plush Pacifier
for my daughter's Easter basket and put money towards a
Kindle Fire Kids Edition
for each of the boys' baskets. No, we do not typically buy them elaborate electronics for Easter, but we were planning to get each of them one for our trip to Disney this Summer and this seemed like a good time since they are currently $25 off!
If stocking up on gift cards for holidays isn't for you, you can also redeem Swagbucks to fuel your Starbucks addiction or for gift cards to restaurants for Date Night! And, if gift cards aren't your thing, you can have your Swagbucks transferred directly into your PayPal account as cash! Really! Who doesn't love extra money to pay the bills?!
This is not a get-rich-quick scheme by any means, but the extra money has been such a blessing for us and I hope that you'll find a way to use it in your home, as well! Feel free to share how you're using Swagbucks in the comments or what things you've done with your gift cards! I love the inspiration!