I have been wanting to do a salt and ice experiment with the kids for awhile now, so when I stumbled across these
Wilton Heart Cookie Treats Pan
in my holiday boxes, I knew it was time to act. The kids had so much fun with this and it was a great way to engage our sense of sight and touch (and yes, some of them got a little taste in there, as well)!
For our experiment, I used two different pans. One was a
Wilton Mini Ball Pan
and the other was a
Wilton Heart Cookie Treats Pan
. I also used some plastic heart molds to show that size makes a difference in how quickly the hearts melted. To keep the water from leaking, I used some
painter's tape
to cover the groove where the sticks would be inserted. It did the trick for us and I froze everything overnight so it would be ready for our experiment bright and early.
To help the ice cubs come out easily, I dipped the bottom of the pan in a shallow pan of warm water. Most came out perfectly, but a few broke and the kids didn't mind at all. Just tell the kids they're "broken hearts"! We put our hearts on a
cookie sheet
and got to work.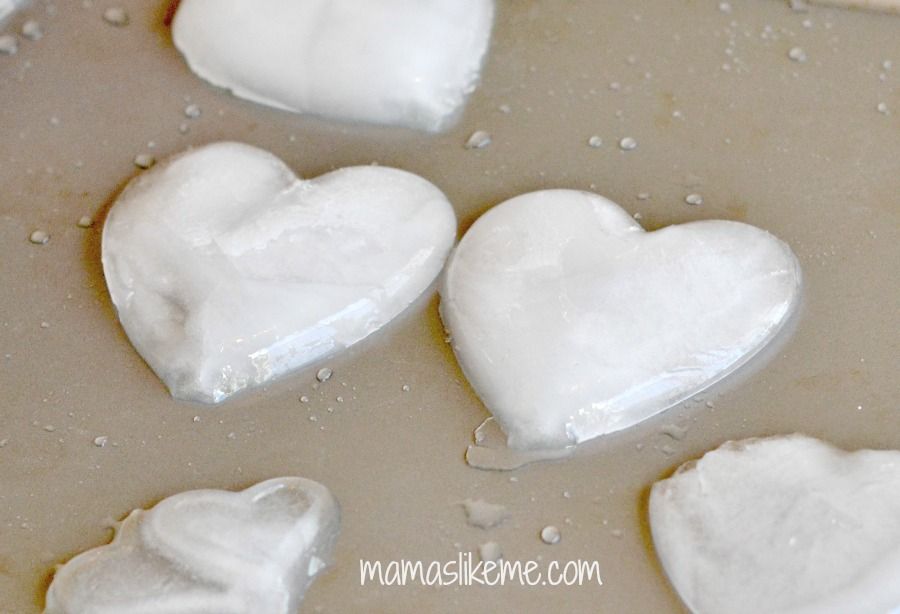 Before we got started with the salt, the kids all took turns touching the ice and describing what they felt. I heard lots of
cold
and
smooth
. Then, we talked about what would make the ice melt. We decided that we could put them in the sun and they would melt, but then I told them that we could make some melt even faster by using salt. The kids all took turns shaking salt onto the hearts. Using a salt shaker helped to keep the little ones from just dumping salt and not being able to see the effects.
We were able to see ridges and holes from the salt almost immediately, but then we added some
food coloring
and we were
really
able to see what the salt was doing. The kids loved this part!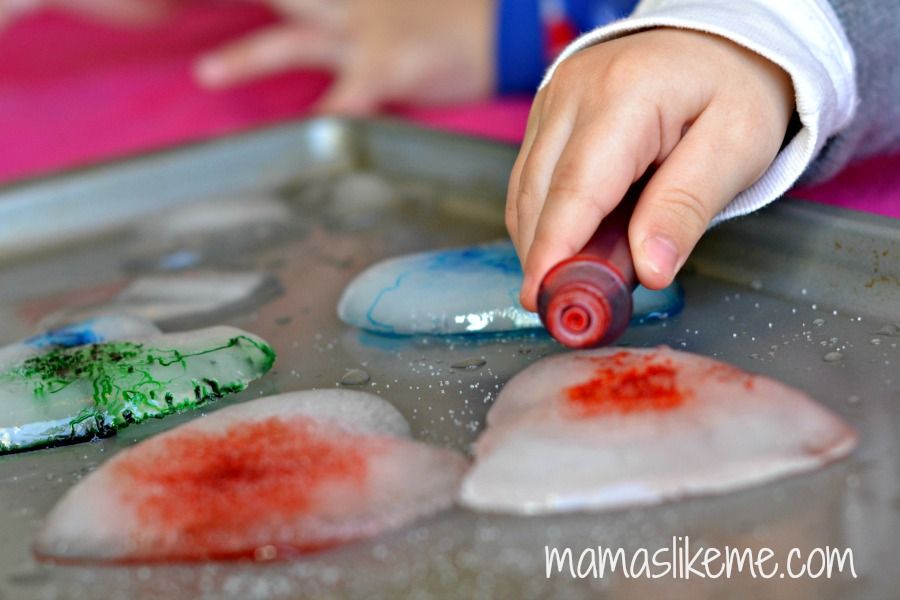 I held some of the hearts up to the window so the kids could see how the salt was starting to eat through the ice and where the food coloring was seeping in. This is such a cool effect!
After awhile we grabbed the eye droppers and had fun squeezing the colored water back onto our ice. The kids interacted with this experiment for about 40 minutes, which is amazing when you consider how long 2 and 3-year-olds typically sit still for!
Now, we just need another good snow and ice storm so the kids can really appreciate why the plows are putting salt on the road!