Want more ideas for spending time with your kids? Be sure to follow us on our
Facebook
or
Pinterest
pages and
sign up for emails
to keep up with all the latest crafts, activities, and kid-friendly recipes!
For our 3rd anniversary, I dragged my husband on our first trip to Disney World. He would never admit it now, but before that trip he was actually anti-Disney (gasp!). Now, seven years later, we have made several trips to the "happiest place on Earth" and even spent our 10th anniversary on a Disney Cruise. Needless to say, my husband is a Disney-convert and thoroughly enjoys planning every detail of our Disney trips.
It's no secret that a Disney vacation isn't cheap. After returning from our first family trip, I wrote an article on "
Why Your Child Doesn't Need a Disney Trip
" where I shared some of the darker sides of our trip. Traveling to Disney with four small children is no small feat and no small expense!
We have found many ways, though, to save on our Disney trips. The one I have the most influence on is our Disney Souvenirs. With some advance effort and planning, we are able to save quite a bit and STILL have magical memories for our children.
1.
DIY Disney Shirts
- I knew I wanted those adorable matching shirts for our family. Not only do they make for fabulous photos, they're also practical for finding all of your children in the large Disney crowds. Unfortunately, they can easily cost $20/each in many Etsy shops. I made three Disney shirts for each of our boys and ended up saving us a bunch of money. We stayed in a timeshare that had laundry so we did wash and re-wear them. We let the boys pick whatever they wanted to wear for Downtown Disney and my husband quickly realized why I wanted everyone in one color at the parks. Here are instructions for how I made our
DIY Mickey Shirts
.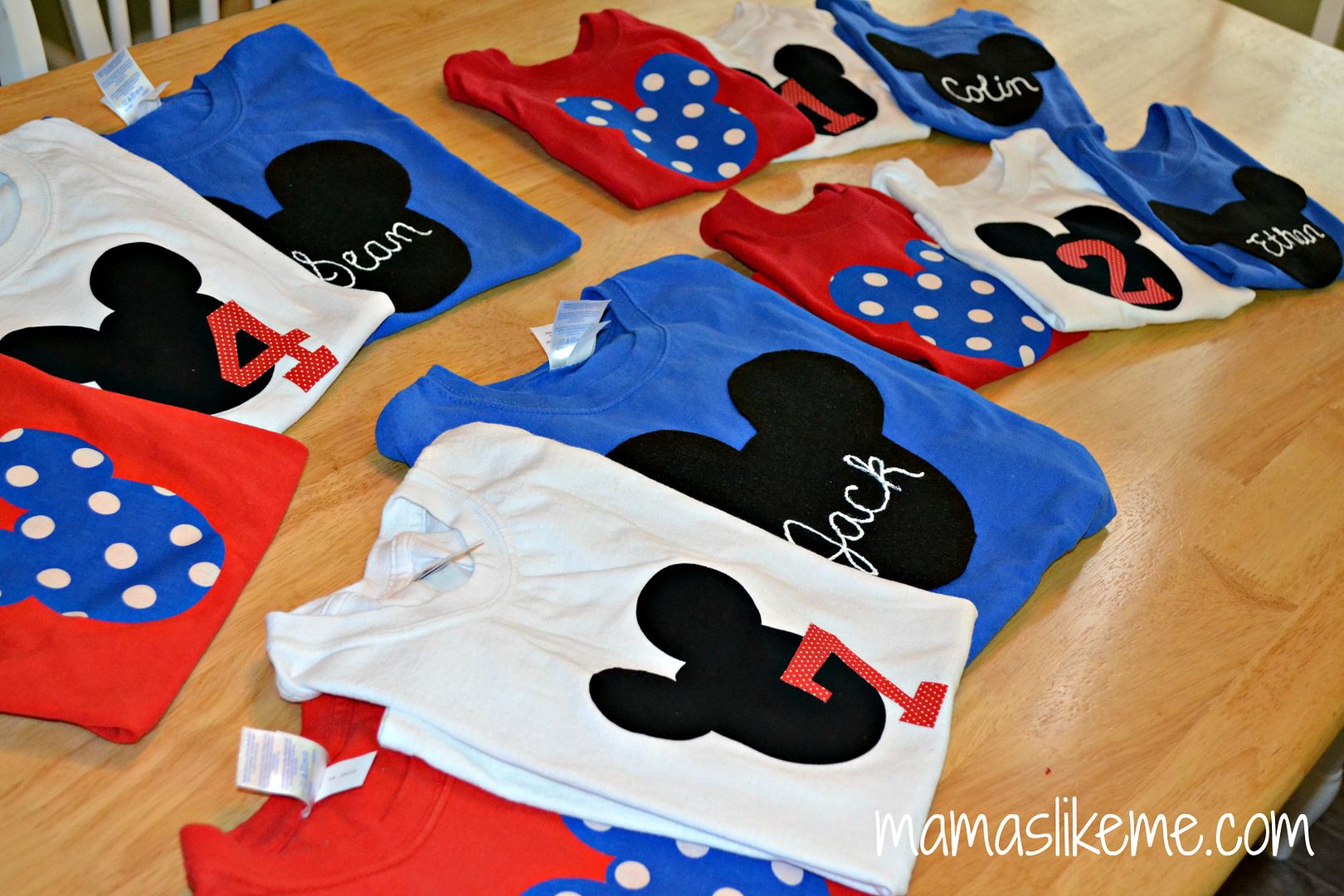 2.
Autograph Books
- I posted before about
how we told our children we were going to Disney
and it has become one of my most popular posts. Instead of buying $20 autograph books from Disney, we found these
Disney Spiral Notebooks
on sale from Amazon. They come with a matching pen and a plastic carrying case that make them perfect for carrying around the park and protects them from rain. They kids loved them and didn't know the difference. This alone saved us almost $60.
3.
Bring Your Own Souvenirs
- There are many things that Disney sells in the parks that are just cheaper to bring from home (like EVERYTHING!). If you're traveling to the parks with kids you'll want to bring
glow sticks
for the parades and fireworks, a
misting fan
or two, refillable water bottles, plastic ponchos, and your own
Disney Trading Pins
(if you choose to participate). We bought glow sticks, bracelets, and necklaces at the Dollar Store and it saved us from buying the much more expensive items at the parks. As for misting fans, I literally saw one family buy two of these for their children only to have their son promptly drop his and break it. There went $15. A travel agent friend sent us a photo of these adorable water bottles that a colleague of hers made for some clients. Food and drinks can get very expensive at Disney so bringing your own snacks and water bottles can save you a bundle and these are so cute that the kids will definitely want to show them off!
I also recommend bringing your own
Disney Stuffed Animals
and merchandise with you. We brought stuffed animals that our kids already had at home. Then, when our youngest boys saw kids carrying around stuffed Mickeys, we were able to pull theirs out and they were happy without us spending another $25. If you have a car with you, you can find tons of Disney merchandise all over Orlando (we found quite a bit at the local Target) and it's much less expensive. Also, check sites like Amazon and the Disney store for clearance merchandise. I recently came across some
tips for visiting the Bippity Boppity Boutique
that encouraged bringing your own dress-up outfits. If you're planning a trip in the future, check out the after-Halloween sales for princess costumes. We got a Snow White outfit for our daughter to wear this summer MUCH cheaper than it would be anywhere else.
4.
Think Outside of the Souvenir Box!
- Disney characters will sign just about anything you give them, which gives you a wonderful (virtually free) option for souvenirs. When we went on our Disney cruise, we were really trying to save money and I wanted something that the kids would actually use. We bought 4 pillowcases from Target and a package of
fabric markers
. Our kids loved their pillowcases with all the characters' signatures and it was SO easy for us. (Note - On Disney cruises you can drop off items to be signed at Guest Services and they will deliver them to your room on the last night of the cruise. Be aware, though, that they will only do this for two items per room. I ended up copying signatures on the other two pillowcase, but thankfully I am a ROCKSTAR Disney forger and the kids never knew the difference!). Your kids might consider bringing things like a pillowcase, hat, shirt, apron, picture frame mat, poster, or canvas bag for their favorite characters to sign. Take a trip around Michaels and see what inspires you. Just be sure to bring your own
fabric markers
or Sharpies for the characters to use.
5.
Take Advantage of Freebies
- Stop by Guest Services to pick up your Disney Buttons. They have buttons for Anniversaries, Birthdays, First-Time Visitors, Just Married, and Celebrating Special Occasions. Not only are they free, but they also signal to cast members that you are celebrating and you're sure to get some extra well-wishes.
Disney has character handlers and professional photographers throughout the park to help you capture special memories. They will give you a photo pass to purchase photos, but you can also ask them to take photos with
your
camera and they are happy to help. Some of my favorite photos from our trip were taken by cast members as my kids met their favorite characters. They will take a ton of candid shots including group shots of the whole family. Add these to an album or scrapbook and you have the perfect Disney souvenir!
Disney Trading Pins
- We have not started this tradition with our own children, yet, but you can purchase trading pins and lanyards before your trip and then trade them with any cast member during your vacation. Your child can make a game of finding their favorite pins and come home with something "new" without spending any more money.
One of the best ways to start planning your trip is to talk to a Disney Vacation Planner. It is absolutely free for you to book through a Disney agent and they can help answer all of your questions. Unless you're dedicated to researching all aspects of Disney, these agents are great for helping you plan out the best place to stay, make reservations for character meals, schedule your fast passes, and so much more!
Destinations in Florida
helped us plan our Disney Cruise and even made it possible for us to afford a spa day for me while on the cruise! They have helped us learn many of the ins and outs of planning a Disney trip and can help you
Make your Disney Dreams Come True
. They are giving away a Tupperware set to one of our lucky readers. This would be perfect for a Mickey or Minnie lover!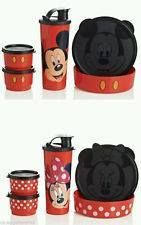 To enter, simply comment on this post with your favorite Disney attraction (or why you would like to take a Disney vacation). Winner will be randomly selected. Contest ends February 20th.