Check us out on
Instagram
to join the #31daysofdecluttering Challenge!
Tis' the season to declutter the house and make room for all the new things we got from the holidays. Even though we agreed not to buy adult gifts this year, and even though we vowed to limit how many gifts we bought for the kids, we still ended up with so many new things after Christmas. I discovered long ago that no matter how much I try to "gently" limit the grandparents, they are going to buy what they're going to buy. I love that they love my kids and this is just one of the many ways that they show it. Plus, it gives me an extra nudge to start decluttering and get the new year started off right.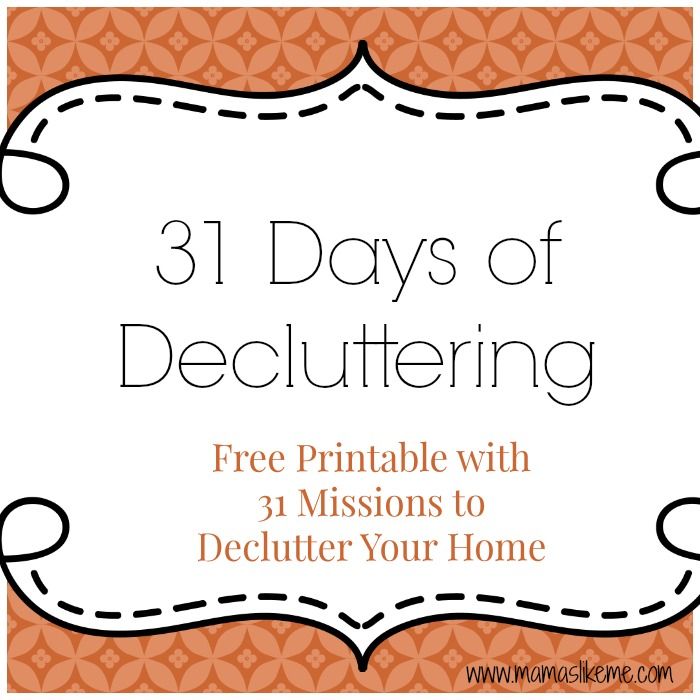 A few times a year, I get the "decluttering bug" and start tossing and donating our things.
When I mentioned this post to my husband, he suggested my two favorite steps:
1. Find your husband's favorite things...
2. Throw them in the trash!
I promise I'm not
really
that bad....most of the time!
Last year, I did
The Great December Purge Challenge
. We started a Facebook group and I really enjoyed interacting with several of you...and then Facebook deleted the group! One day I went to post and it was gone! At the time, I was pregnant and crazy busy so I didn't fight it too much, but now I'm wishing I still had that accountability. This year, I've decided to share some of my favorite tips for decluttering and I've made a helpful
printable
with the areas that most need some help in our home this month. That's right, I'm making this challenge for myself and hope that some of you will join me!
What Is the 31 Days of Decluttering Challenge?
This is NOT designed to organize, deep clean, or even clear every bit of clutter from your home in 31 days. This is a guide to jump start your mission to declutter your home. Each day, we'll find 10 things from the assignment on the checklist to declutter. Some days will be incredibly easy and others will require a little more digging. The idea is to rid your home of over 300 unnecessary items without burning yourself out and with tons of flexibility. If you don't have one of the areas listed, simply choose another area of your home that needs some attention. My intention is that these missions will take 15 minutes or less. You are not dumping everything out or even trying to sort through everything in that space. You are only looking for 10 items. We can all do that!
Why a 31-Day Printable?
This way, you can jump in any time with this challenge and go at your own pace. You'll notice that the last two days are labelled as "Other". This is to cover those with more than one "Kid's room" or allow for everyone to choose their own
most important
assignment. It also gives some wiggle-room if (like me) you decide you need a day off here or there. My hope is that I'll be able to re-use this list several times throughout the year, each month ridding us of a little more clutter. Plus, if it's printed and staring at me every time I open the refrigerator, I'm more likely to actually
do
the missions. I have a slight obsession with checking things off a list! (Maybe I should make a checklist with exercises and eating salads instead...)
What Do We Do With the Clutter?
There are several options here:
Toss it out! - This is the fastest way to get things out of the house, and even though I usually hate to throw things away, there are times when clutter is obviously trash! Old school papers, junk mail, holey socks, and broken toys should all immediately go into the trash. If you would be embarrassed to give it to a close friend, it needs to go in the trash.
Donate - Another (usually quick) way to get things out of the house is to give them away. Facebook yard sale sites have become very popular for this. You can also join your local Freecycle group. I've also personally given away furniture and other items on our church's Facebook page and our HOA page. Be sure to make sure that these types of posts are okay beforehand. Check your local shelters and Goodwill for their donation policies and you can clear out boxes and bags of items in one stop. Also, keep in mind friends and neighbors that may be thankful for your surplus.
Sell it! - Selling unwanted items is a great way to make a little money AND clear clutter out of your house. Again Facebook yard sale sites and sites like Craigslist are great for this. You can also gather up your items and hold your own yard sale. The only problem with this option is that people often find themselves holding onto clutter for a yard sale that they plan on having, but never actually get around to it. My personal rule for selling things online is if they don't sell within a week, I donate them to someone and get them out of the house. The joy of helping someone else and the freeing feeling of decluttering is usually payment enough.
I'll be working through this challenge through the month of January and I hope you'll join me on
Instagram
as I post my progress. You can join in the fun with the hashtag
#31daysofdecluttering
! Post every day or just when you need some encouragement!
Want more ideas for making the most of this "Mama gig"? Be sure to follow us on our Facebook or Pinterest pages and sign up for emails to keep up with all the latest crafts, activities, and kid-friendly recipes!