When I got pregnant with my first son, I read every book on the library shelves. I had strategies for tantrums before he took his first breath. I knew the order to start solid foods before I knew if we'd be buying baseballs or hair bows. I was so determined to do everything
right
that I missed out on
enjoying
that sweet little bundle.
In fact, I was so scared with my first child that I'm afraid I stunted his natural curiosity. He didn't play in the dirt because I was leery of germs. When he went down the tall slides, one of us was climbing with him and the other was at the bottom waiting for him. I spent so much time telling him to "be careful" that he missed out on opportunities to "be brave" and try new things.
Now that he's 8 years old and has four younger siblings, I've learned how resilient these little guys are. For example, you might notice that my sweet Ethan is eating a pine cone during this recent family portrait! I've also watched kids run straight into walls, bounce off, and keep going. I've seen them fly down slides and land on their rumps giggling in the mulch. I've seen them dig huge piles in dirt, taste-testing as they go and never end up sick. More than that, I've seen the joy on their faces as they explore and discover the world around them. In short, I've grown with my children and become a calmer, more patient parent.
Babyganics
is one of the companies that I trust to provide products that help me create this environment where my kids can
Grow Boldly
.
After a full morning of playing in the dirt at the park or painting masterpieces, I know I have a package of the
Face, Hand & Baby Wipes
that are strong enough to clean up the dirtiest messes. They're also gentle on the skin and work great for diapering as well as for face and hands. Unlike many travel-friendly wipes, the packaging folds completely open and lays flat making it so much easier to change a squirmy baby no matter where I am. I love having these in the diaper bag and in the car for the whole family! With five kids, there are always plenty of sticky, messy hands to wipe!
My other favorite on-the-go product from Babyganics is their
Mandarin Alcohol-Free Foaming Hand Sanitizer
. All it takes is one pump to sanitize my little one's hands before eating when we're out and about. Since it's alcohol-free, it won't sting or dry out their hands, and we all love the fresh mandarin scent.
At home, we rely on the
Toy & Highchair Cleaner Spray
to clean up all those messes when my sweet babies and Daycare kids decide they have to feed themselves. I love this spray because I don't have to worry about rinsing the toys or trays before they can be used. Babies can eat right off of them or put the toys directly into their mouths without fear of harsh chemical residues. This powerful natural cleaner leaves no residue or scent behind.
When washing dishes by hand, we've started using the
Citrus Foaming Dish & Bottle Soap
. Baby Kate doesn't take a bottle often, but when she does, I can use this without needing to boil the bottle and it doesn't leave any residue behind. The foam pump applicator is perfect for getting just the right amount of soap without wasting any, and a little goes a
long
way! It's great for washing dishes by hand because it's so gentle on my hands. Plus, I love the citrus scent that makes everything smell clean and fresh!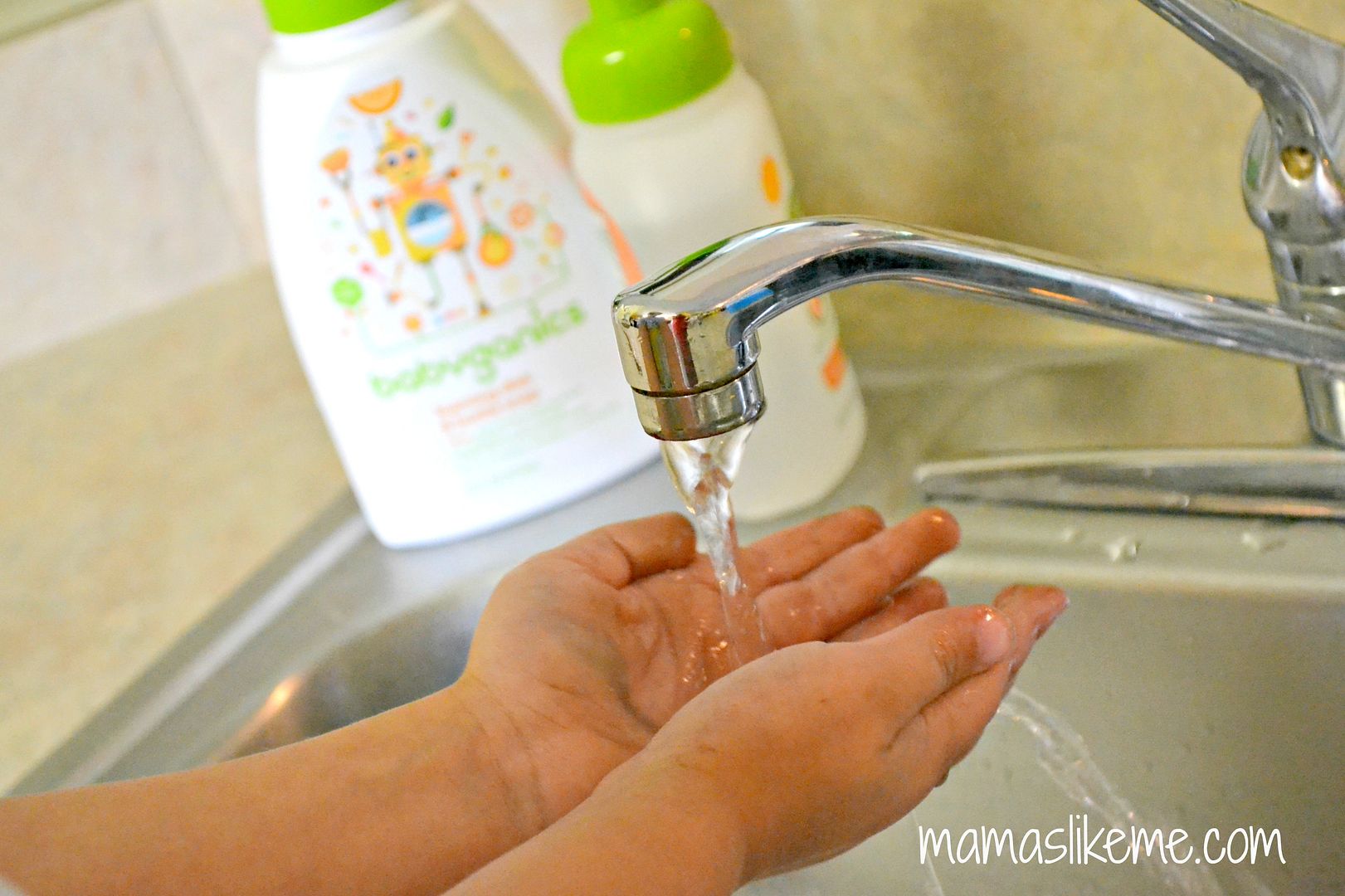 And I know that after all the baths and cleanings, I have the
Chamomile Verbena Moisturizing Daily Lotion
to protect my baby's skin and those sweet little toes. This thick formula moisturizes really well throughout the day without feeling greasy or leaving a film on her skin. It's gentle enough for eczema prone skin and has a natural soothing scent that isn't overwhelming for my baby or for me.