Want more ideas for spending time with your kids? Be sure to follow us on Facebook or Pinterest and sign up for emails to keep up with all the latest crafts, activities, and kid-friendly recipes!
One of the ways I save money on activities for the kids is stocking up on holiday decorations in the week following the holiday. Last year, after Halloween I bought Halloween sprinkles, decorations, and a bag of fabulous
Halloween Pasta
marked down to $.50! This year I found that bag of pasta in my box of Halloween decorations and it became the basis for this fun sensory invitation to play.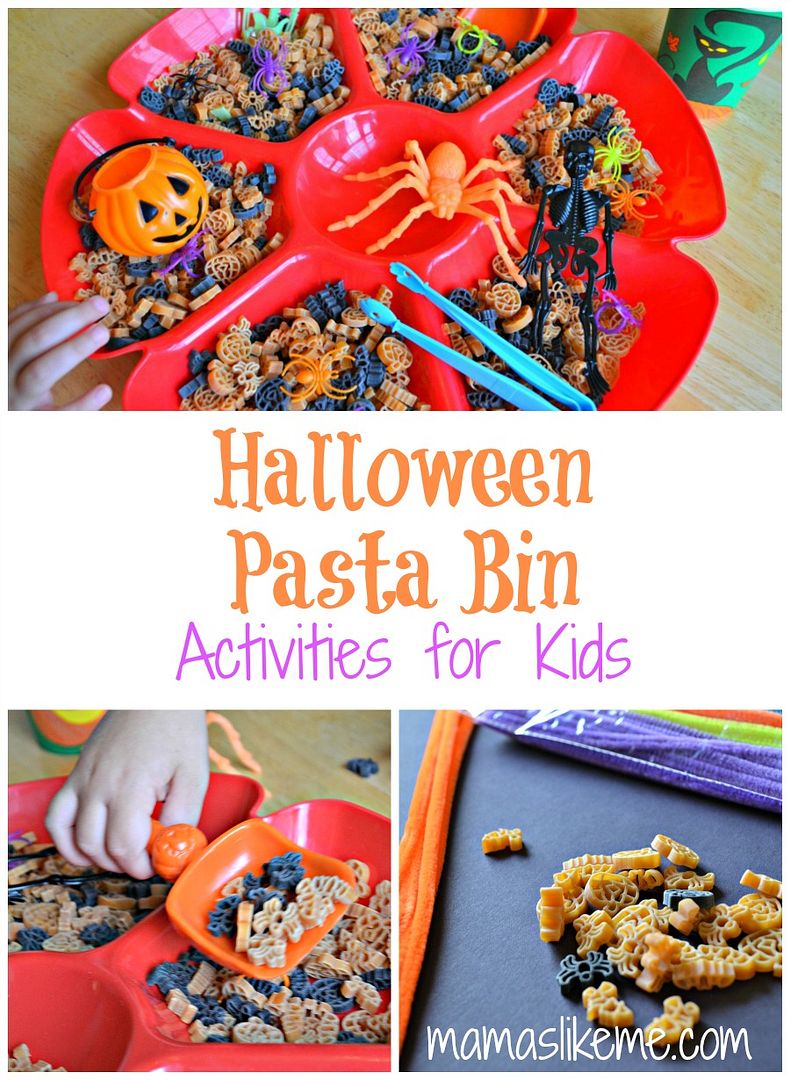 One of the best purchases I've made for sensory play has been this tray from the Dollar Store. Every time the kids see it, they immediately get excited and it doesn't seem to matter what I put on it.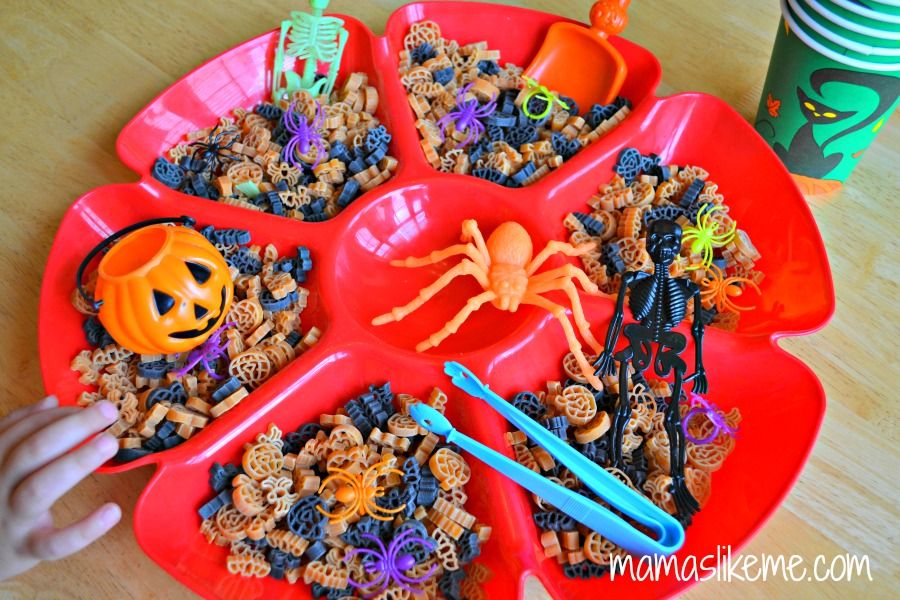 For this Halloween activity, I used the pasta, plastic spider rings that we've also used for Spider Painting and our
S is for Spaghetti & Spiders Sensory Bin
, and lots of Halloween toys that the kids collected last year while Trick-or-Treating. This is a great way to re-use all those toys that come from Halloween parties and birthday party treat bags this time of year. Don't toss them out, save them for some frugal sensory play!
I set the kids loose and gave them plenty of time to explore all the things on our tray. They had a blast scooping pasta with the scoop from our
Pumpkin Carving Kit
and using the tongs from our
favorite game for fine motor skills
. I also gave them some paper cups from my party supplies. These turned out to be a hit with my toddlers for pouring and dumping the pasta, which is a great activity for spatial reasoning and developing muscle control in their hands!
Then, we used the pasta for some color sorting. My 2-year-old gets brown and black mixed up so this was a great opportunity to reinforce the color black over and over. We found black bats, cats, pumpkins, and witches in the pasta. Then my 2 and 3-year-olds helped me finish some Halloween Pasta Patterns. I did patterns with different shapes and colors for them to complete.
My boys are working on number recognition so we did some simple addition problems together where we identified the numbers and then counted that many shapes. To find the answer we counted all of our pumpkins on the board and wrote the correct number. At this point, I am not concerned that they know the symbols for plus and equals, I am simply introducing them to the concepts of addition and showing them how we would write them together. After we found the answers I would say, "oh look, 3 + 2 = 5" while pointing to the numbers and symbols.
The next day, the boys asked to play in the pasta again, so I pulled out our neon fuzzy sticks from craftprojectideas.com. I am always so excited when we receive new products from them to try out!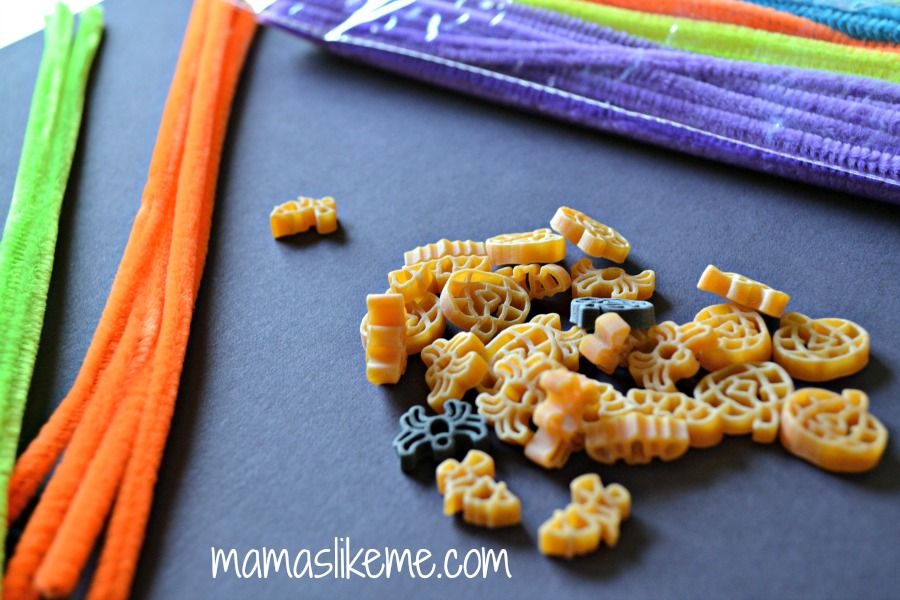 The kids did a simple fine motor skills activity and used the pasta to string on the neon fuzzy sticks to create Halloween bracelets. They loved the bright colors of the fuzzy sticks. Some created patterns and some separated their colors making half orange and half black. Most of the kids simply used their favorite shapes in any order.
I love how we were able to find so many different ways to play with this $.50 bag of pasta. The kids returned to it for several days and we still have much of it left to play with. They did break some of them and some swept into the trash during clean-up, but all in all it has been a fun material for us to play and learn with!