Have I mentioned how much I love
having a baby girl
? After four boys, this world of pink, and tutus, and hair bows is like a breath of fresh air (literally, because my older boys
really
stink after playing outside now!). I will admit that I may be going a little overboard with her wardrobe and accessories, but I'm not the only one. My husband is just as guilty of coming home with adorable pink outfits. Even her big brothers are obsessed with how "cute" she is!
A dear friend of mine ran her own hair bow and tutu business and gifted us with a TON of bows and headbands to start Kate's collection. As any mom with a little girl can tell you, these things quickly take on a life of their own. Within minutes, I had bows all over my house. I'm pretty sure her brothers can be blamed for that....and so the quest began to find a way to organize all those adorable bows.
I happened to have this tissue paper flower wreath leftover from my baby shower. I love any excuse to craft so I happily volunteered to help make decorations for the shower with the intent of using them in the nursery.
For this wreath, I used:
Pizza box
Scissors
2 packages Pink Tissue Paper
Dental Floss
Hot glue gun
I used
this tutorial
for the wreath. She has great step-by-step instructions for the flowers. The only changes I made were to use a pizza box for the backing and dental floss to hang it and tie the flowers. I'm all about using what's on-hand. Actually, I think I spent about $2 on the whole project.
To turn it into the perfect hair bow organizer, I just attached 1 1/2" ribbon strands to the back of the wreath using my trusty hot glue gun. I already had these ribbon remnants at home, but as you can see, I'm going to need to add some longer ribbons very soon. Also, be sure that when you glue them, the pattern part of the ribbon is facing front (unlike the picture above).
For now, this one is just perfect for keeping all those bows and flower clips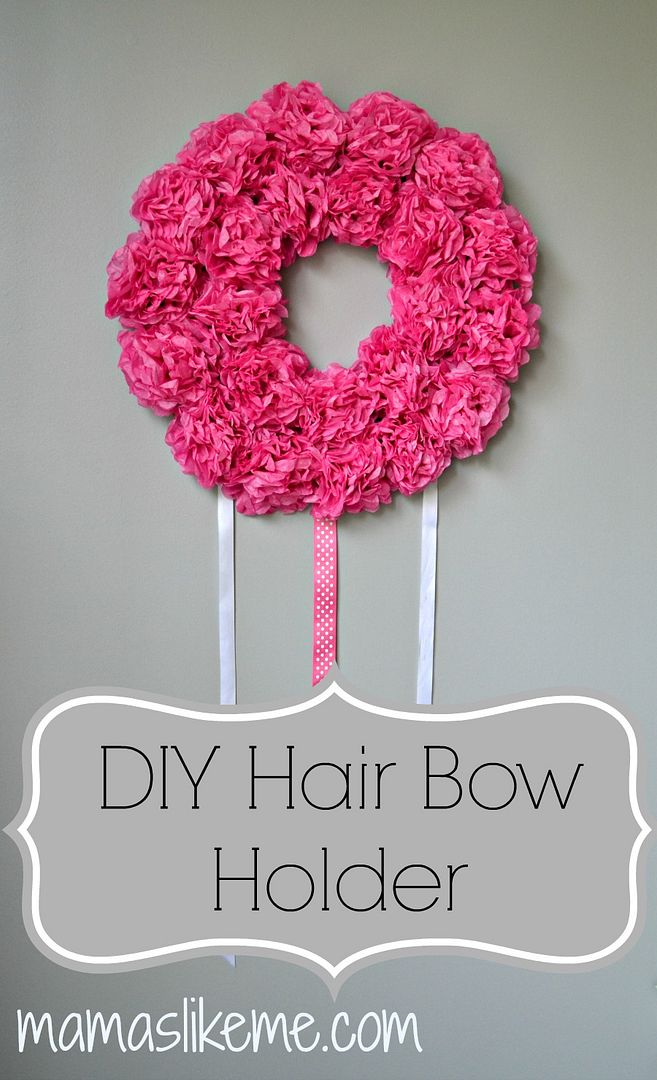 Want more ideas for spending time with your kids? Be sure to follow us on our Facebook or Pinterest pages and sign up for emails to keep up with all the latest crafts, activities, and kid-friendly recipes!