As part of our Dinosaur theme, we did this simple ice exploration activity with the kids. It would be perfect for this hot Summer weather, and it gave us a chance to explore science concepts and develop our vocabulary skills. In preschool, kids are encouraged to make observations and ask questions. This is a great activity for promoting these early science skills!
To prep for our activity, I froze several plastic dinosaur figures in a 13" x 9" Tupperware container. We used play tools, salt, and the heat from our hands and the sun to excavate the dinosaurs. The kids loved this chance to play paleontologist!
The kids found that they could use the tools to bang and chip away at the ice. If doing this with one child, you could probably get away with kitchen spreaders and more effective tools, but I found that my enthusiastic little ones were safer with their plastic tools.


The kids discovered that they could use their fingers to make designs in the frost of the ice. We also found that by breaking our large piece of ice into smaller chunks, it melted faster.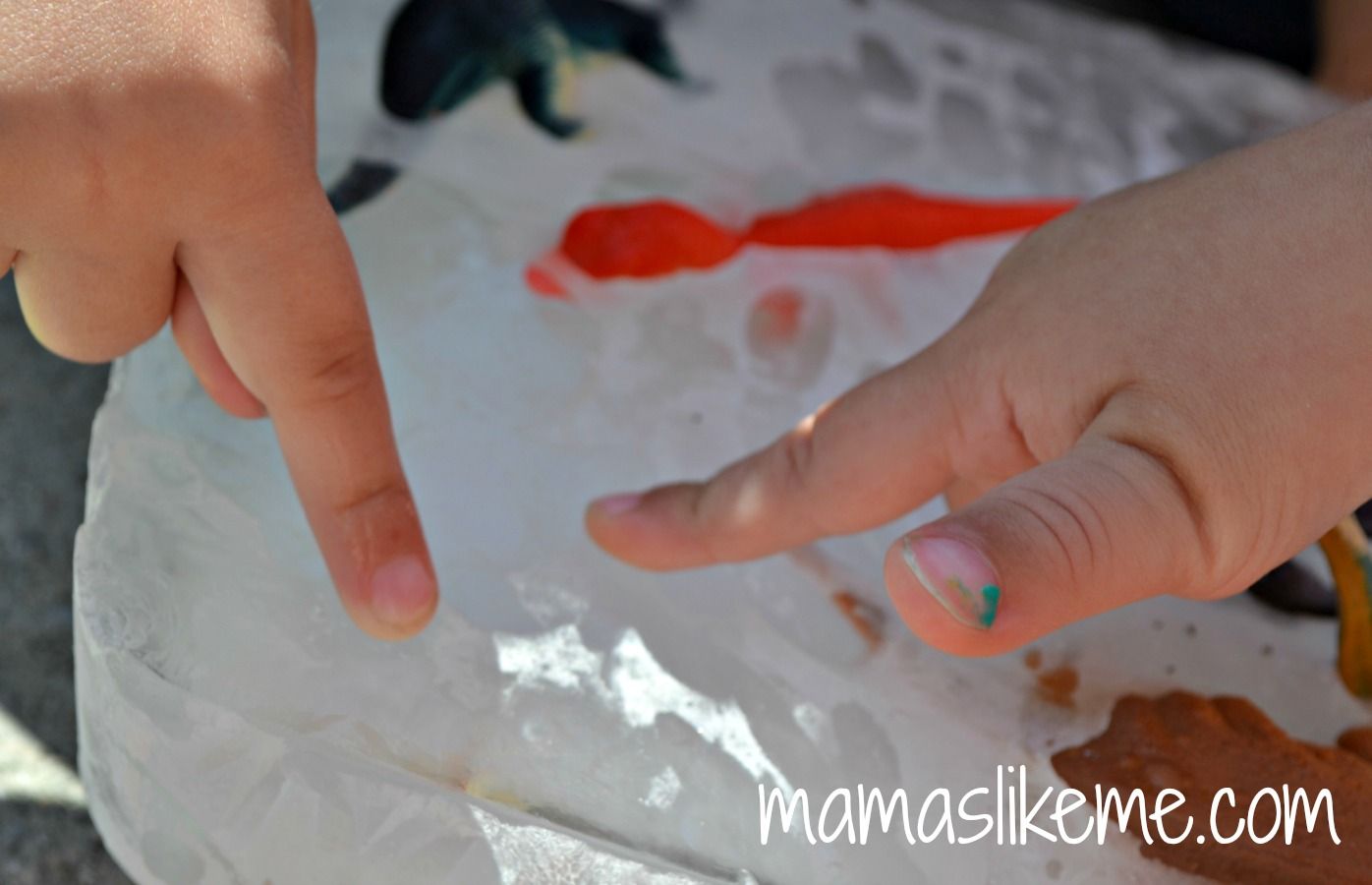 We used this as a time to enhance vocabulary with descriptive words like
hard
,
solid
,
cold
, and
slippery
. I loved watching my 2-year-old's reactions as he described the cold ice.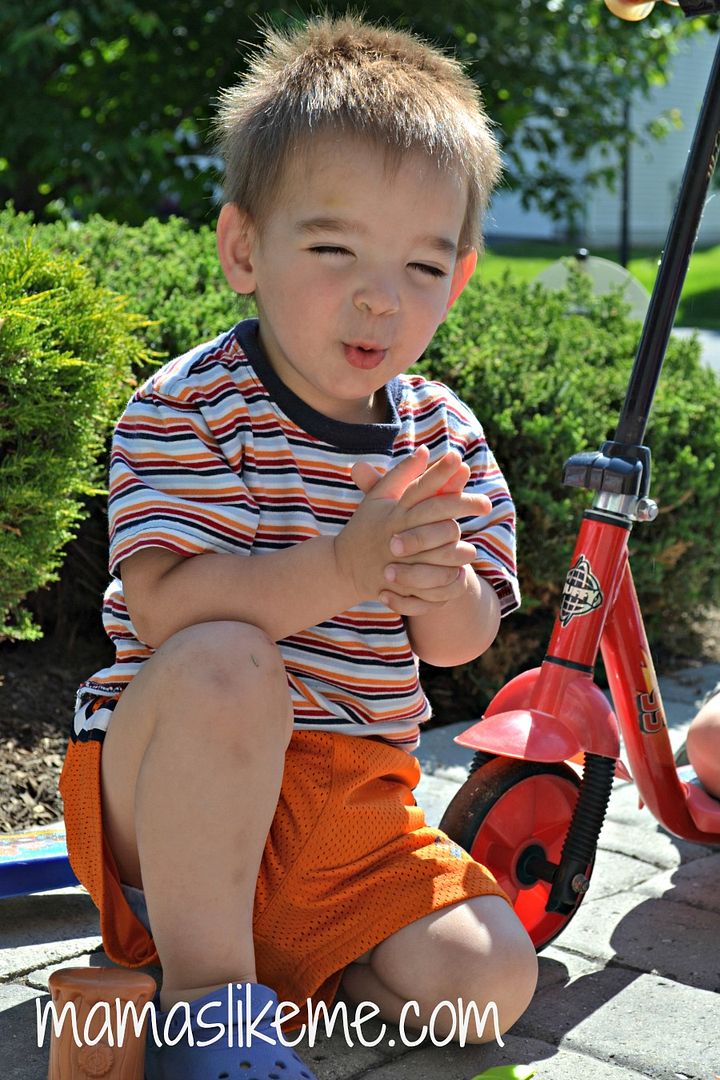 Then, the kids discovered that they could make prints on the sidewalk with the water on their hands. This entertained them for a long time as they began making handprints and fingerprints on the sidewalk. This led to a brief discussion of how the water could be frozen into a solid, melt into water on the sidewalk, and then evaporate into the air. They thought it was so neat to watch their handprints disappear as the water evaporated!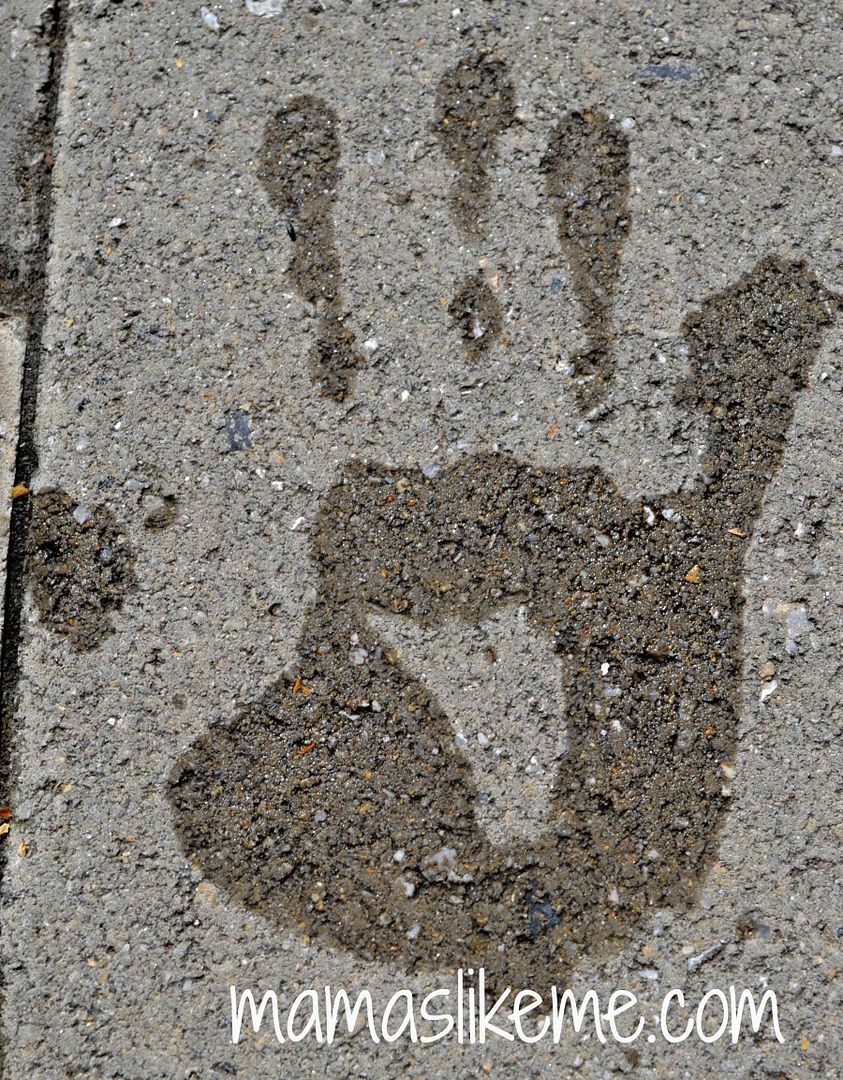 This will definitely be an activity that we do again with other toys and materials since it was such a huge hit!
Thanks for stopping by! I'd love to hear from you in the comments and have you join us back again!
Want more ideas for spending time with your kids? Be sure to follow us on our Facebook or Pinterest pages and sign up for emails to keep up with all the latest crafts, activities, and kid-friendly recipes!