Summer is here and it's time for lazy days by the pool, exciting adventures, and just enjoying being a kid! Sometimes, it can be hard to get our kids to eat well during the summer. Between trips to the park, playing in the pool, and time spent traveling, my kids are just too busy to sit down for healthy meals. That's why we try to get as many nutritious snacks as we can into them, so we don't have to worry if they are too busy playing to slow down for lunch!
Here are some nutritious and fun, wholesome options for getting your kids to eat well all summer long:
1.
Fruit Kabobs
2.
Frozen Yogurt Melts
3. Homemade Trail Mix
4. Peanuts & Nut Mixes
5.
Watermelon Flowers
6.
Homemade Granola Bars
7.
Baked Veggie Dippers
8.
Simple Homemade Salsa
9.
Banana Cookies
10.
Blackberry Butterflies
11.
Coconut Milk Ice Cream
12. Frozen Grapes
13.
Organic Sweet Potato, Carrot, Pumpkin, & Apple Muffins
14.
Quinoa and Cranberry Muffins
15.
Cranberry Chocolate Chip Granola Bars
16.
Watermelon Popsicles
17.
Sugar Free Apple Biscuits
18.
Date & Coconut Balls
19.
Apricot Coconut Balls
20.
Strawberry Ice Cream Pops
21.
Fruit Sushi
22.
Painted Sandwiches
23.
Fruit Flowers
24.
Kids Melon Snack
25. Fruit with Peanut Butter Dip
26. Hummus and Pita Chips
27. Smoothies
28.
Banana Ice Cream
29. Dried Fruit with Nuts and Whole Grain Cereal
30. Low-fat Yogurt
31. Hard-boiled Eggs
32.
Baked Apple Chips
33.
Fishing Snack and Activity
34.
Frozen Yogurt Pops
35.
Confetti Yogurt Pretzel Pops
And don't forget to stay hydrated! My kids love
Capri Sun Juice Drinks
because they taste good and come in their favorite flavors. I love them because they are a wholesome alternative with no artificial colors, flavors, or preservatives in their Capri Sun Super V Fruit and Vegetable Juice Drink, and Capri Sun 100% Fruit Juice (you can also find the traditional Capri Sun Juice Drinks). These are extremely handy when we're planning day trips because they can double as frozen pouches to keep our food cold and then they're ready to drink when we're ready for lunch!
As a company, Capri Sun is committed to
helping the environment. Since 2008, more than 200 million Capri Sun pouches have been collected through Capri Sun's partnership with TerraCycle and have been recycled and upcycled into durable goods.
In 2012, Capri Sun invested in creating a new box for Capri Sun pouches, remaking the iconic box with paperboard instead of cardboard. This change resulted in a 30 million pound reduction in packaging in 2012.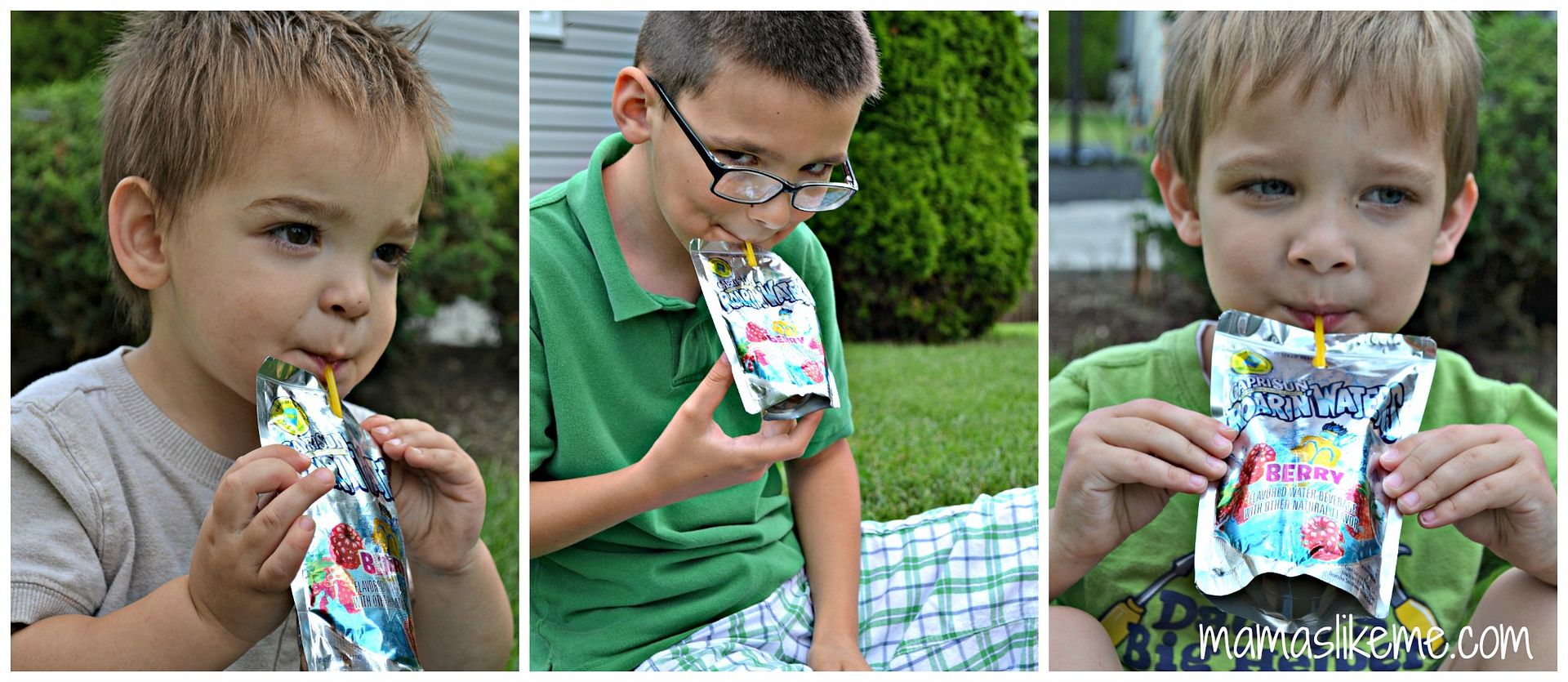 Capri Sun juice drink pouches also now have clear bottoms as a direct result of consumer requests. You can find out all the latest happenings with Capri Sun Juice Drinks by following their
Facebook page
.