I am one of those moms who loves to plan birthday parties. As soon as one child's party is over, I'm already looking ahead to the next child's big day! What theme do they want? What decorations can I make? How will the cake look? But, about a year ago, I changed the way we did birthdays, and it's made all the difference in my own stress level and how we approach birthdays as a family.
Last year, we celebrated Little C's first birthday with a big
Mickey Mouse Birthday Bash
. I spent weeks crafting homemade decorations, planning food, making invitations, creating favors and making
customized Mickey Mouse t-shirts
. I loved it, but it was a LOT of work and I was exhausted. Then, two days before his birthday HALF of his guest list let us know that they weren't coming after all. We had followed popular wisdom and only invited family for this first birthday, and now exactly one set of his aunts and uncles would be coming (thank goodness for them!). I was devastated and just so sad for my little boy! Later, I realized that I was equally upset for myself since I had put all that work into a party that no one was going to see. I threw myself a rather fantastic pity party and then I realized that I was looking at these birthday parties all wrong!
I was using my children's birthday parties as a way to show off all these Pinterest-worthy projects to a bunch of people that they didn't even really know. So, immediately after that, I changed how we do birthdays.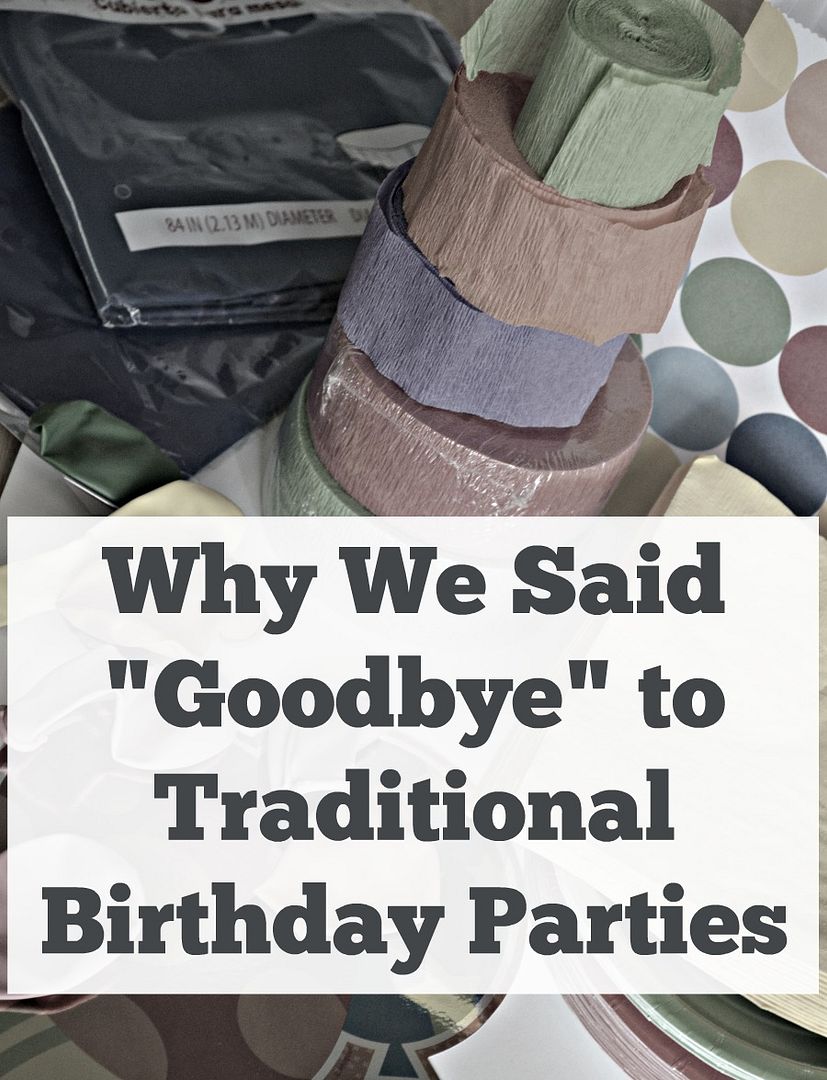 For my 5-year-old's birthday, I asked him what kind of party
HE
wanted and who
HE
wanted to invite. Turns out, he only wanted to invite his 3 best friends. So, that's what we did! We had a fantastic
Super Hero Academy
for 3 friends and his 3 siblings. I got to make some fun crafts (that I really do enjoy). The boys HELPED me put together some fun goodie bags and Batman-themed food and everyone had a great time! Less stress and less toy clutter from all those gifts that we really don't need!
For my 8-year-old's birthday, he wanted to have it at the bowling alley and invite the whole class. The last time we had a party away from home, we used the Church Hall and threw a
Carnival Party
. It was a huge to-do with a magician,
DIY carnival games
, face-painting, a photographer, and lots of yummy
carnival party food
! THIS was nothing like that. We rented the bowling alley at the Student Center of a local university. I made a Lego cake, brought snacks, and used recycled decorations from our party box. The craftiest thing I did was to make
DIY Lego crayons
for the goodie bags and include printed coloring pages. The kids had a blast and I felt so stress-free. My sister and mother even swooped in and had the whole thing cleaned up before it was time for us to leave. They're pretty awesome that way!
After that party, I took another step back from the party chaos for my 3-year-old's
Jake and the Neverland Pirates party
. I still made his cake because that is my children's favorite part of their birthdays, but we didn't even really throw a traditional party. I asked my son who he wanted to invite and he told me he wanted his 3 best friends from daycare. Since those kids are here every day, I saw absolutely no reason to throw a separate party. I went downstairs to our party box for balloons and streamers, used his pirate toys for decorations and we played some simple games during our regular daycare day. He loved his "party" and it was completely stress-free for me!
Now, we're coming full circle and my youngest son will be turning 2. I've begun working on Elmo decorations to go along with his current infatuation. I have fun ideas for goodie bags and some great games already in the works, but he will not be having a traditional birthday either. Like his brother, his friends and the people he loves are those that he sees all the time. We'll be having our party during daycare and then having dinner with family. In fact, I'm planning a whole week of Sesame Street activities at daycare in honor of his big day!
For the next birthday, my 6-year-old has requested a trip to an amusement park with his best friend for his birthday. Since we take the boys every year, we saw no reason not to bring an extra friend instead of throwing a party. My oldest is hoping that he'll be able to take two friends snow-tubing instead of a party this winter for his birthday. With each birthday, we're moving farther away from the Pinterest-inspired extravaganzas.
It took me awhile to realize that I didn't
have
to throw parties the way everyone expected. I didn't have to invite everyone we'd ever met or try to impress people we barely associate with. I didn't need fancy invitations or the homemade decorations, but I
could
do those things as long as I
wanted
to and I was doing them for the right reasons (not to impress anyone, but just because I enjoyed doing it and my kids enjoyed having them). The only thing that really mattered was that my children had a great time and felt loved on their special day. For them, that means that Mommy makes their cake, that there are balloons in the house, and that they get to do something special just for them.
What about you? What do birthday parties look like in your house?
Thank you for stopping by! Want more ideas for spending time with your kids? Be sure to follow us on Facebook or Pinterest and sign up for emails to keep up with all the latest crafts, activities, and kid-friendly recipes!