For my son's third birthday, he requested a Jake and the Neverland Pirates party. After his
carnival party
last year, my husband requested that we have a "simple party" this year and I was happy to oblige with both of their requests.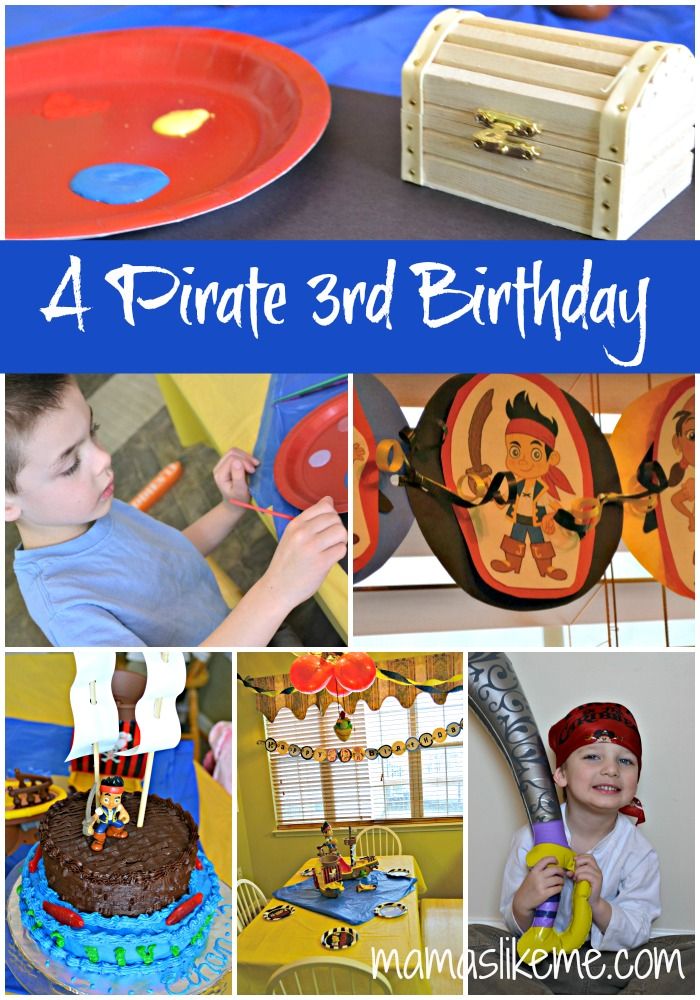 I knew that we would have a small party since my son only wanted to invite his two best Daycare friends. In fact, it worked out perfectly to do his party during the day when his Daycare friends would already be at the house. We had an entire Pirate-themed day and my little guy loved it!
Decorations:
As guests arrived, there was a large chalkboard sign that read, "Ahoy, Mateys! X marks the spot for FUN!"
Then, we decorated the kitchen with red, yellow and blue, using lots of my son's
Jake and the Neverland Pirates toys
and some clearance
pirate paper products
from Target. Instead of using helium balloons, I tied balloons from the light fixture and tied my son's Skully parrot to the middle. It was a huge hit with my toddler. For the birthday banner, I re-used our
Batman Banner
and added some Jake and the Neverland Pirates clip-art over the batman logos.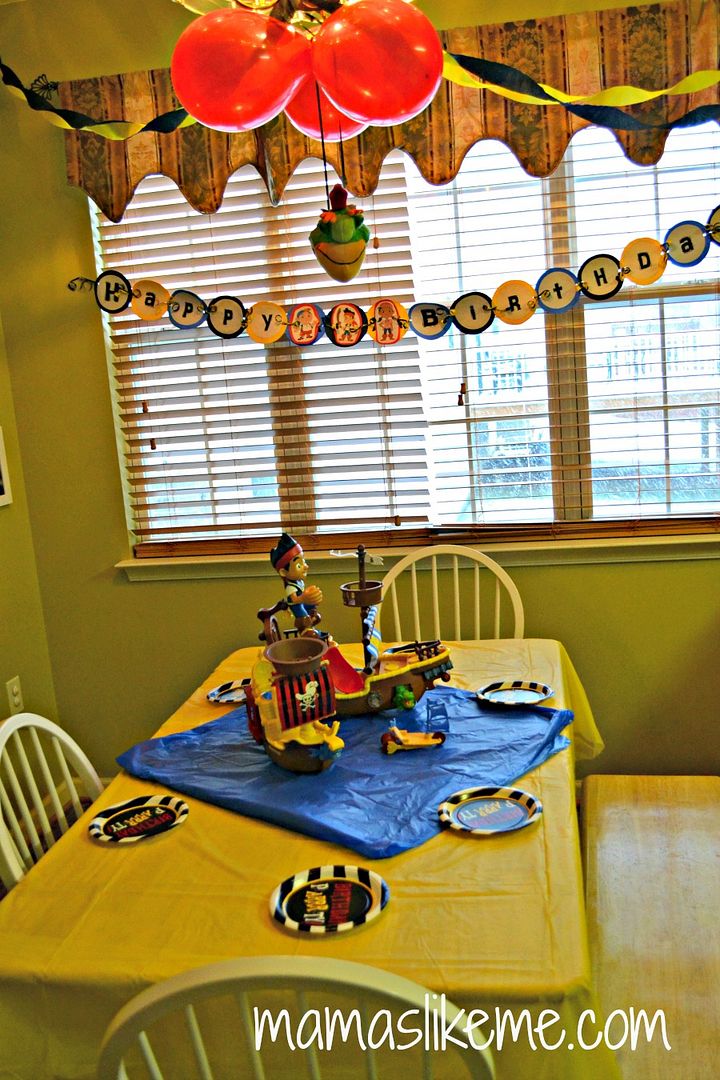 Food:
For lunch, we served a pirates treasure trove with:
Bucky Hot Dog Ships
Goldfish and Cannon Balls (cheese balls)
Izzy's Strawberries with Pixie Dust (sugar)
Cubby's carrots
Jake's Juice
The cake was a simple 2-tier that came straight from a box with some homemade icing. My son asked for a "blue cake" so I made the bottom layer the ocean and decorated it with frosting seaweed and Sweedish Fish candies. The top layer was a simple ship with chopsticks and paper sails. We used a Jake figurine as a topper and removed the sails before lighting any candles.
Activities and Favors:
Our party favors doubled as activities for the party. The kids dressed up in their pirate costumes using bandanas and eye patches. Then, we got started with our crafts.
To start with, the kids decorated their own treasure maps on empty rolls of wrapping paper using markers and
pirate stickers
. Then, my 8-year-old led the kids on an impromptu obstacle course through the basement while I set-up the next craft. They, "walked the plank" over pillows and crawled under furniture to search for treasure (candy and plastic jewelry).
Once they found their treasure, we returned upstairs to decorate treasure chests. This was such a fun project for the kids. They love to paint and these made great party favors. I found them at Michaels for $1.39 each. I purchased gems for the kids to add to their treasure chests and put inside for treasure.
The last party favor kept the kids entertained for the rest of the morning! I ordered a set of 12
inflatable pirate swords
from Amazon and they were a huge hit! They held up remarkably well with my active kids and (unlike plastic swords) did not cause any casualties.
At the end of the day, the kids took home goodie bags filled with:
My little guy has since become obsessed with dressing-up in his pirate costume and watching anything related to pirates, Peter Pan, and Captain Hook. He is particularly excited about Disney's The Pirate Fairy, the all-new
Tinker Bell Movie
coming out from the World of Peter Pan. We'll be looking to
buy it on Blue-Ray and Digital HD on April 1st
. I think it would make a great Easter present for our little pirate!
Thank you for stopping by! Want more ideas for spending time with your kids? Be sure to follow us on Facebook or Pinterest and sign up for emails to keep up with all the latest crafts, activities, and kid-friendly recipes!