This post is part of the series Showing Kids Love from All Things Kids. Visit the main page for more details and a full schedule. To link up your own post about showing kids love, see the bottom of this post.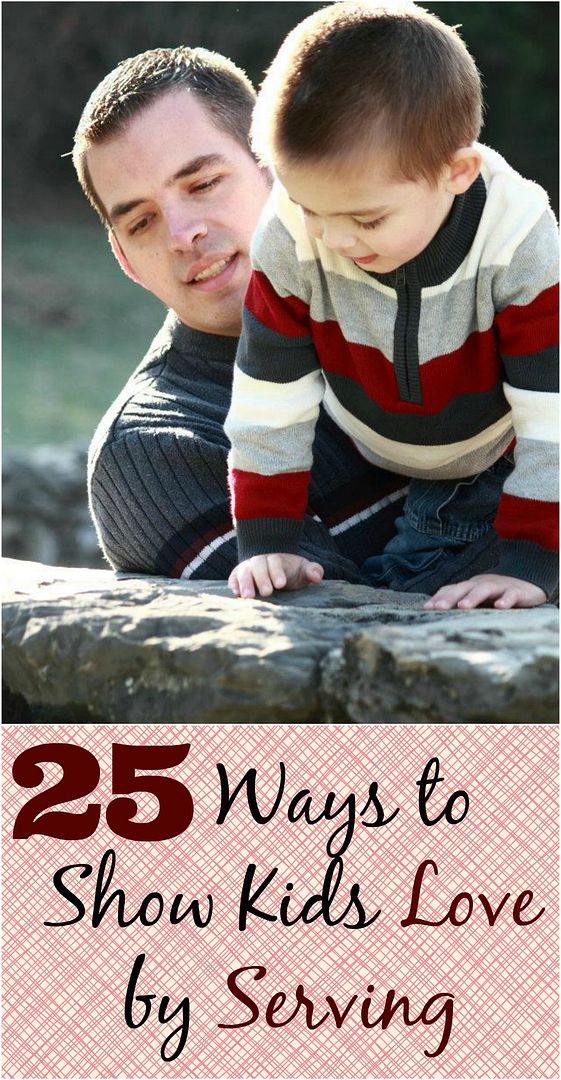 This post contains affiliate links. Thanks for your support!
When I married my Prince Charming, our Pastor had us read
The Five Love Languages
by Gary Chapman as part of our pre-marital counseling.
From reading the book, I discovered that my husband's primary love languages were Physical Touch (no surprise there!) and Words of Affirmation. As someone who primarily gives and receives love through Acts of Service, this was all new territory for me. Sure, I could say "I love you", but didn't my actions speak louder than just simple words? It turns out that, for my husband, those "words" actually mean a lot, along with me telling him
exactly
why I love him and giving the reasons that I'm proud of him.
With 4 children (and one more on the way), we are learning to give and receive love in lots of different ways. I love Gary Chapman's
The 5 Love Languages of Children
for giving concrete ways to show love to your children and getting us to think beyond the things that speak to our own preferences. The book even has a questionnaire designed to help you determine the primarily love language for your school-aged child. Before that, it's really best to pull from all the love languages as kids are still developing.
I love using Acts of Service to show my children that I love them. Let's face it: all of parenting is an act of service. From the moment the doctor puts that little bundle of joy into our arms, we are serving and sacrificing for them. We sacrifice our sleep, our food, our free-time, our privacy, and sometimes even our sanity! Now, I'm not advocating that we should make ourselves martyrs as parents, but it seems only natural that we do what's best for our children and teach them by example how they should treat those around them.
Sometimes, people confuse serving their children with being a servant to their children. The concept of showing love with Acts of Service does not mean that:
You become a martyr that does everything for your child
You do everything to make your children happy. Many times the best thing for our children is not what will make them happy in the moment. My children would be happy if I put candy in their lunches every day, but that's not what is best for them.
You serve your children to the detriment of yourself or your marriage - Having a stable relationship with your spouse actually increases your child's sense of being loved and cared for, and you are absolutely no good to anyone if you're not getting enough sleep or eating properly yourself (any mother of a newborn can tell you that!). Here are some great ideas for dating your husband and my top tips to divorce-proof your marriage if you want more ideas for loving your spouse.
Loving your children through acts of service is something that is intrinsically motivated. You don't do it because you have to, but rather because it is a gift that you want to give them.
The best part about Acts of Service is that you're probably already doing them EVERY SINGLE DAY. The question is: Are you communicating love with your actions? Do you resent the fact that you make your 4-year-old's bed every day? Are you huffing and puffing as you make dinner and pack lunches? Are you snapping as you read off spelling words and pick up toys? If you resent the things you do for your children, they are receiving the physical benefits of your actions, but you aren't communicating your love for them.
So, how can we intentionally show love with our Acts of Service? We can joyfully do things for our children, especially when they haven't earned it:
Pray for them - and let them know that you are!
Help with homework.
Care for them when they're sick with their favorite soup and lots of cuddles.
Kiss boo boos and apply band-aids.
Drive them to practices and play-dates (or offer to pick up a friend as well).
Prepare a favorite meal for their birthday or a special occasion.
Fix a broken toy.
Find a lost blankie/lovie when they ask for help.
Make a costume or special dress-up item.
Help them practice for a sports team or an academic competition - One of my favorite memories is of my Dad spending hours studying spelling words with me for my 5th grade Spelling Bee and my Mom practicing my pitching with me for softball.
Tuck them in each night and read a special story.
Offer to send in treats for a class party.
Make a special snack for after school.
Help them clean their rooms instead of just telling them to do it.
Participate in a service project together.
Hang shelves in their room for their trophies or special collections.
Wake up early to make a special breakfast.
Wash your child's favorite shirt (again!).
Help them tie their shoes while they're still learning.
Add a special note or treat to their lunch box.
Pick up the materials for a fun project.
(Better yet) Complete a fun project together.
Bundle the kids up to play in the snow.
Fix hot chocolate for everyone after playing in the snow.
Let them help you - Whether it's fixing dinner, baking cookies, cleaning, or folding laundry, letting kids help teaches them valuable lessons and lets them serve along with you!
My ultimate motivation for serving my children (other than making my children feel loved) is that they will grow to become adults who can genuinely serve those around them. By serving them with love, I am hoping to be a role model that they will emulate as they get older.
One of my favorite examples of this occurred several months ago when we stopped at a fast food restaurant after church for lunch. As we were getting the babies settled and my husband was ordering, my older boys went to get napkins, ketchup, forks, and straws. After we finished eating, an elderly gentlemen came up to our table and thanked us for raising such wonderful boys. He told us that one of the boys had helped him to get ketchup when he couldn't due to his arthritis. When I asked my son about it, he responded, "The old boy was having trouble, so I helped him." I was so proud to see him noticing a need and then jumping in to help. It was such a small deed, but it really meant a lot. Every time we serve our children and let them see us serving others, we are teaching them to open doors, offer assistance, and give hugs when others are hurting.
If this is your first time visiting, thanks for stopping by! I'd love to hear from you in the comments!
Want more ideas for spending time with your kids? Be sure to follow us on our Facebook or Pinterest pages and sign up for emails to keep up with all the latest crafts, activities, and kid-friendly recipes!
Now it is your turn! Please link up your posts "Showing Kids Love". This could be anything from a fun adventure shared, to cooking a special snack together, or a sweet moment!
Link up your posts about showing kids love!