Instead of New Year's Resolutions, I decided that I would just have one main focus for the year and that I would strive to have everything I do reflect that theme.
My goal for this year is to create a haven in my home, a welcoming place for friends to stop by and a place where my husband and children can live, and grow, and thrive. I'm imagining a peaceful place with kind words, warm food, and a comfy place to chat. Sounds great, right?
I quickly realized that one of the biggest impediments to my peaceful haven is the stress that comes on around 4:30 every afternoon when I realize that I have no idea what to make for dinner (and no desire to cook). I used to be
really
good about making a weekly menu plan, writing out the grocery list and sticking to it. The past two months, I've really slacked off on that and it's resulted in much more eating out than I would like. This isn't good for our budget or our health. Plus, there's just something satisfying about getting a good meal on the table for everyone to enjoy! So now that the morning sickness and exhaustion are starting to subside, I've decided to get the freezer stocked back up with healthy meals that will keep us away from take-out, saving both our budget and our wasit-lines.
One of my husband's favorite meals is meatloaf. This has always been hit or miss for me. Like my sister, I can make a
really
good meatloaf or a horribly disastrous one. This recipe, though, never fails to satisfy and it's great for making extras to put in the freezer!
Ingredients: (This makes enough for two large meatloaves.)
2 lb. ground beef (we use ground turkey for many things in this house, but NOT meatloaf)
2 eggs
1 cup bread crumbs or cracker crumbs (The Panko crumbs are pictured, but I'm also a fan of good old-fashioned Ritz crackers in this)
1 onion
1/2 green bell pepper
1 (8oz) can tomato sauce
2 Tablespoons Worcestershire sauce
1 teaspoon Thyme
1 teaspoon Oregano
2 teaspoons salt
1/2 teaspoon pepper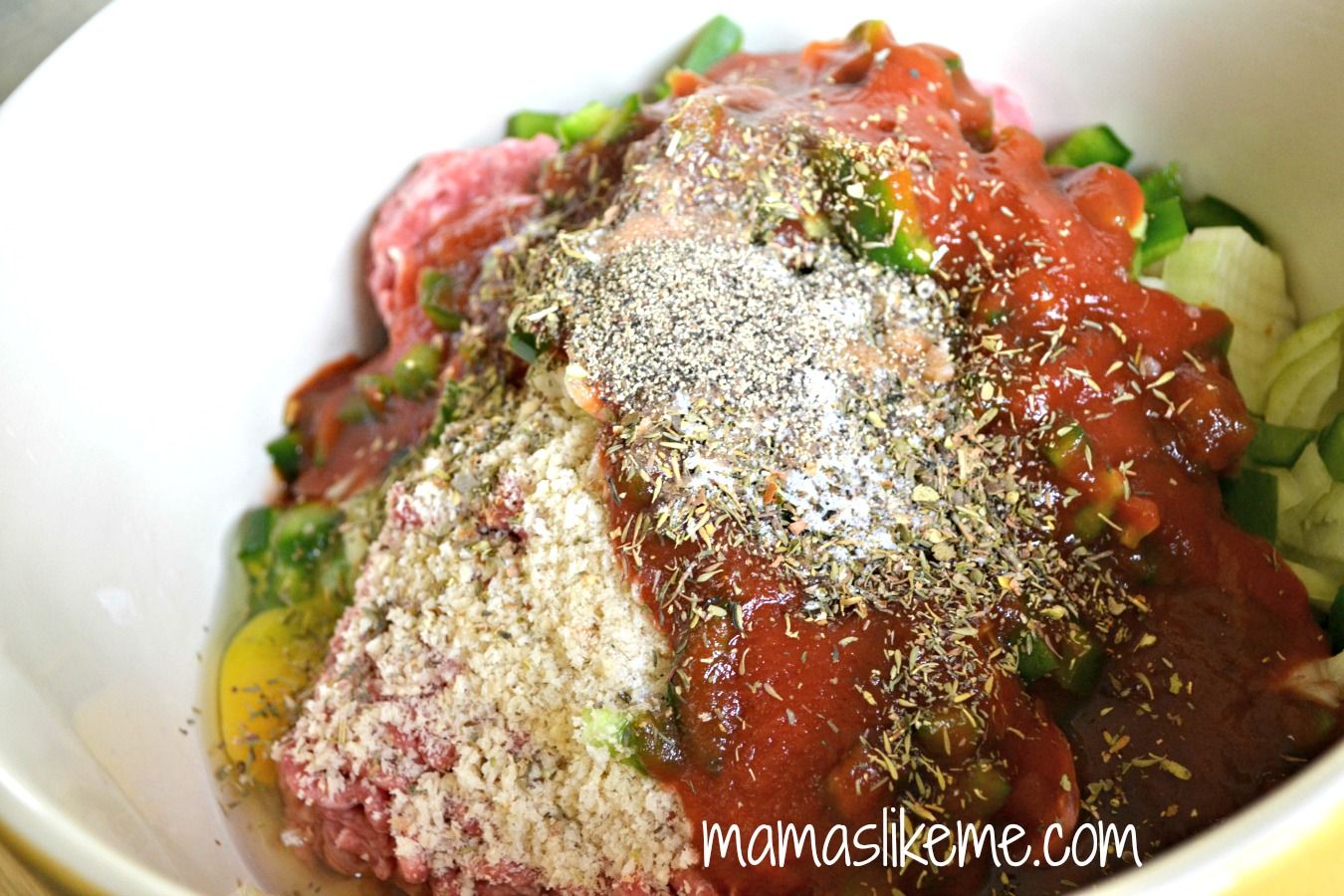 Ladies and gents, there is no dainty way to mix a meatloaf. Add all of the ingredients into a large bowl, roll up your sleeves, and get to mixing. One of my favorite memories of my Granny is watching her with her elbows deep in a big batch of meatloaf. She owned a restaurant and, to this day, makes the BEST meatloaf and chicken and dumplings I have
ever
had!
Once you've mixed everything up, you're ready to form your loaves. We prefer to make "baby meatloaves" most of the time. It makes them more attractive to the kids when they can have their own meatloaf. You can also use this recipe for meatballs, which are fun for the little kids! For this one, I made two medium-sized loaves and 3 loaves to freeze. If freezing your loaves, be sure to wrap them well in saran wrap and then place in a Ziplock Freezer Bag. I always mark mine with the date and what is inside. If it's a new recipe, I'll also write any directions that I will need for thawing or cooking so I don't have to search for the recipe on the day I plan to cook it.
Bake at 350 degrees for about an hour (depending on the size of your meatloaves).
Thank you for stopping by! Want more ideas for spending time with your kids? Be sure to follow us on Facebook or Pinterest and sign up for emails to keep up with all the latest crafts, activities, and kid-friendly recipes!