The following is a sponsored post. All opinions are my own.
Big Brother has been dreaming of the day when he could once again have his own room. As the boys have gotten older, we've discovered that the personalities of our 7-year-old and our 5-year-old aren't really conducive to them sharing a room, so we decided to switch things around and see how they go for awhile. Currently, our 5 and 2-year-old are sharing a room, our 7-year-old has his own room, and our 1-year-old is in the sitting room off the master bedroom (not an ideal situation, but he still doesn't sleep through the night reliably).
Getting and keeping all four boys organized has been one of my biggest goals for this year and I thought I would share some of our simple solutions as we're working toward that goal.
My main thought during this process has been to
SIMPLIFY
as much as possible! We are constantly decluttering toys and trying to streamline our routines.
For example, we have our
Morning Routine
posted to the back of Big Brother's door. These were originally in the room that he shared with his 5-year-old brother, but he loved them so much he asked to keep them. They have pictures for each step so that even my 2-year-old can follow along.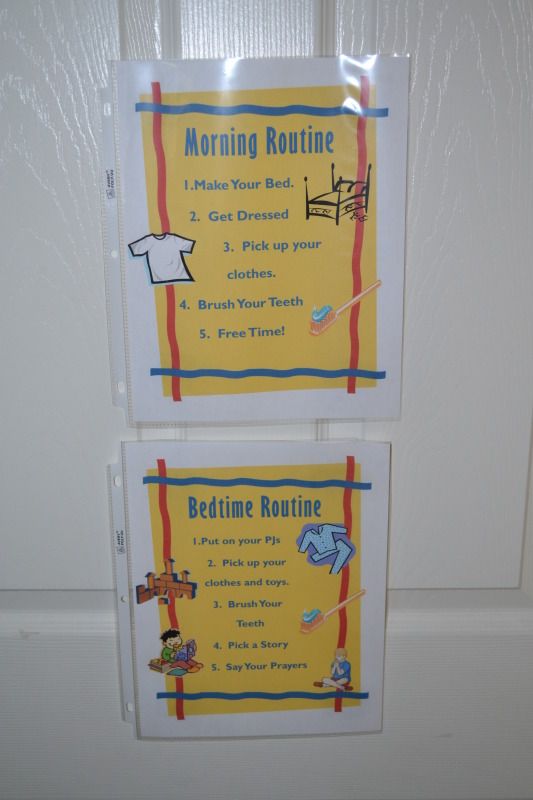 We've also simplified their closets as much as possible. Granted, it's not the
closet design
of my dreams...
Photo Courtesy of California Closets
But, it gets the job done and stays within my budget. Their closets all contain
hanging organizers labelled for each day
of the school week and Sunday. They typically get to wear what they want on Saturdays. Each weekend, I consult the school newsletters for special dress-up days and fill their organizers accordingly (keeping in mind PE days).
Big Brother is now in the old nursery so he also has a
hanging organizer of shoes
divided by size. These are primarily for his youngest siblings and has been a
huge
help to me. Before we use to keep them in a large tote and every time one of the boys needed new shoes, I would have to go digging through the tubs to see what we had in that size before heading out to purchase new ones. With them organized, I can see at a glance what we have in each size.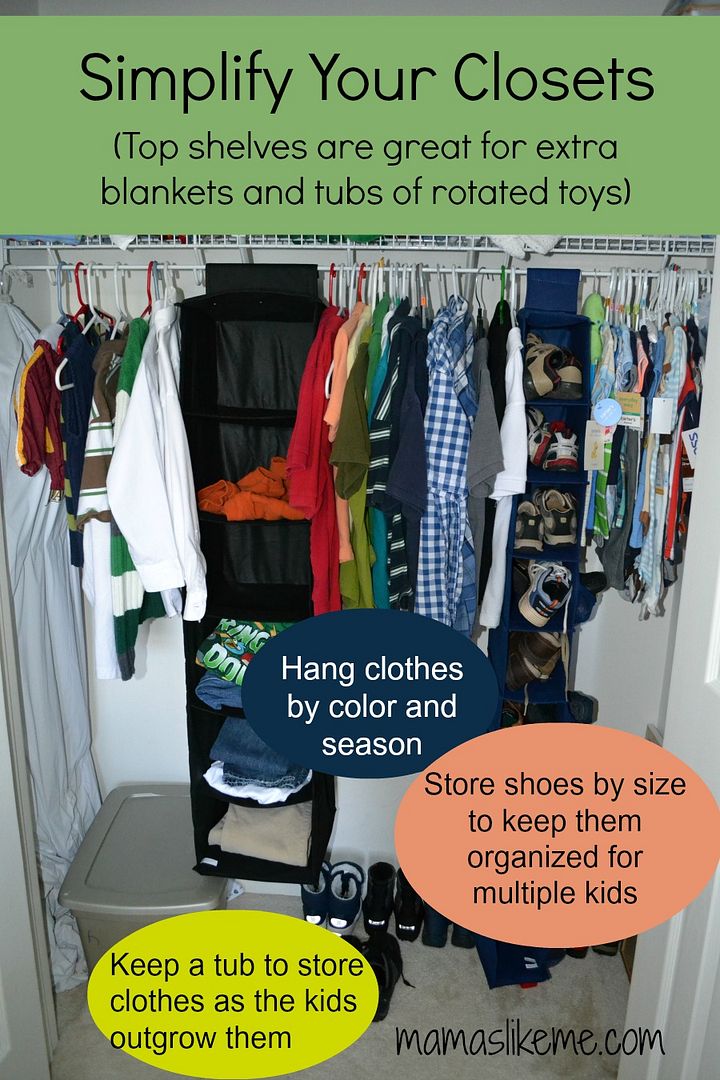 I also keep a supply of baby clothes/toys ready for baby showers and birthdays in this closet. The top of the closet holds baby blankets, extra quilts, and a handful of "just in case" presents that really need to find a new home.
I keep
totes in the bottom of the closet to store clothes as the boys outgrow them
. As the totes fill up, I label them and take them to our storage room in the basement where they'll wait until the next child needs them. I know many people who don't like to hold on to this extra "clutter", but since I KNOW that we'll be using them again in the near future, it makes sense for us to hold on to these boxes. I can't tell you how much money we've saved by "shopping our basement".
For his books, we
repainted an old bookcase
and added some
baskets
from my old classroom days. He likes to organize his books by series and keeps his library books in one basket. Having the books displayed this way also makes him more likely to pick them up because he can see their covers. It's also easy for the boys to pick them out and put them back in. The bottom shelf holds his journals and larger books. To complete his reading corner we added a comfy rocking chair courtesy of our wonderful neighbors.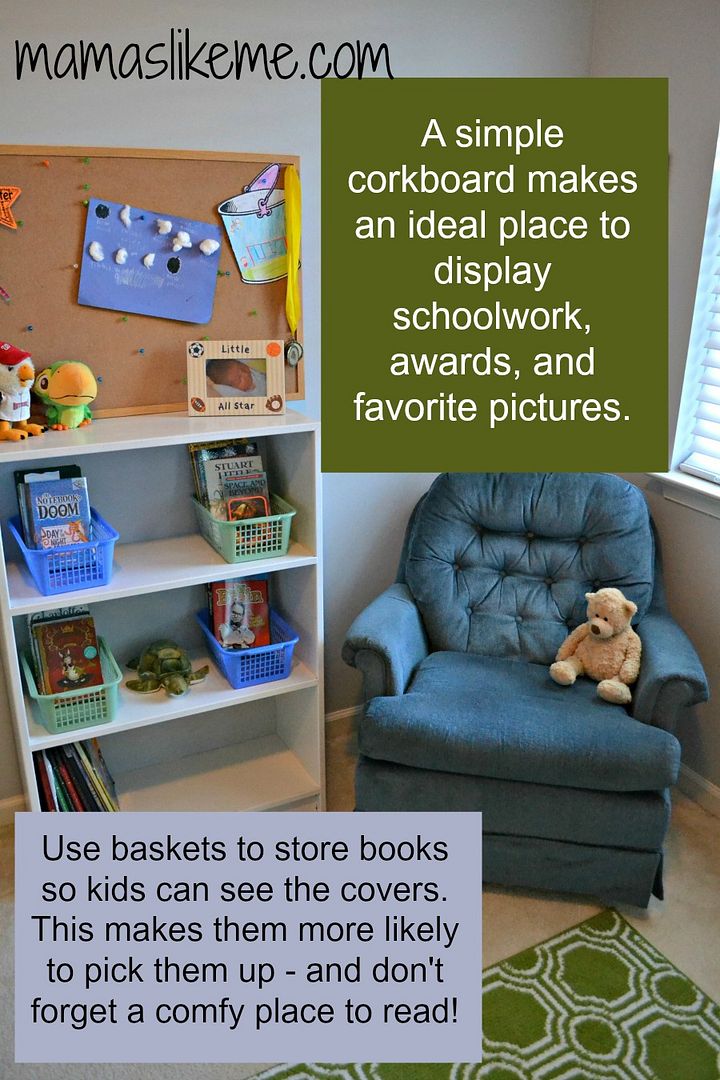 The kids are permitted to keep
one pair
of shoes in the
basket in our foyer
. These are the shoes that they wear most days. All other shoes are kept in their own closets.
I also picked up a cheap
cubby organizer to house our mittens, hats, and scarves
this winter with the hopes that it will save us from digging through the foyer basket and keep them from being scattered all over the living room.
I repainted a
small coat stand
from my Mother-in-law and placed it in the foyer for the boys to keep their jackets and shoes. It has done wonders for my stress level just to have the jackets and backpacks off the floor.
I'm looking forward to the day when our youngest will move out of our sitting room and we can reclaim that space. Once that happens, we'll be looking for lots of
home office design
ideas. Until then, I'm just going to keep finding ways to make things run smoother as a family of 6!