A few weeks ago, I stumbled across a
fun vegetarian blog
while cruising through the pins on my
Kid-Friendly Dinner Ideas
board. I am not a vegetarian, but I think I could be if I didn't have a carnivore for a husband and 4 growing boys and this one caught my eye because of it's ooey-gooey cheesy goodness!
While the recipe itself was super easy, I felt it was missing something so I added chicken and some peppers to make it something my family would LOVE! I have to tell you, it was a huge hit with most of my kids (I never count my picky eater's opinion), and the leftovers were even better the next day! Plus, it's easy enough to make a quick, crowd-pleasing weeknight meal!
Ingredients:
1 bag of frozen cheese filled tortellini (19 or 20 oz)
1 jar of alfredo sauce (15 oz)
1/2 jar of marinara sauce
1/2 cup shredded mozzarella
1/2 cup grated Parmesan cheese
1/2 jar roasted red peppers (I used one with garlic gloves, but if you don't I suggest adding garlic)
1-2 cooked chicken breasts (I used the leftovers from a Rotisserie chicken)
1 small onion
Preheat the oven to 350.
Cook the tortellini according to package directions.
Meanwhile, spray a large pan with olive oil and saute the onion. Add roasted red peppers and chopped chicken and heat through. This is a great way to use up leftovers in a completely new way without anyone thinking "chicken, again?". Pour in the alredo and marina sauce and mix through.
Mix sauce and tortellini in 4 quart baking dish. Top with mozzarella and parmesean. Bake for fifteen minutes. Then broil for five minutes to get a nice bubbly and golden topping. Serve immediately.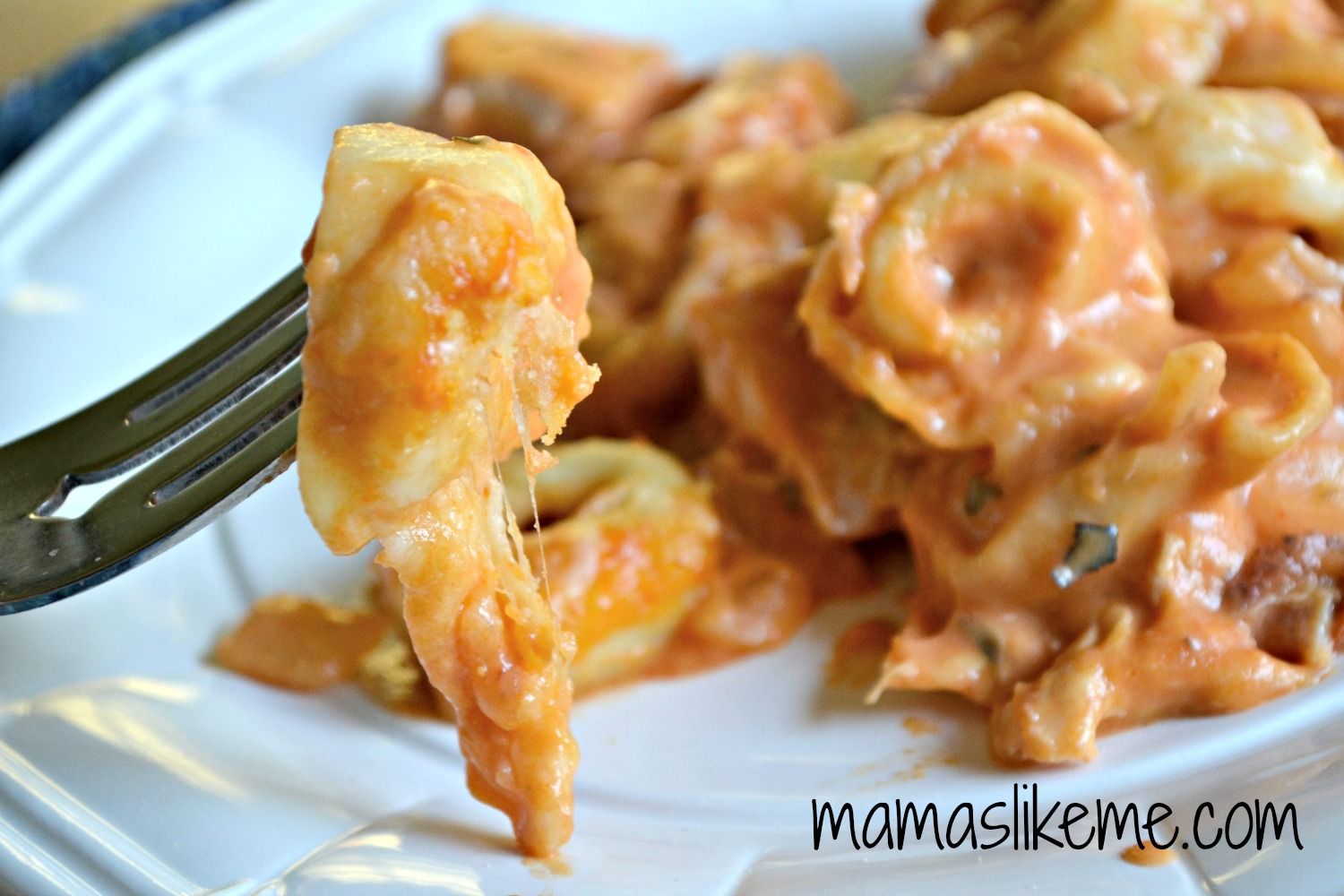 If this is your first time stopping by, I'm so glad you're here. Take a moment to look around. I love to hear from readers so feel free to comment and introduce yourself. Also, I'd love it if you followed us on our NEW Facebook or Pinterest pages and sign up for emails to keep up with all the latest crafts, activities, and kid-friendly recipes!