Last week, I challenged myself to get through the week spending less than $20 on groceries (without relying on eating out). I'd like to say that the inspiration came from wanting to save money or an overwhelming desire to be a good steward, but the reality is I was just too lazy. With the busyness of summer, Sundays have become my "Grocery day" and last Sunday, instead of grocery shopping during naptime, I decided to take a nap instead.
When I went to the kitchen to throw something together for dinner, I realized that we had A LOT of food. Not the food that I would have purchased at the grocery store, but food that I had stockpiled and bought without a real plan. I decided right there and then that I would get us through the week using what we had in the house.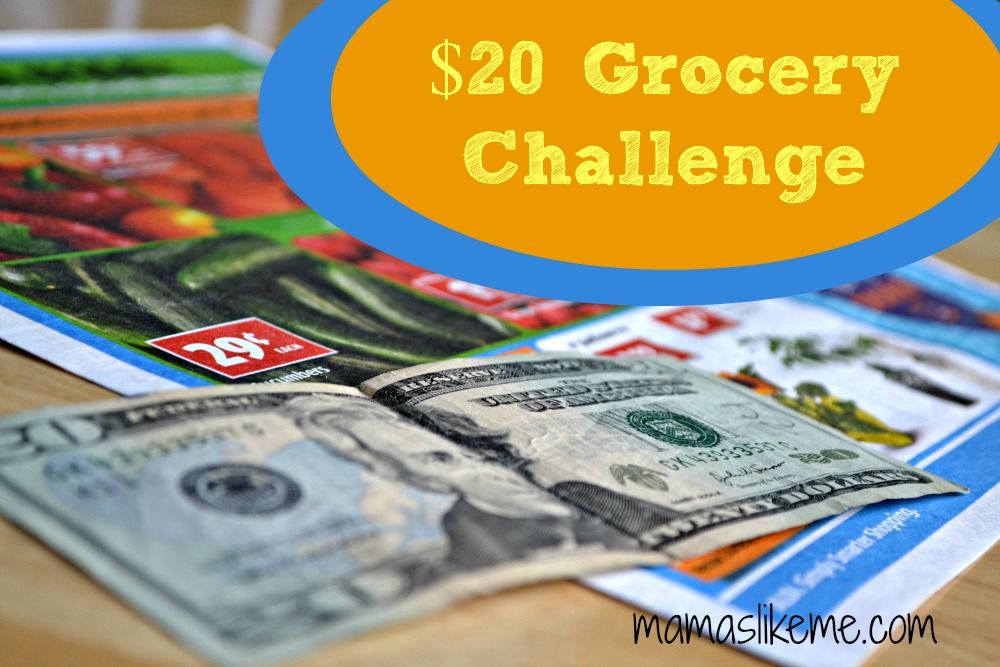 So I took $20 and headed off to Aldi to buy a few necessary items. What did I get?
Two gallons of milk (whole and skim)
A loaf of whole wheat bread
Cheese (We have some very picky eaters that I'm pretty sure survive on air and cheese)
All told, I spent less than $10. The rest of our weekly menu came from what we already had on hand. So, what did we eat?
Breakfast was a mixture of everything we had on hand:
Oatmeal
Pancakes
French Toast
Eggs
The last little bits of cereal from 4 different boxes
Bagels and cream cheese
Fruit
Lunch ended up using little bits of everything I had in the fridge and freezer:
Chicken Nuggets
Quesadillas
Hot Dogs
Homemade Macaroni & Cheese
Turkey Wraps
Homemade Pizzas made from hot dog buns
Lots of fresh fruit and veggies(watermelon, cantaloupe, grapes, blueberries, bananas, carrots and other leftovers from our Batman Birthday Party)
Canned fruit
Dinner went surprisingly well even though I made things that aren't normally on our menu:
Breakfast for Dinner - waffles, eggs, bacon, and fresh fruit
Bacon-wrapped tilapia with Parmesan noodles and frozen veggies
Fried Pork Chops with Brocolli & Rice casserole and corn on the cob
Turkey and Boca Burgers with sweet potato fries, carrots, and cantaloupe
Grilled ham and cheese sandwiches with salad and fruit
Friday night we took the kids to Chick-fil-A for Cow Appreciation Day (I don't count this as going out since we ate for free.)
So, what did I learn from my little experiment? How blessed we are that we have A LOT more food in the house at any given moment than I would have thought! Yes, it takes a little more planning to hunt through the pantry and search for things to put together, but I was more than able to make a week's worth of menus. In fact, I could probably have put together a few more if I had to. Not to mention the fact that I was putting off using things (like the pork chops) because I didn't feel like making them. Silly really!
Best of all, by not doing a big grocery trip for the week, I saved my family about $80! I'm not sure if this is something I could do every month, but it's definitely worth looking into and trying out at least every 2 months. What a wonderful way to save money and use up all the little bits of things hanging out in the freezer and the pantry.
If you've never tried to push back a grocery shopping trip, I highly encourage you to set aside a week to use up everything in your kitchen. Get creative with meals and see how far you can stretch what is already in your kitchen. I bet you'll find that you have a lot more food than you realized.
I'd love to hear from you if you've tried something similar with your family. How often do you go grocery shopping? How much do you typically spend a week for your family?
Want more ideas for spending time with your kids? Be sure to follow us on our NEW
Facebook
or
Pinterest
pages and
sign up for emails
to keep up with all the latest crafts, activities, and kid-friendly recipes!