As a mom, naptime is one of my favorite times of the day. It's a break in the day that lets the kids recharge and gives me a few moments to focus on the things I need to accomplish (like cleaning up, finishing some more laundry, blogging, or responding to emails). Summer has thrown a wrench in my carefully planned naptimes. My 4-year-old no longer naps and now my 7-year-old is home from school, along with some of my daycare kids. I knew that I was going to have to initiate a more regimented Quiet Time in order to ensure that the little ones are getting the sleep that they need, while the older kids get some downtime.
This is often easier said than done. Thankfully, my own kids are very used to having small kids in the house and can often be persuaded to find something quiet to do. The problem came when everything they wanted to do included some form of technology (television, Wii, computer, Kindle, iPad...) and I really didn't want them in front of a screen for two hours a day. Also, it became obvious that if they were out of their rooms for that entire time, I was still going to be "on demand" myself. My children seem to think that if they can
see
me, it means that I am constantly available, regardless of whether I am typing, on the phone, or cleaning. In order for me to be productive, I was going to need a new plan.
About this time, I received a
Zazoo Photo Clock
to review from Zazoo Kids. The photo clocks have received several awards from parenting organizations like the Creative Child Magazine, National Parenting Publications, The National Parenting Center and the Parent Tested Parent Approved organization. The clock shows children visually when it is time to stay in bed or get up and start the day. It also offers convenient naptime settings that show children when it is time to remain in their room doing a quiet activity and when it is time come out and play. (Stick with me here guys because I've got one of these to giveaway for you, too!!)
The kids were really excited to try out their new clocks. The clocks allow you to load your own personal photos for the various alarms and even acts as a digital picture frame throughout the day. The convenient remote control allows you to switch display modes from photos, clock, or music. It includes a visual and audio alarm clock, music, audio-book and video playback. My older boys are awake every morning by 6:30 so we used their morning alarm as a signal for when they could leave their rooms and come get us. They actually don't use this much since I always come out as soon as I'm dressed anyway, but this gives them an idea of when they can expect Mommy.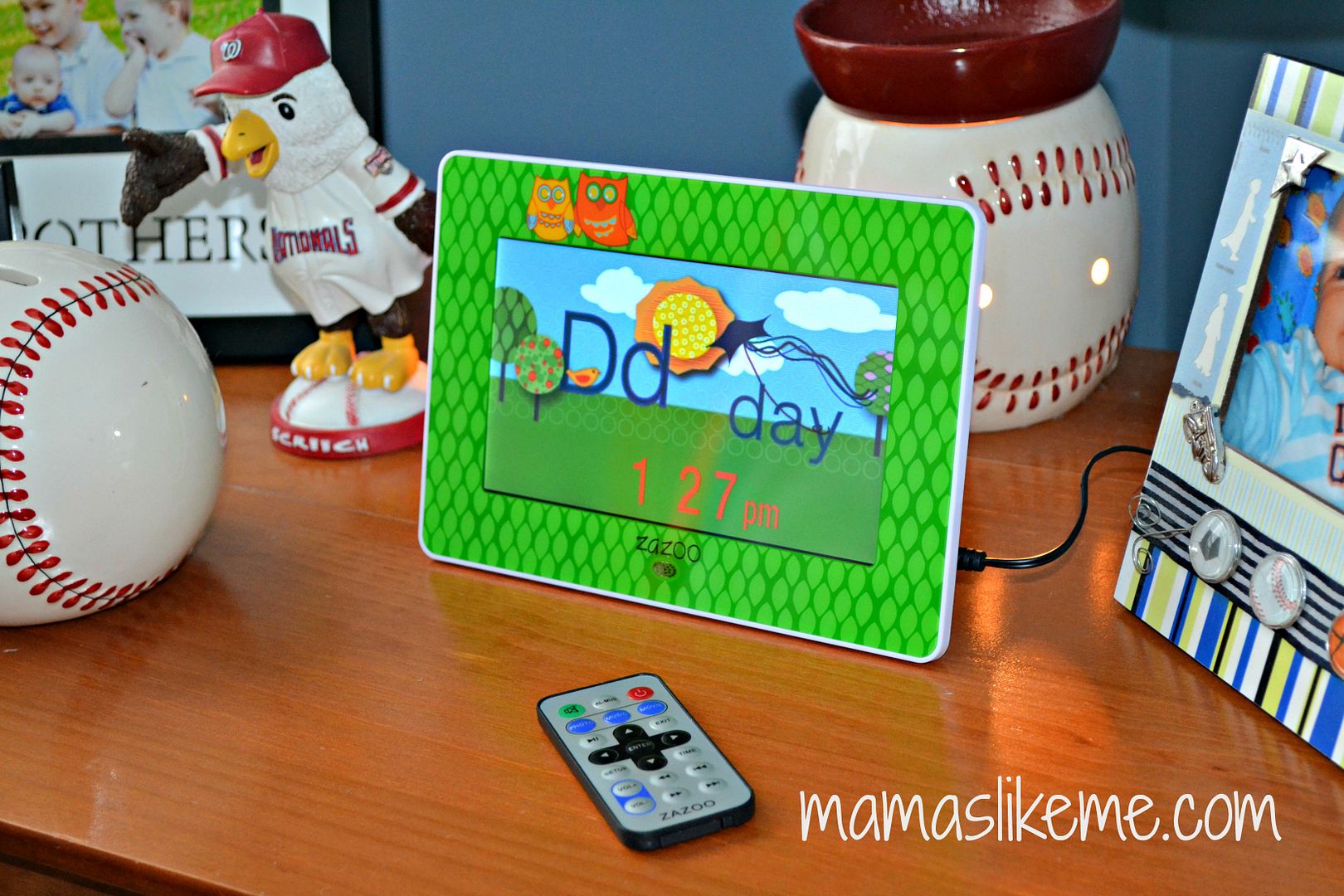 For naptime, I used a picture of my 4-year-old passed out after Disney. This is their signal that it's time for Quiet Time in their room. For an hour, they can do quiet activities in their room. Usually, this includes reading, building with blocks and Legos, or playing with their action figures. When the hour is up, the picture returns to a sun (or any picture that we choose) and they know that they can come out to have a snack and do an activity with me. I love this because it gives my 4-year-old visual cues without his having to ask me how much time he has left. It's also fun for him because there are pictures of him and the clock itself is very kid-friendly. (As an added bonus, the kids now rush to get in bed before the clock changes to their "night" picture without any fuss or pleas for a later bedtime!)
If you're looking to start a Quiet Time, it's important to take your child's needs into account. If your child is not used to spending time independently, you may need to build up their stamina for spending time alone in their room. As they become comfortable reading or playing quietly, you can add more time to their schedule. Also, be sure to make this the same time every day. For us, this naturally falls during the babies' naptime.
To get your child excited about Quiet Time, you can provide suggestions for things that don't require napping. Here are some great Quiet Time activities that I have used myself and some that were shared on our
Facebook Page
:
Learn With Play at Home shares some great ideas for setting up a
Quiet Box
that would be perfect for Quiet Time activities.
a Rafflecopter giveaway