This weekend, I overheard this conversation coming from the living room while I was cooking dinner:
5-year-old: Fetch, Colin, Fetch! Good baby!
Baby -
squeal
5-year-old: Now bring it back Colin! Good job!
Needless to say, it's pretty obvious that my boys want a dog! We had a dog that had to be put to sleep almost 2 years ago. He was a good dog and my husband really misses him. I'm sure I'm going to make some enemies here, but I'm not really a dog person. I'm not really a cat person, either. In fact, I'm not really a pet person. I used to be...and then we had kids! Now, I'm happy with our fish. The boys, however are hoping for a dog.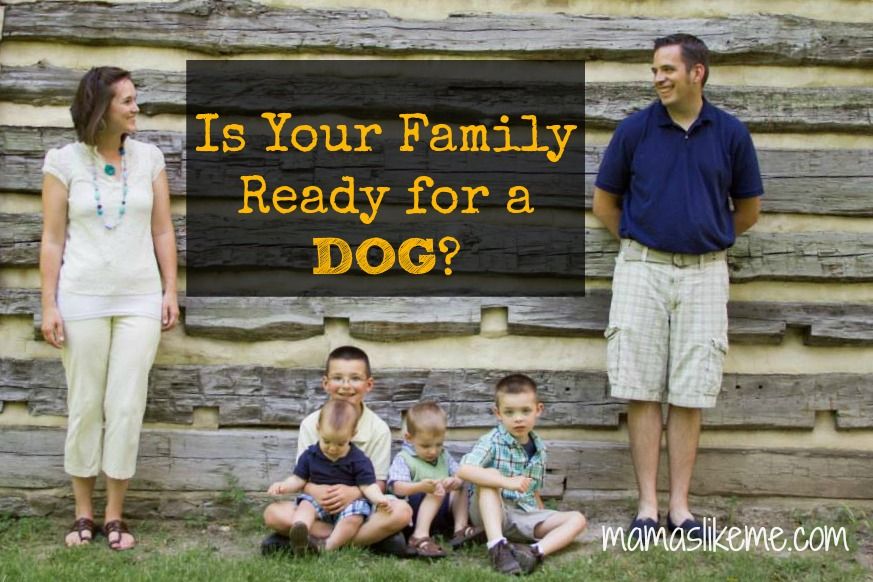 I posted about this on the
Facebook page
and was interested to see what kinds of dogs people had with young children. I was so amazed at the wonderful responses I had and the fantastic tips that people gave. One reader, Cheryl, sent me a fabulous message with information that anyone considering getting a dog needs to read. Cheryl fosters rescued dogs and is a wealth of information about the topic. I asked her if she would mind if I shared some of it with you and she was kind enough to send me even
more
information!
Here are some questions to ask yourself and tips that Cheryl, and some other readers, shared with me about getting a new dog.
1. Does your family have the energy to keep up with a high energy dog? Or do your kids prefer to read books, play Legos, and video games? This would lead toward a more low energy breed.
2 Will the dog be alone while everyone is at work/school? (maybe not now, but in 5 years?) Or will the family be home or at most only gone an hour or two. Are you willing to take the dog with you on outings or arrange outings that are geared toward a family with a dog?
3. Does anyone have allergies? - Some breeds have less shedding and tend toward less dander to irritate allergies. If no one has allergies, it has been said that it is good to have pets that DO shed, to help prevent allergies from developing.
4. Is there a family member that is emotionally prepared to be "the boss" & properly train and discipline a "puppy"? Every new dog, no matter how old, the first few months are "puppy" because the dog needs to learn the family & the family needs to learn the dog. As an aside, disciplining a dog (like a child) works best when it does not include yelling or physical punishment. (On a personal note, I can say that I was definitely not the "boss" of our last dog. If he got out during the day without a leash, there was no way that he would come to me before my husband got home, but as soon as my husband pulled in and called him, he would come running and sit in front of him.)
5. How much space do you have? There are large dogs and small dogs that do not need much room. On the same theme, there are large dogs and small dogs that need lots of room.
Huskies, for example, need lots of room and exercise.
6. Are you or is someone in the family willing to do the grooming necessary? Some breeds need regular baths, brushing, & grooming (are you looking for another child to bath?). If you don't bath certain breeds regularly, their fur will get matted and sores will develop under the matted hair. Some breeds need a bath and brush once a year & an occasional clip of the nails. Yet others will be good getting hosed off once in awhile after they have been in the mud
.
7.
Then there is the obedience training. The Sit / Stay / fetch/ Come / Quiet commands. There are breeds that are independent thinkers that are not very interested in doing these things. There are other breeds, even dogs within breeds, that are VERY interested in interacting with their humans and doing whatever you want.
If you're looking for a new pet, I highly recommend checking out your local shelter or rescue. There are so many dogs that are looking for loving homes. Not only would you be saving an animal, it's also a cost-effective choice. Your adoption fee usually includes spay/neuter and some necessary shots. The shelter can also help you determine if a dog will be right for your family's particular needs.
As for our family, we've decided to hold off on adding a new fur-baby to our home, at least until our youngest baby is a little more independent. But when we do decide to adopt another dog, we'll be choosing a dog that has passed the puppy phase from our local rescue.
How old were your children when they got their first pet?
Want more ideas for spending time with your kids? Be sure to follow us on our NEW
Facebook
or
Pinterest
pages and
sign up for emails
to keep up with all the latest crafts, activities, and kid-friendly recipes!