I will be the first to admit that I am not a fashionista! I love how I feel in a great outfit, but honestly I spend most of my time with the daycare kids covered in everything from paint to glitter, and leftover lunch. Add in the fact that I've bounced around from maternity to non-maternity clothes four times in the last seven years and you have a closet that is a bit lacking.
When most of your wardrobe budget goes to clothing four growing boys, it's important to make every choice count. In my case, I often choose classic colors and styles with a few accessories to make an outfit "pop". When searching for
maternity clothes
, it's important to keep a few things in mind: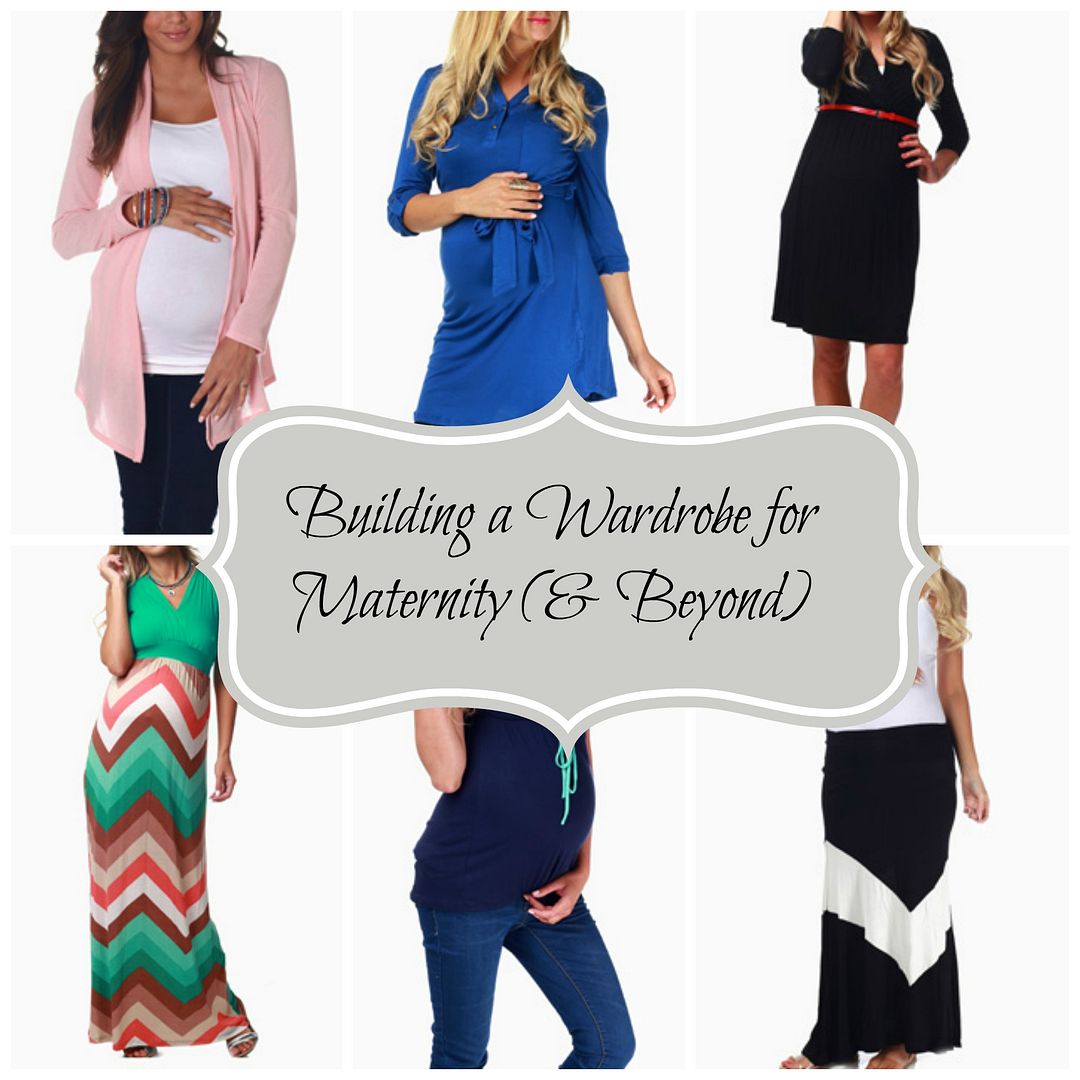 1.
Shop Your Closet First
- You may find that you already have some loose tops and dresses that, although they aren't technically "maternity", will be flexible with your expanding belly. Look for elastic waistbands and drawstrings. Also, don't be afraid to look through your spouse's clothes for shirts that may do the trick in a pinch. Those button-up shirts will look great over a tank-top and a pair of leggings. Roll up the sleeves and add some fun bracelets for a more feminine touch.
You can make your favorite jeans last longer into your pregnancy by using a hair elastic or rubber band looped through the button hole and attached to the button. An alternative to this is the belly band that can be worn over the top of unbuttoned pants and skirts to hold them closed. Add a long top and no one will know your secret. I also found that the
belly band
worked as another "layer" to my clothing, as if I were wearing a tank top under my shirt.
2.
Pay Attention to Your Undergarments
- During pregnancy, everything gets bigger. It's important to make sure that you have a supportive bra and comfortable underwear or it won't matter how comfortable your clothes are. An added bonus for this is that if you're nursing, you'll likely be able to get additional use out of your new bras and all that new underwear will be put to use during that awkward transitional phase after your baby is born.
3.
Stick With Your Comfort Zone
- Just because you're pregnant, it doesn't mean that you need to completely change your style. Now more than ever, it's important to wear things that make you feel confident and beautiful. Those frilly smocks that scream "pregnant" may seem like a good idea now, but will probably lose their appeal after a few months.
4.
Accessorize, Accessorize, Accessorize
- The best thing about accessories is that you know they'll still fit during your entire pregnancy and afterward. Pick out some bright chunky earrings and a few necklaces that can turn a simple outfit into something fabulous! Accessories can also change a simple black dress, making it more casual or formal - whatever the occasion requires.
5.
Splurge on a Few Fabulous Outfits
- Even if you don't buy a whole new wardrobe (which I wouldn't recommend given the relatively short amount of time you'll be wearing it), I highly recommend finding a few outfits that you LOVE and that make you feel gorgeous. Pinkblush Maternity offers lots of
trendy maternity clothes
at affordable prices. Best of all, many of their items can be worn after you have your baby and are perfect for nursing.
A few weeks ago I was given the opportunity to select an outfit from Pinkblush Maternity to review. At first, I was hesitant since my youngest son is now 13 months old. I was delighted, though, when I browsed their website and found so many nursing selections. Honestly, there's nothing better for summer than a great maxi dress and I was thrilled to find one that made nursing a breeze. I selected the Aqua Striped Top Maternity/Nursing Maxi Dress. It arrived in just a few days and I was amazed at how soft the fabric was. The fit was true to the sizing charts (which hardly ever happens for me) and I was thrilled that it didn't
look
like a maternity dress. There was no bunching of extra fabric in the front, although I am absolutely sure that if the Good Lord blesses us with another baby that this dress will be perfect for a little baby bump! The crossover 'V' neckline makes it easy to discreetly nurse no matter where we are, and even after multiple feedings the fabric doesn't stretch out. I have found this to be my favorite neckline style for nursing, but it's pretty hard to find in non-nursing clothing. My little guy does not have the patience for buttons and, without a tank top underneath, I feel strange constantly lifting my shirt in public.
My wonderful husband took these photos of me in my new favorite dress. You can probably tell that I hate standing in front of the camera on my own. I felt absolutely ridiculous holding my arms that way, but I read somewhere that it makes your arms look thinner. Here's hoping it worked!
You can enter using the Rafflecopter Form below. Participants who have hosted or won a PinkBlush giveaway in the past 6 months are ineligible to participate. Make sure you also check out the fabulous Nursing Bra giveaway from Powerful Mothering.
a Rafflecopter giveaway