Summer is fast approaching. My 4-year-old is graduating from preschool today and it seems like only yesterday we were bringing him home from the hospital! Next week, the rest of the kids will finish with school and summer will officially begin. Last week,
Full Hands, Full Hearts
and
You'll Thank Me One Day
shared some wonderful Summer Bucket Lists! In the spirit of summer fun, I'm sharing some of our family's "must-dos" for this summer.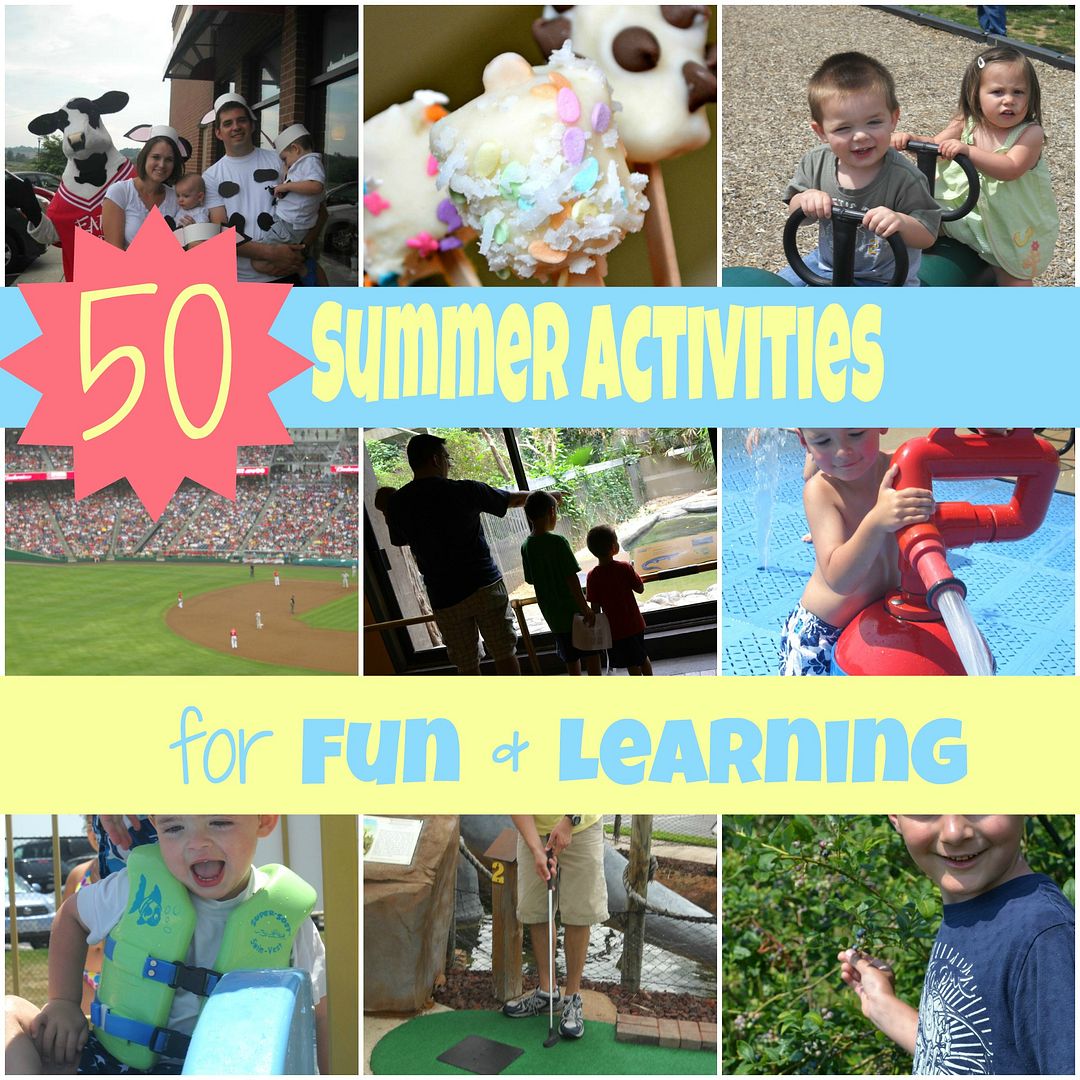 Go blueberry picking
Check out the Free/Cheap Summer Movies from Regal.
Attend a baseball game (major or minor league)
Head to the pool (as often as possible!)
Have a picnic at the train museum.
Visit a local water park.
Play in the sprinkler.
Grow a vegetable garden.
Visit the zoo.
Visit the county fair and feed the animals.
Join the Summer Reading Program at the local library.
Attend an outdoor concert in Downtown.
Spend an afternoon at the Discovery Museum.
Play putt-putt golf.
Eat dessert BEFORE dinner.
Go camping in the backyard and make smores.
Go fishing.
Read a new book together and THEN watch the movie.
Catch lightning bugs.
Make homemade Popsicles.
Take advantage of Chick-fil-A's Cow Appreciation Day.
Build a blanket fort.
Do some messy science experiments.
Hunt for shells.
Stargaze
Go on a bug hunt.
Tie-dye a shirt.
Visit the Farmer's Market.
Learn a new skill.
Watch fireworks.
Learn about a new animal.
Feed the ducks.
Host a kickball game for the neighborhood.
Ride the bike trail.
Visit an indoor bounce gym.
Have a car wash (even if it's toy cars)
Host an ice cream party.
Splash in puddles.
Play flashlight tag after dark.
Make a kite.
Make a bird-feeder.
Read an autobiography.
Make a paper airplane.
Dress-up and put on a play.
Want more ideas for spending time with your kids? Be sure to follow us on our NEW
Facebook
page or
Pinterest
and
sign up for emails
to keep up with all the latest crafts, activities, and kid-friendly recipes!