Big Brother buys his lunch exactly once a month - on pizza day. The rest of the time, we pack his lunch. He likes it because he gets his favorite food (pizza) and the rest of the time, I know he's getting healthy food that he'll actually eat.
1.
Choose the right lunch box
. - The first thing you need to successfully pack lunches every day is a good lunch box. This seems obvious, but using brown paper bags is not going to save you money in the long run. A good quality lunch box can save you tons of money and last for several years. Recently, we were sent two individual coolers from PackIt and my boys love them. The
PackIt Individual Coolers
contain a freezable gel-liner that lets you keep your lunch cold for up to 10 hours and completely eliminates the need for those toxic gel packs. In fact, it worked a little too well for us! The first day we tried this out, Big Brother's wrap was frozen at lunchtime. After that, we started putting it in the refrigerator instead and it worked like a charm. It even keeps his yogurt and fruits nice and chilled. These are going to be perfect for our outings this summer when we need to keep things cold at the pool!
2.

Use

reusable

containers and snack bags

. - The other way we save money is to use reusable Tupperware for wraps, fruits, and veggies, and cloth snack bags instead of plastic bags for snacks. My wonderful MIL has made a bunch of these for the boys out of scrap fabric, velcro, and even some with zippers. They wash easily and come in many different sizes. If you're handy with a sewing machine, this is definitely a project worth trying.

Pack leftovers

.

- In addition to Tupperware and reusable snack bags, we also invested in a good thermos for each of the boys. Big Brother loves to take leftovers to school and really there is no cheaper option for lunch than to portion out some of last night's dinner! The thermos works great for pasta, soups, macaroni & cheese, and just about any other dinner item.

4.

Portion out snacks

- Those specially packaged individual snacks can get really expensive. Instead, we buy large bags of pretzels, goldfish, wheat thins, and other crackers and make our own using the reusable snack bags. I know some moms who do this once a week on Sunday and store them all week. I'm not really that organized. I'm more likely to make up a bunch Monday morning while I'm packing lunches or Monday afternoon while I'm getting the afternoon snacks ready. Also, if we have grapes or leftover cut-up fruit for lunch or snacks, I'll put some in our small Tupperware containers and stick them in the fridge for Big Brother's lunches. It's not a once-a-week marathon, but it uses up our leftovers and helps make things easier in the mornings.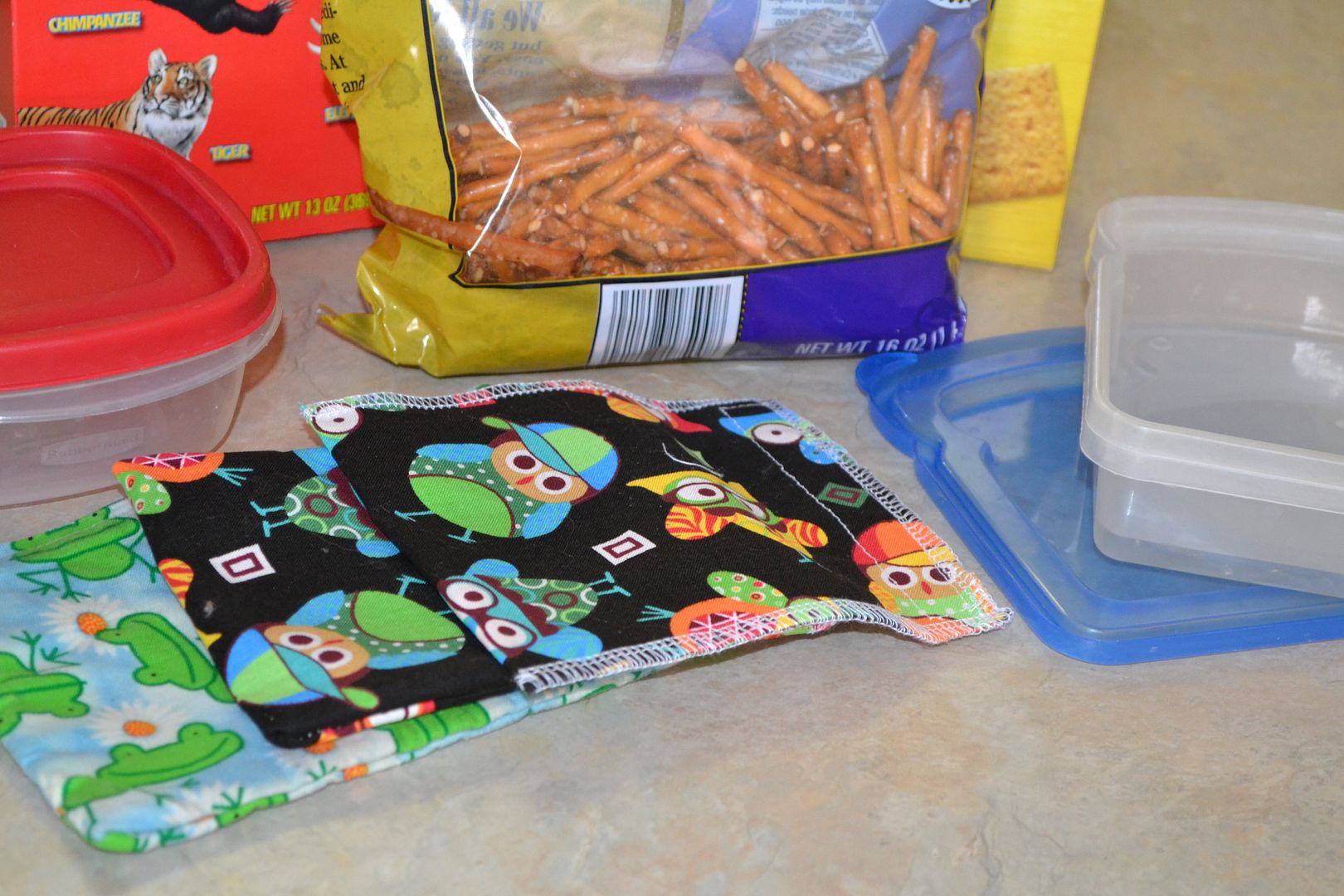 5.
Make it fun!
- This isn't really about making it cheaper or faster, but packing lunches can get BORING - especially when your child only eats a handful of foods. You can jazz up their lunch by breaking out the cookie cutters or packing a themed lunch (like all green foods for St. Patrick's Day). Don't forget to throw in a little note on the napkin every now and then, because everyone likes a smiley face and an "I love you!".
To help you pack fun and healthy lunches, Pack It is giving away an Individual Cooler to one lucky reader. To enter, use the Rafflecopter form below. Good luck!
a Rafflecopter giveaway