Recently, my husband and I made a last minute decision to take our kids to Disney this summer. This is completely out of character for us since we're both OCD planners and hate to do anything without having every detail mapped out in advance, especially when it coming to something that involves a long trip with four boys under 7! In any case, some deals came our way that we couldn't pass up and we're off to visit the Land Where Dreams Come True :)
As soon as we made our resort reservations, I contacted Jennifer from
Your Magical Vacation
and she was a HUGE help! She basically gave me step-by-step instructions for everything we needed to do and offered to help me with anything I needed. (Did you know that you can work with Disney Travel Agents and it doesn't cost you a thing??). She also gave me some insider tips for Character meals, getting the most out of our park tickets, and saving money on meals! If you're planning a trip to Disney, I highly recommend you check out her website for planning tips and contact her. She is a wealth of information and can help you get the most out of your vacation!
In the beginning, my husband wanted to keep our trip a secret. That lasted about a week. (Did I also mention that we're terrible at keeping secrets! We can't even wait to
find out our baby's gender
!). So, I began brainstorming fun ways to tell our kids that we were headed off to Disney. Here are some of the ideas we found:
1.
Have a Character Call Them
. - Do you have a relative that does a character voice? Your kids would be so thrilled to have Donald or Mickey call to tell them that they're coming to Disney. You could also get a neighbor or other young woman to call as a Disney Princess! Of course, this works best if your children are still young.
2.
Make a Puzzle
- Craft stores sell blank puzzles that would be fun to write a message on and have your child put together. You could also use
PicMonkey
to add text to a picture of a Disney icon and then use the tutorial
here
to create a Craft Stick Puzzle.
3.
Send Them on a Scavenger Hunt
- Create a scavenger hunt to collect clues about their vacation. The last stop could be a Mickey hat or a stuffed Mickey that they can take with them on the trip.
Here's what we did:
I had "Mickey" and his friends send a letter to my children from Disney World (notice the official "stamp" courtesy of all those free Disney credit card mailings) along with a package for them to open.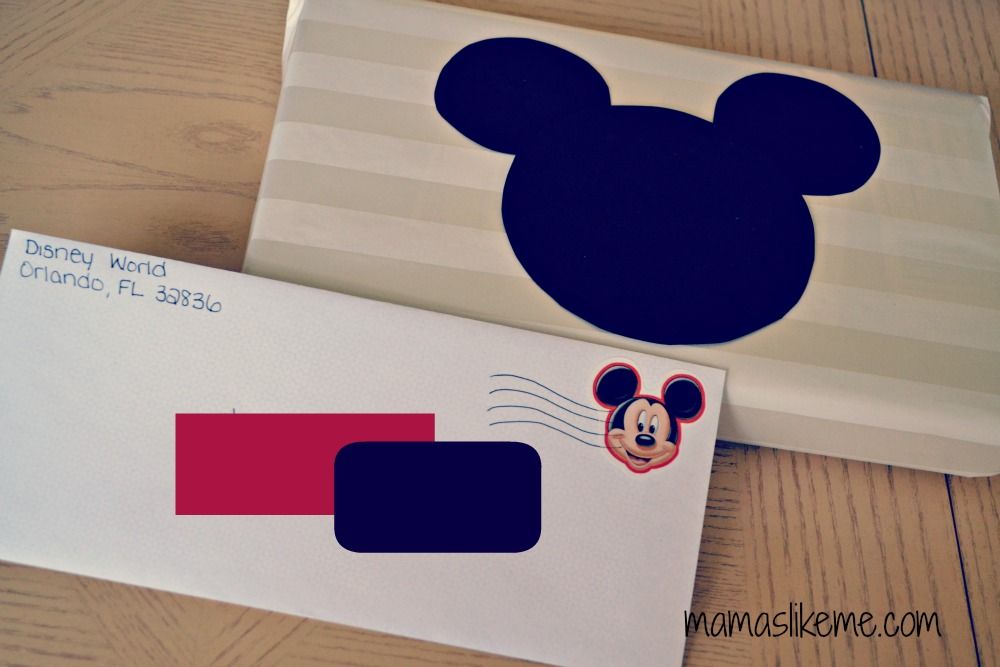 My 7-year-old read the letter to his brothers. It said:
"Dear _______________________,
I heard that you guys were coming to visit Disney soon and we are so excited to meet you! We are sending you some autograph books to bring with you so we can sign them when you meet us! We can't wait to see you and we hope you have a great time at Disney World!
Love, Mickey and Friends"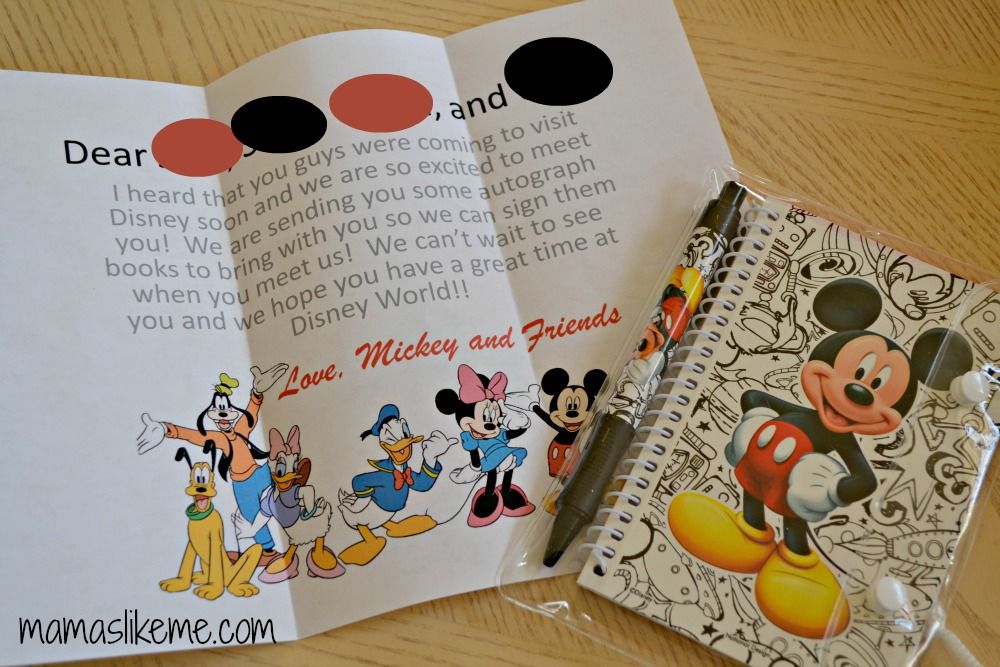 (I was going to attach the letter as a .pdf, for you, but I used a copyrighted image in my PowerPoint so I recommend just typing this quickly into a PowerPoint slide and then copying an image of Mickey and Friends. I found mine by typing "Mickey and Friends" into a Google search - so easy!)
The kids then opened their package to find four
Mickey Spiral Notebook & Pen Sets
for our trip. I did some research and found these to be a cost-effective alternative to the Disney books found at the parks. They also come with a handy plastic carrying case (in case of rain) and a large pen that is big enough for the characters to hold. Thank you Amazon for saving me $60!
And now, we have the letter from Mickey and a video of them finding out about our trip to add to our Disney scrapbook!
If you're planning a trip to Disney, I'm keeping track of all the great ideas on our Pinterest Board,
Disney Magic on a Budget
. Can you tell we're a little excited?!
Want more ideas for spending time with your kids? Be sure to follow us on
Facebook
or
Pinterest
and
sign up for emails
to keep up with all the latest crafts, activities, and kid-friendly recipes!