Eight years ago my world was turned upside-down when we discovered that I was pregnant with our first child. I was 22. We had been married for almost a year and had assured everyone that we intended to wait 5 years before having children. Our 5 Year Plan lasted exactly 10 months!
Like most expecting mothers, I began to pour through baby books and websites trying to figure out how this "Mommy" thing worked. I already loved schedules so I naturally gravitated to
On Becoming Baby Wise
by Gary Ezzo and Robert Bucknam. According to the book, if I followed their routine, my baby would be sleeping soundly through the night at two months old. We would eat, play, sleep and repeat. There would be NO co-sleeping, NO pacifiers, and my baby would go to bed awake and learn to fall asleep on his own.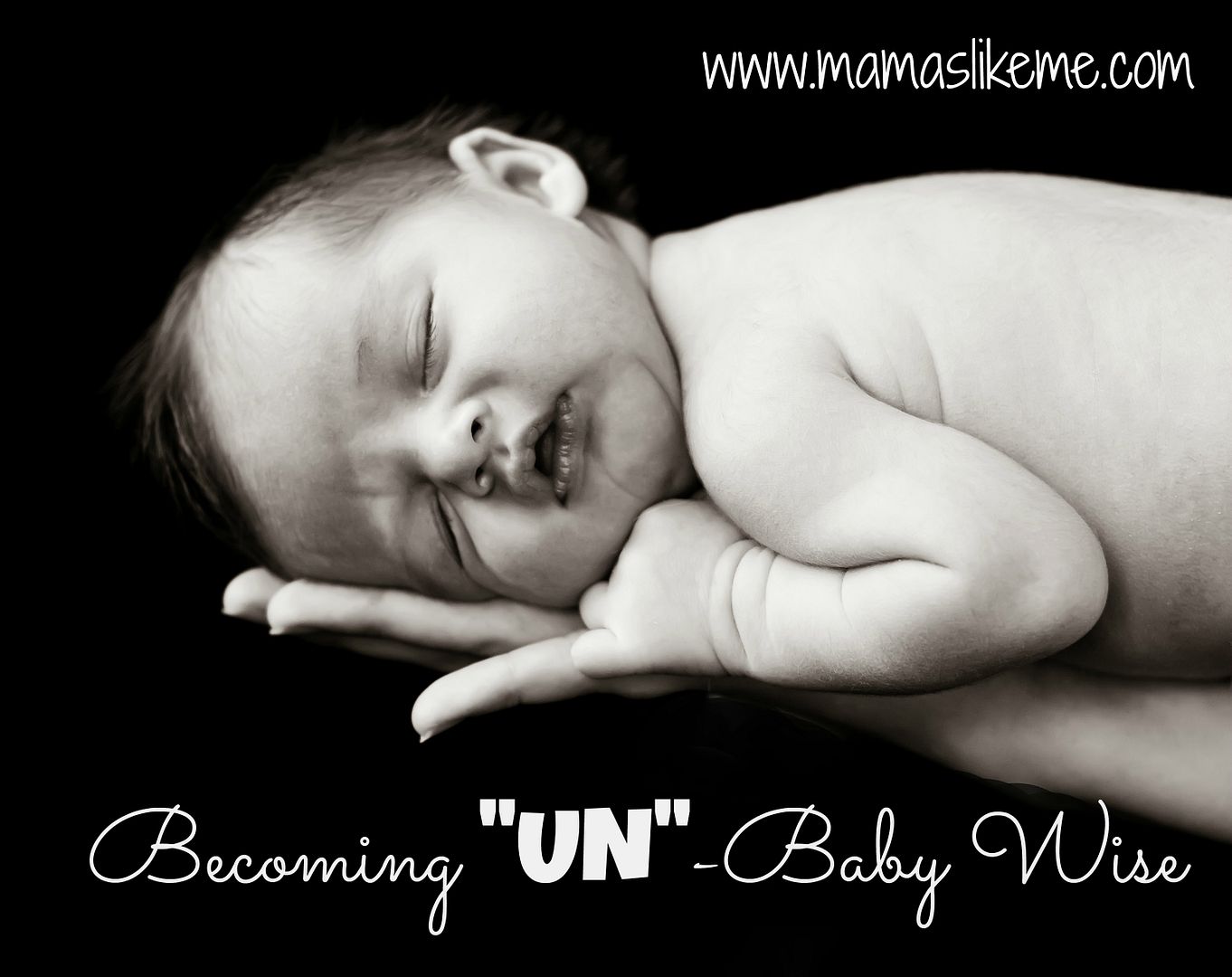 It sounds harsh, but to be fair, this system worked like a charm for my first son. He was an easy baby that slept 12 hours a night by the time he was 3 months old. He was also formula fed and I went back to work when he was 6 weeks old. He was content. He loved his schedules and he was thriving, but something was missing for me. We read stories, but we didn't cuddle him to sleep. He didn't climb in bed with us in the middle of the night and he only got out of his toddler bed twice because we walked him right back to bed, kissed his head, and tucked him in (without talking to him AT ALL). We loved him dearly, but I think we were too focused on what the "experts" told us was best for him. I spent so much time checking off his list of pediatrician-recommended accomplishments, that I missed savoring each and every one of them.
Two years later, his baby brother appeared on the scene. By this time, I had convinced my husband how desperately I needed to stay home with our children. I began an in-home daycare and I was determined that I would breastfeed this baby. That was my first step toward attachment parenting. I began wearing my baby when he was fussy, we nursed until he was drowsy (sometimes even asleep) and there were nights when he would just sleep with us. I went to him at night when he cried and he fed on demand. Yes, we still had schedules and routines, but they were much more centered around my baby boy's cues. By our fourth child, my views had completely changed. I stopped turning to books or websites for most information. I had seen more, experienced more, and could rely on my own intuition and my baby's cues. Our baby slept with us because it made feedings easier. I wore him during the day because it made getting things done easier. Admittedly, my other children have not been the great sleepers that Big Brother was, but that's okay. My babies NEED me. They need to know that I'll go to them when they're hungry, or sick, or in pain. They will only be little for a short while and I don't want to waste anymore time worrying about what the experts say. We still love our routines and I am still a huge proponent of schedules, but now those schedules are made after weeks of writing down my baby's natural rhythms.
Let me assure you, putting away the parenting books has not made me a perfect parent. Every day I pray for wisdom and patience with my children. I get frustrated. I get tired. I hope that I'm not doing anything that will cause them to need therapy when they grow up!
Today, my two-year-old had trouble going down for his nap. He began crying for me, and I'll admit that my first instinct was to lay him down, tell him that it was naptime, and walk away (Curse you Baby Wise). I had things to do, laundry to fold, and blog posts to write. But something stopped me - the still, small voice reminding me that this little boy desperately needed me. I scooped him up with his blankie and rocked with him. I rubbed his baby soft cheeks and smoothed his hair. I whispered how much I loved him and cuddled him close. Exactly two minutes later, he told me he was ready for his nap - TWO MINUTES! How many times have I missed out on cuddling him and smelling his sweet baby scent because I was too afraid to lose TWO MINUTES?! Too afraid to "spoil" him or create a "bad habit"?
It's taken me years to find my own voice as a mom. I've decided that it's okay to co-sleep...and it's okay to put your kids in a crib. It's okay to use a pacifier....and it's okay to rock or nurse your kids to sleep. I now know that while reading to your kids and playing games are important, one or two (or four or five) episodes of Dora and Diego are not going to hurt them either - especially when you're sick and they're sick and you desperately need a shower! I've learned that teaching them to share and be kind is more important than teaching them their ABC's and that it's almost impossible to find two mothers that will agree on every single aspect of parenting. I wish someone had shared these truths with me before. I wish someone had written a Baby Wise book that told me that a few months would pass and my little baby would be a big first-grader playing soccer and basketball, reading to his baby brothers, and getting ready to go to camp for the first time. I wish that they told me that there was really no way that a book could ever make me "Baby Wise".