As moms, we do everything we can to protect our children. We baby proof our homes and put helmets on them when they ride their bikes. We watch what they eat and limit their screen time. We bundle them in the winter with hats, coats, scarves, and mittens. We put sunscreen on their skin and hats on their heads in the summer, but we often neglect protecting their sensitive eyes. I know I'm guilty of letting my kids out in those party favor sunglasses that really don't protect them from anything!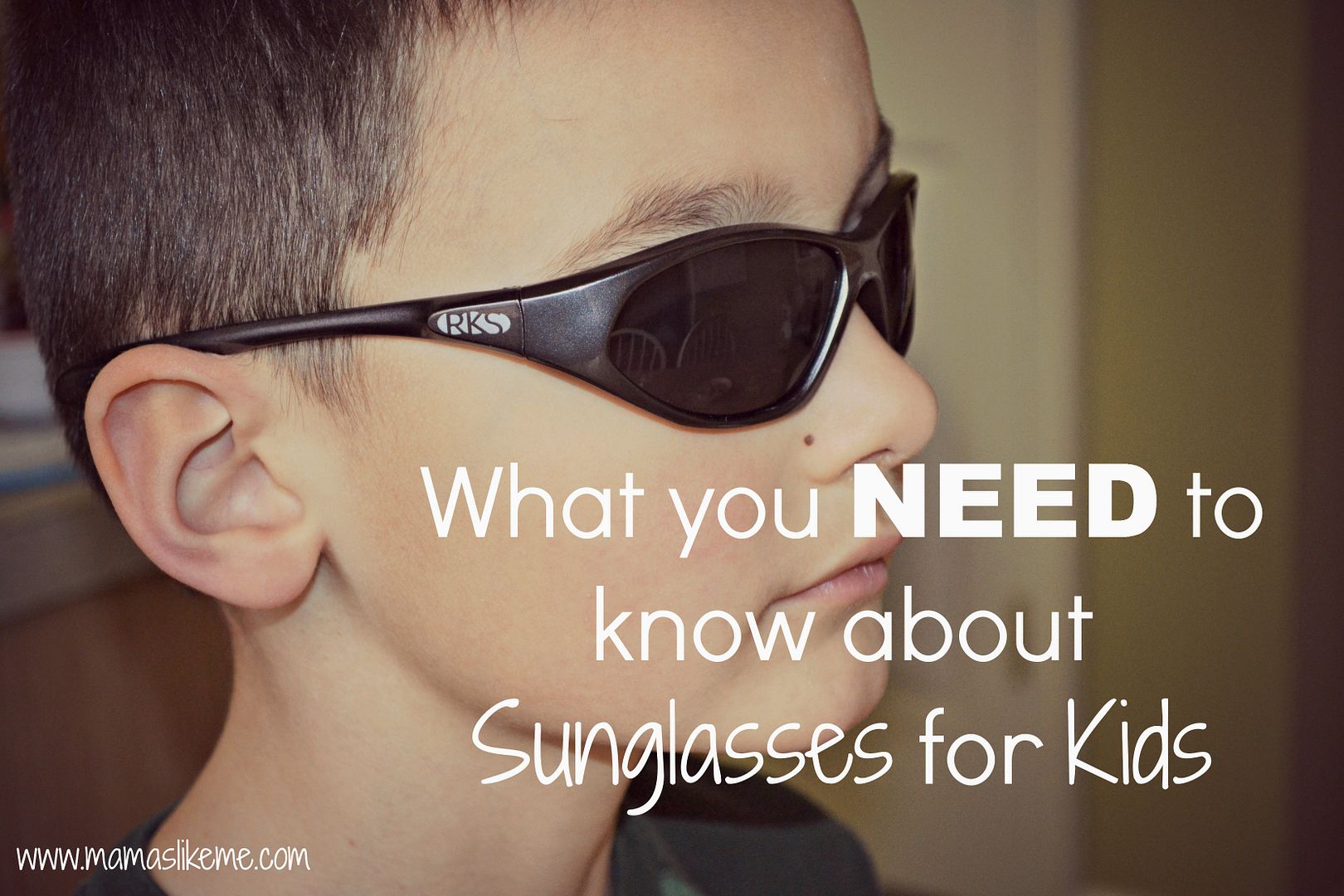 According to the American Academy of Pediatrics, children under 10 years of age are at an increased risk for permanent retinal damage from sunlight. That means that the same sunlight that we're all worried about slathering on sunscreen for is also damaging our children's eyes. And it's not just a summer concern, either. Even though the harmful effects are three times greater in the summer months, children's eyes can still be effected in the winter, even on overcast and cloudy days. In addition, unlike skin cells, our eyes cannot repair themselves. Once the damage is done, it's permanent.
When choosing sunglasses for your child, make sure you:
Only purchase sunglasses that are prove

n

to block 100% of both types of ultraviolet rays (UV-A and UV-B).

Check the lenses for scratches and bubbles. This can cause children to squint or develop headaches.

Take into account your child's active lifestyle. Consider impact-resistant frames that are bendable and unbreakable.

Look for sunglasses with polycarbonate lenses. This is the most impact resistant material (often used in eyeglasses for children)

Consider wrap-around designs to help protect again peripheral UV rays.

Make sure the sunglasses have a snug, comfortable fit. For babies and super active kids, banded solutions that fit under hats and helmets are best.
Real Kids Shades is dedicated to providing the very best protection available with their 100% UVA/UVB rated lenses. They offer fun styles, adjustable comfort bands and innovative features to ensure a great fit for kids of all ages. I was lucky enough to receive several pairs of Real Kids Shades to try out with my children. We received:
My First Shades
Green Frogs for 0-24 months for Baby C $14.99- These had a handy velcro adjustable strap that was super soft. (I apologize. The baby has been sick and cried every time I tried to put these on him. I'm pretty sure the cold is giving him a sore nose so he isn't happy with Mommy messing with his face. I'll update with a picture of his shades soon!)
The
Flex Duo
in Black and Red for ages 3-7 for Baby E $14.99 - My 2-year-old immediately wanted to bend and play with his shades and they stood up beautiful to his rough-and-tumble ways. They come with a detachable wrap-around band and the rubber frames were virtually indestructible! (BTW - My 2-year-old wouldn't slow down for a picture, so I grabbed one of my Daycare kids. Isn't he a cutie?)
The
Xtreme Sport Shades
in Black and Blue for ages 3-7 for Middle Brother $19.99 - I was surprised at how much my 4-year-old loved these! They don't look like "traditional" sunglasses because they have the elastic band instead of the regular frames, but they couldn't be more perfect for our most active child! They will certainly come in handy during soccer season this Spring.
and The
Glide Graphite Shades
for ages 7-12 for Big Brother $14.99- These also came with the detachable strap and are quite stylish for your tween.
I can not say enough good things about these products. My kids loved them. They were comfortable and extremely durable. As a mom, I feel great knowing that I'm protecting their sensitive eyes and giving them something that they enjoy wearing.
Now, for the fun part! Real Kids Shades is offering a pair of shades of your choice to one lucky reader. Simply fill out the Rafflecopter form below. You can also check out all their great styles on their
website
and keep up with all the latest deals by friending them on
Facebook
or checking them out on
Twitter
.
a Rafflecopter giveaway