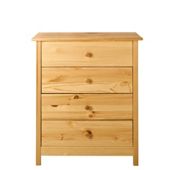 If you've been following along, you know that one of my
goals for 2013
is to get the house "more" organized. With four kids, I know I'm not going to overhaul my home, but each month I'm tackling a small organizational project. In fact, I did a whole series of
organizational ideas
to help us all get more organized.
I've found with my four boys that the hardest thing is finding storage solutions that are practical, easy to use, and contribute to the decor of the house. I don't want my home to only be filled with plastic bins (yes, we have those) and huge tubs (check and double check). Sometimes, though, all it takes is a
great chest of drawers
to help you get a room more organized.
Let's take this nightstand turned Lego table from
Kids Play Ideas
. This will be one of my projects for this Spring. The little Legos are starting to take over and the boys need somewhere safe to keep their creations!
We currently have a nightstand in my son's room that we use for toy storage, but I can see it becoming a Lego table very soon.
I also love how
The Frugal Homemaker
uses a chest of drawers in her dining room as a separate buffet. (In fact, I'm pretty much in love with everything she does and will be coveting her DIY painted curtains until I finally break down and make some of my own!!) Since our china cabinet is currently home to all the extra craft supplies, I could really use some extra storage in that room for linens and holiday dishes.
I'm also on the hunt for the perfect chest of drawers for the foyer. The console table we currently have is just not cutting it. I'd like to assign each child a drawer to keep their gloves, hats, scarves, shoes, etc. so they're not all over the floor or jumbled together in the basket we keep under the table.
We're past the point of needing a new changing table, but I just love the current trend of using a dresser or chest of drawers as a changing station. (I tried finding the original source, but the link was no longer working.)
You can bet that I'll be on the look-out for great deals on chests of drawers for just about every room in the house. Not only do they hold a lot of stuff and keep it organized, they also have the added benefit of hiding away all those batman toys, blocks, linens, DVDs, or other items that you don't want to see every moment!
Want more ideas for spending time with your kids? Be sure to follow us on
Facebook
or
Pinterest
and
sign up for emails
to keep up with all the latest crafts, activities, and kid-friendly recipes!
Disclaimer: This post is brought to you by Tesco...as always all ideas and opinions are my own and not swayed by outside sources.