We were truly fortunate to have the opportunity to sample some amazing local bakers for the boys' carnival party. They added so much to our food display and made for some very happy guests!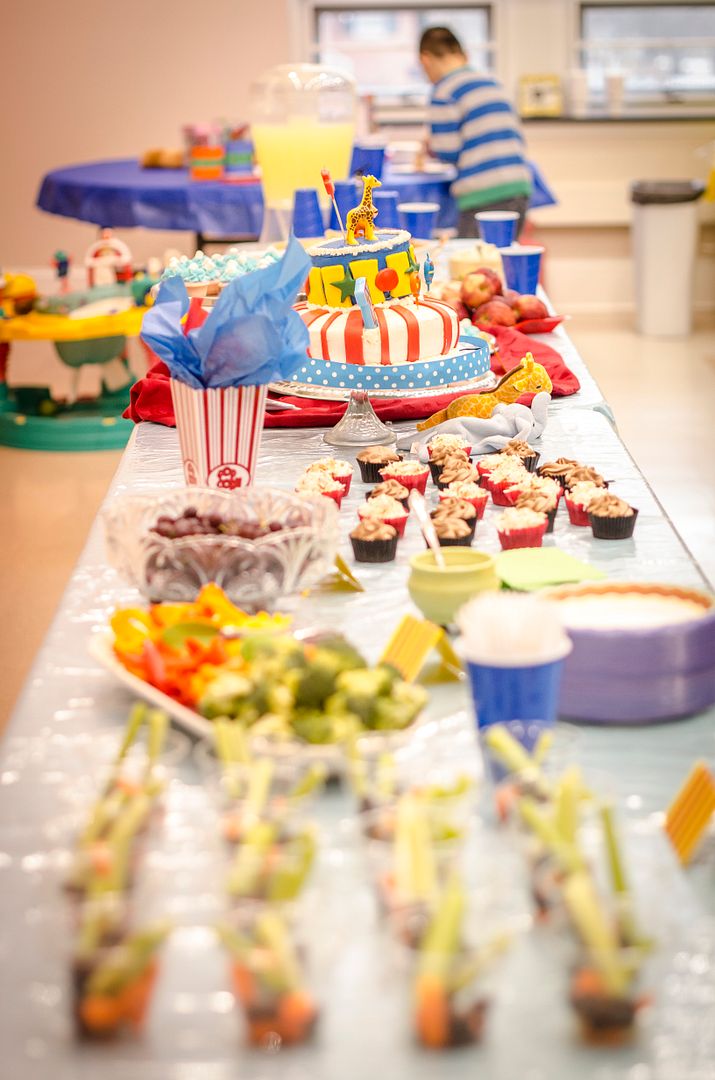 We had some wonderful Cocotte Chocolate and Red Velvet Il Mio Amore gourmet cupcakes from Jessie of
Mi Amore Cupcakes
. Just listen to the description of these chocolate cupcakes: "
dark and milk chocolate cupcake with dark and milk chocolate chips, topped with a fluffy double chocolate whipped sugar frosting" - need I say more??
I saw one of the dads sneaking his third chocolate cupcake halfway through the party :) The frosting on these cupcakes was divine. My sister was a fan of Jessie's version of the red velvet cupcake with a special vanilla raspberry cake and cream cheese vanilla icing. The coconut topping was just delicious!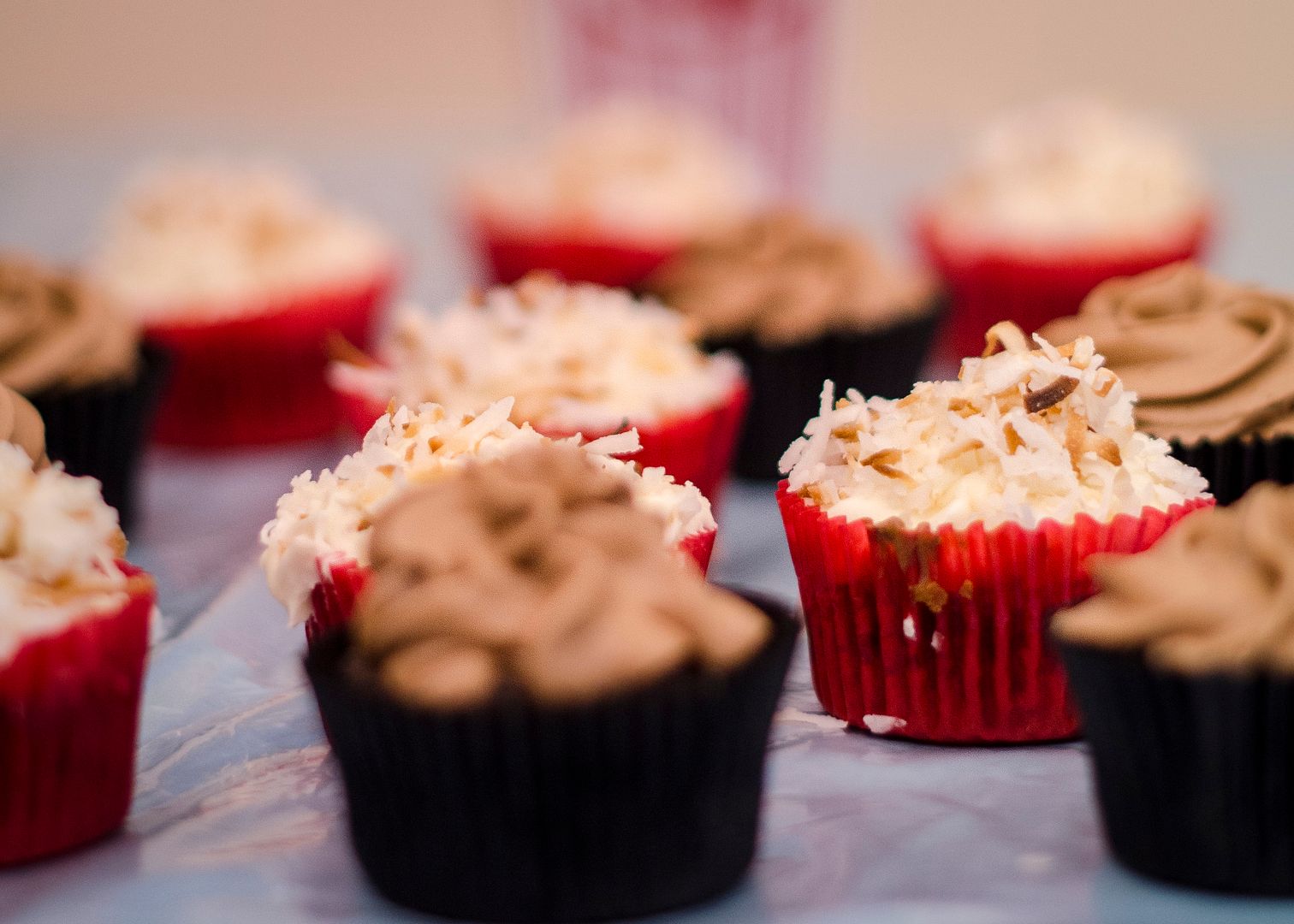 Jolene from
Sugar Rush
created some cotton candy cupcakes to go along with our Circus/Carnival Theme. They were a special request from my 7-year-old! He was so excited about them. In fact, he ate several of those mini-cupcakes instead of the cake that he insisted he needed Mommy to bake. The cupcakes were light and fluffy and, even though I don't particularly like cotton candy (I know, shocking!!), the frosting made them taste exactly like cotton candy! I was truly impressed with these little guys.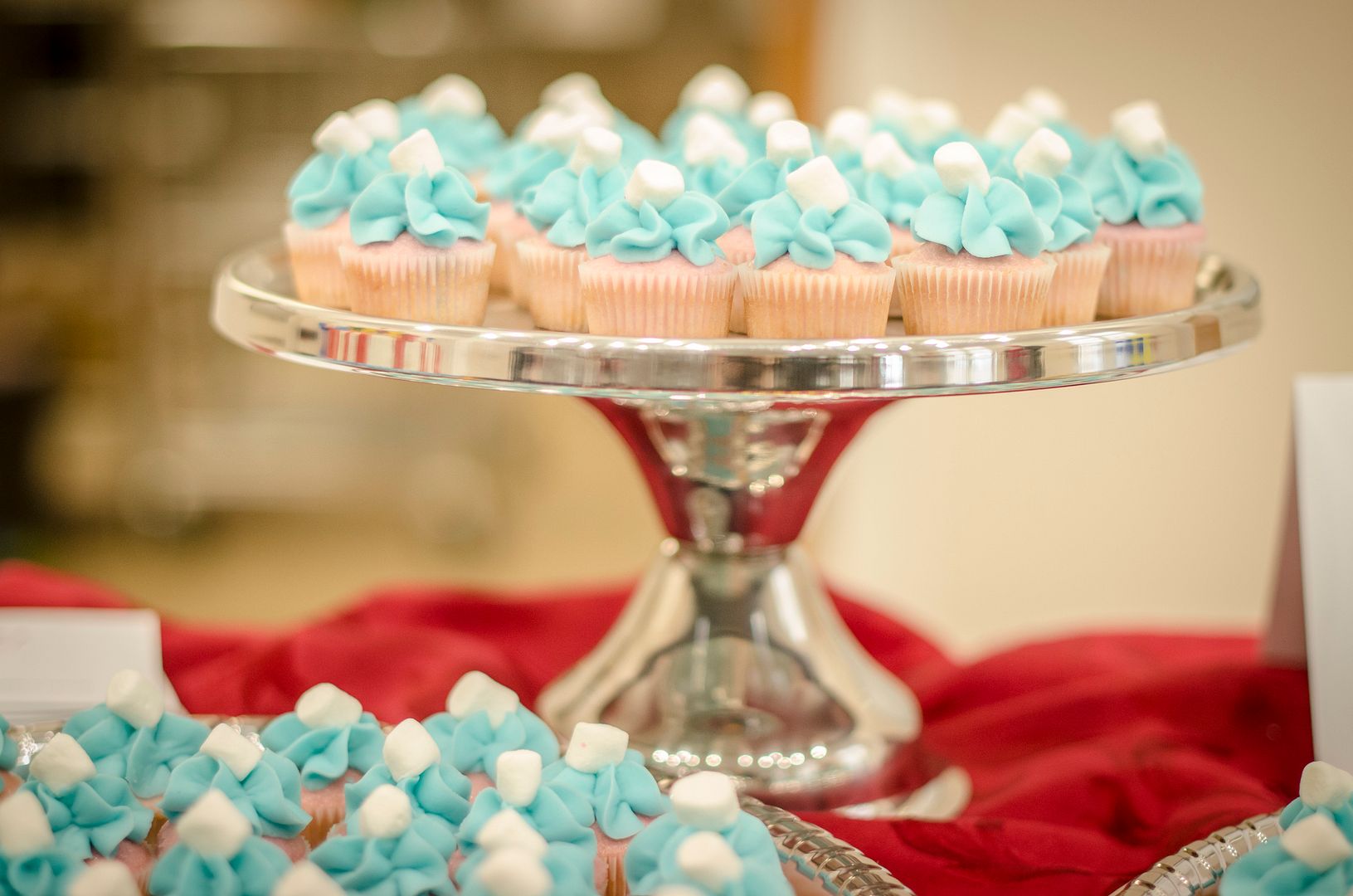 So, even though we had an incredible assortment of gourmet cupcakes, Big Brother was adamant that Mommy needed to bake his birthday cake. I have made the boys' birthday cakes for them every year and it's just not the same if I don't do their cake. This was my first time with fondant. It didn't turn out exactly how I wanted, but the boys were happy and I definitely learned a lot in the process! Not to mention the fact that my 2-year-old decided to "sample" parts of the cake while I was at the church decorating the night before. He's lucky he's so cute!!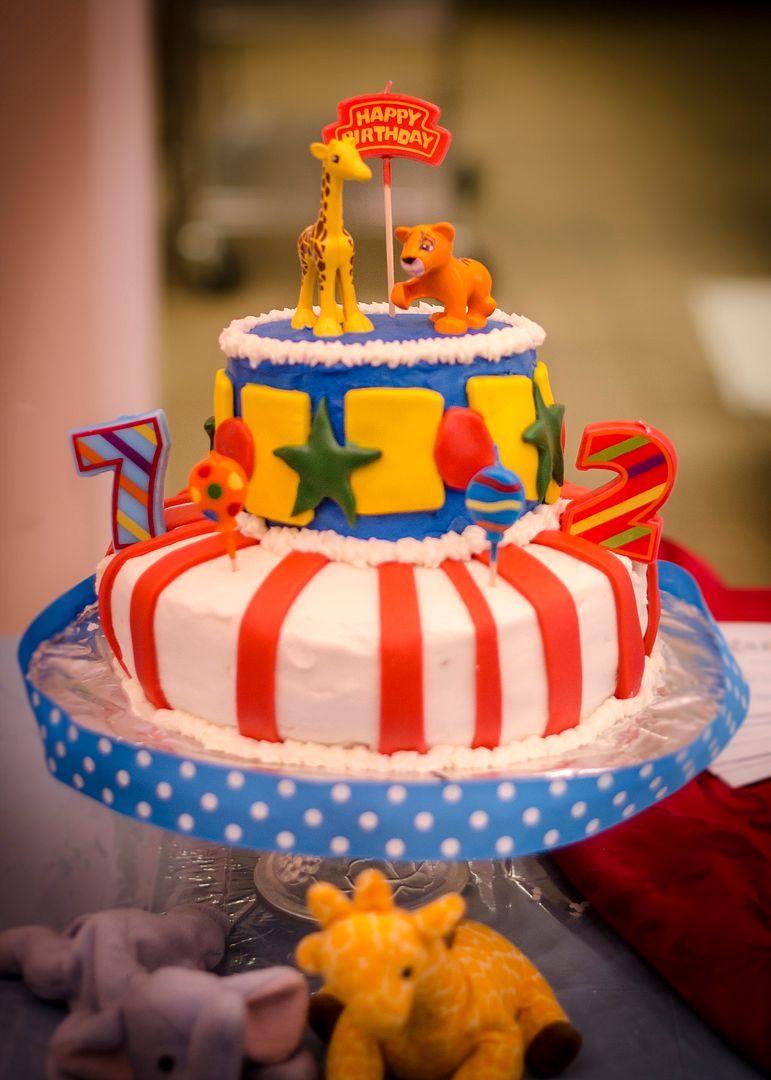 Along with our sweet treats, we had several Carnival-inspired snacks for our guests including:
Big Top Bean Dip (a 7-layer Mexican dip)
Juggling Balls (Grapes)
Acrobat Apple Dip

-

I got this one from Six Sisters Stuff. It's a take on their

Apple Toffee Dip

, but I substituted chocolate chips for the Heath bits. It was yummy!!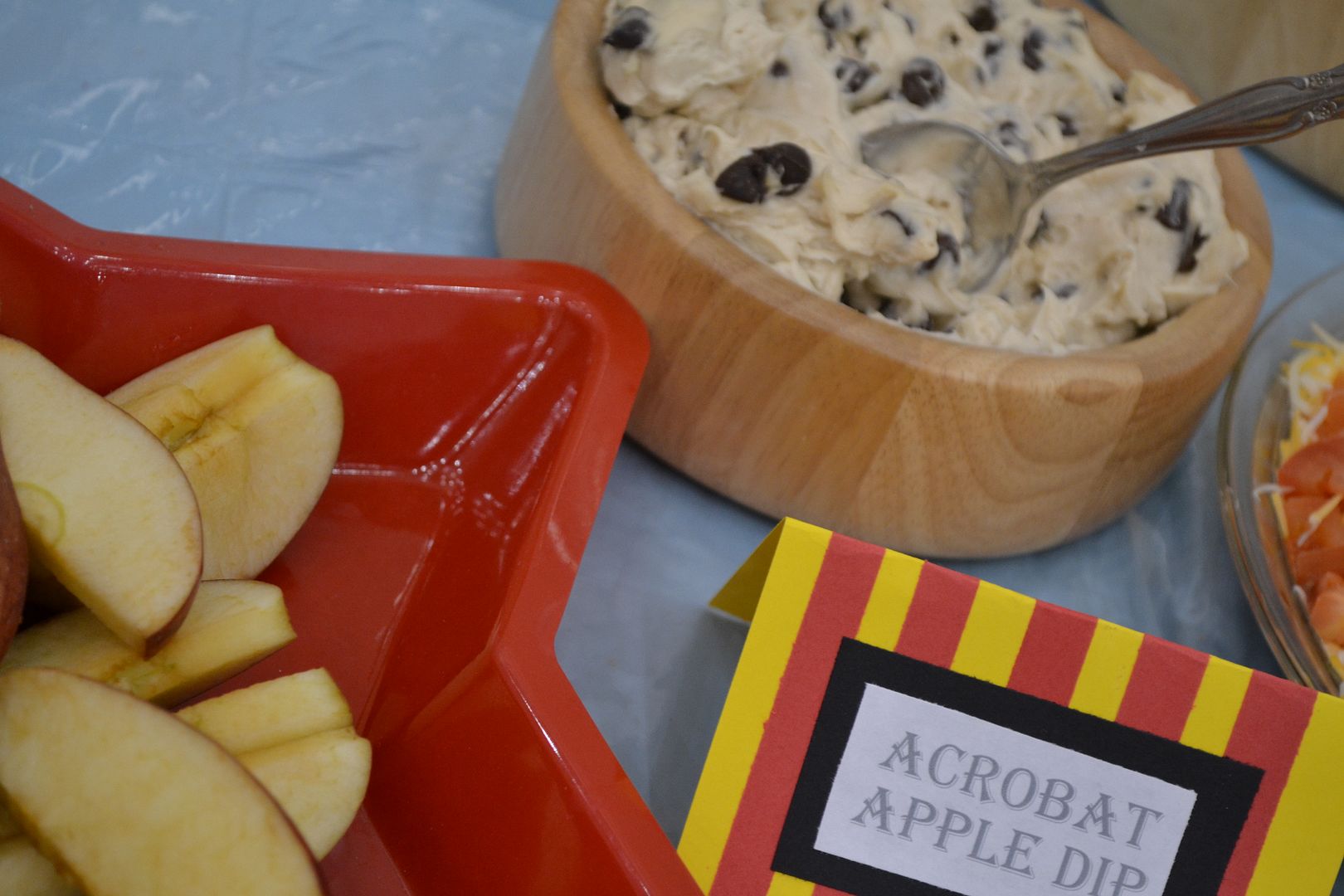 Ringmaster's Garden
(Vegetable Tray)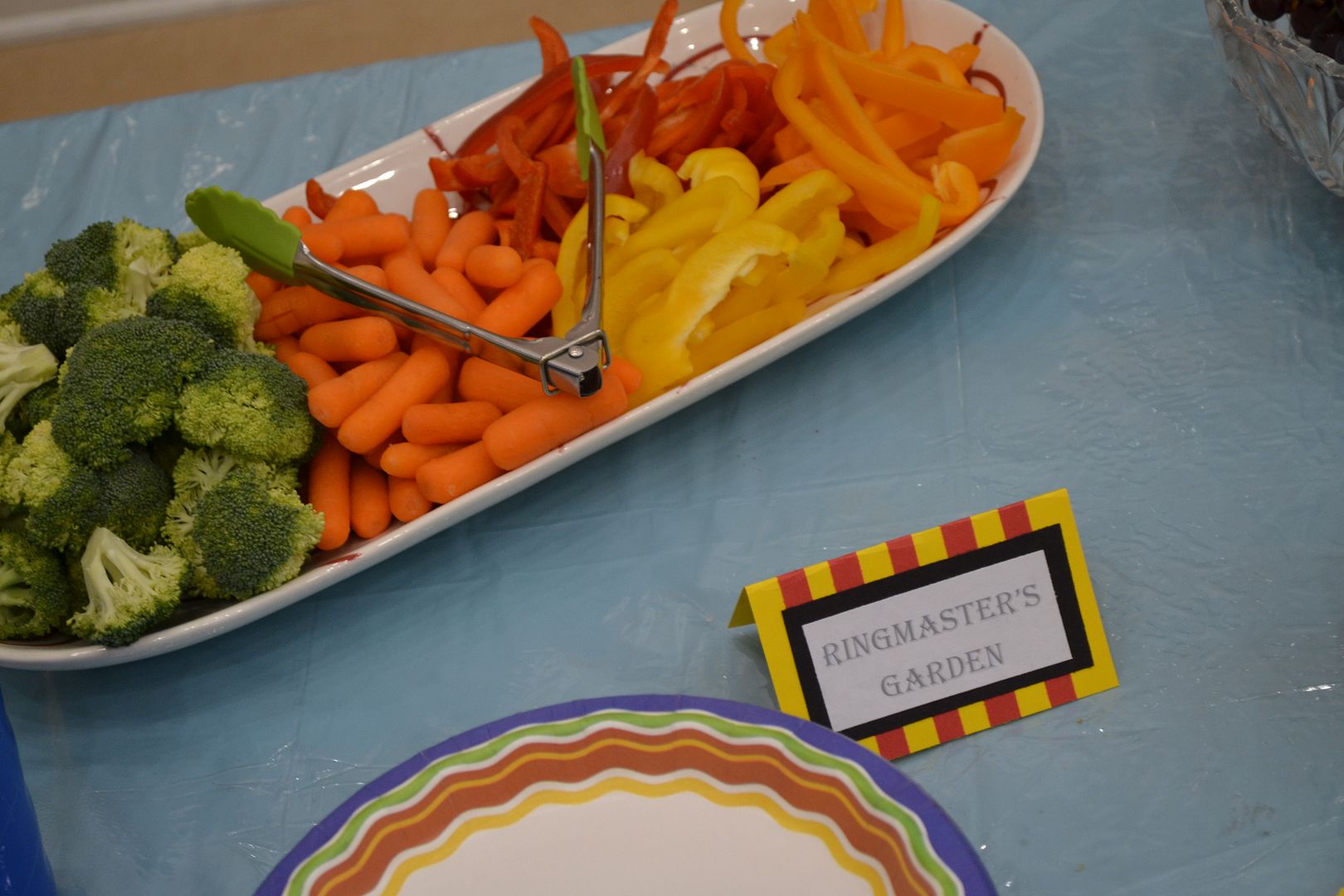 Clown Confetti Dip
- This one was borrowed from
Six Sister's Stuff
so I'm borrowing their picture. Normally I really love their stuff, but I really wasn't a fan of this one. I may try it again with vanilla yogurt instead to give it a milder flavor. Try it out and see what you think!
Elephant Snacks - Plastic cups with celery, carrots, and raisins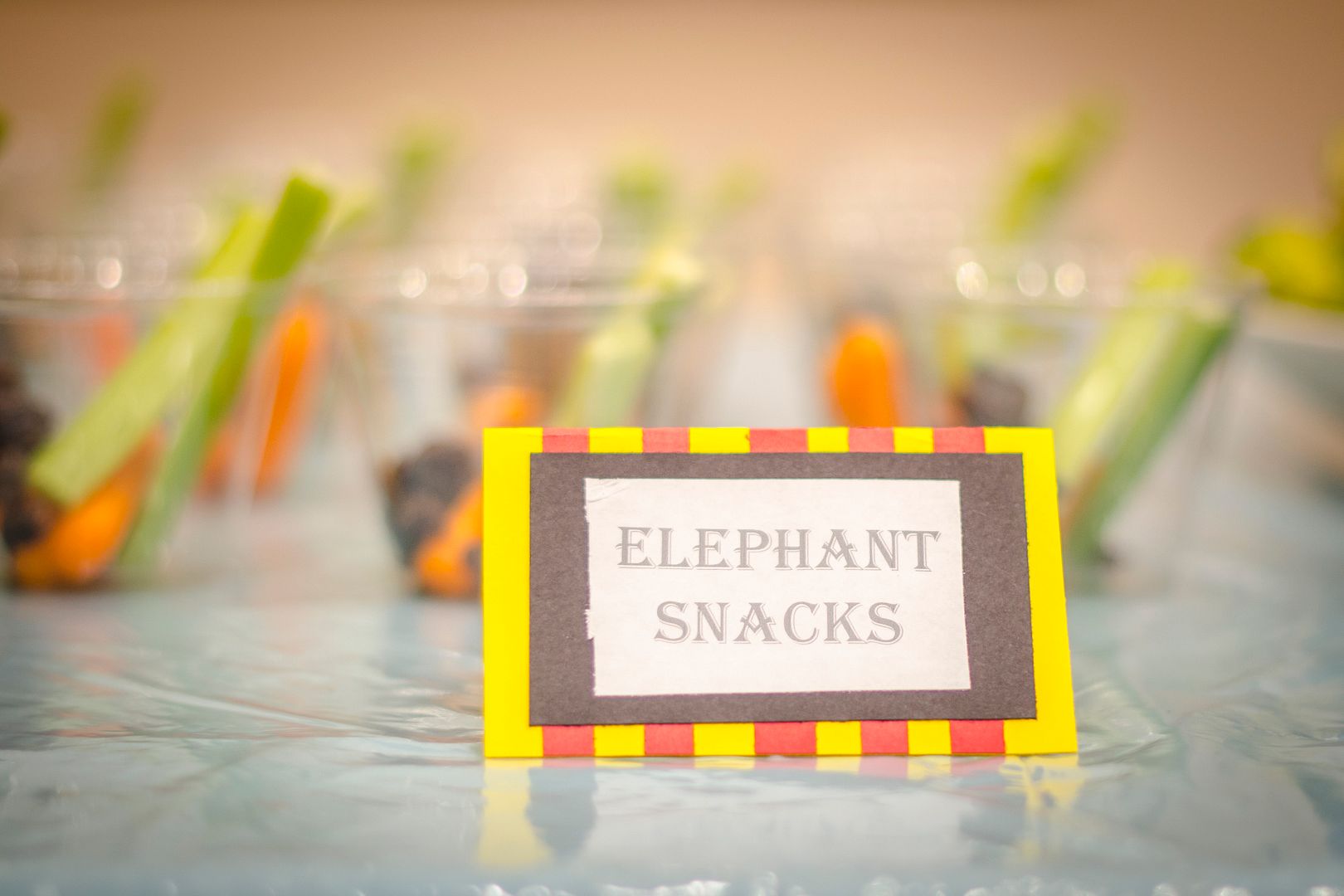 Popcorn - The original idea was to have a popcorn bar, but we simply ran out of room. We ended up air popping it and putting it in white paper bags on a table with some of the toppings for the kids to use and take home with them.
Clown Cone Hat Station - We set up a station with ice cream cones, frosting, and different candies for the kids to create their own clown cone hats.
Want more ideas for spending time with your kids? Be sure to follow us on
Facebook
or
Pinterest
and
sign up for emails
to keep up with all the latest crafts, activities, and kid-friendly recipes!