In case you're just joining us, we've been talking about how to our homes organized with kids. You can catch up on the rest of our ABC series
here
.
T - To-Do Lists
- I have always been a list-maker. I'm one of those super obnoxious people that loves to have a list JUST so I can feel accomplished when I cross something off. Since I've had kids, this has gotten even worse. Now, in addition to needing that feeling of accomplishing SOMETHING in my day, I also need the list just so I can REMEMBER all the things I'm supposed to be accomplishing - like making baby food and washing diapers (you'd think the dwindling pile of diapers would be enough of a reminder for that one!).
Crystal Paine encourages people in her new book,
21 Days To A More Disciplined Life
(by the way, I'm not being paid to endorse her book, I just REALLY love it!) to write down a list of ten things every day that you can accomplish in just a few minutes. The momentum you'll get from crossing them off will help you accomplish the more daunting tasks in your day. I absolutely do this every single morning. I use a post-it note to jot down a few things each day that I want to get done. This usually includes phone calls, any bills that need to be paid, the craft I want to do with the kids, and any articles that I need to get written. I also include the main cleaning tasks that I want to tackle that day like dusting, vacuuming, or scrubbing toilets (oh how I hate scrubbing the bathrooms!). I may not get to everything on the list, but it gives me a focus for the day and stops me from wasting away my free-time on Pinterest!
U - Use What You Have
- Many organizational systems fail before they event start because people rush out to purchase all the things they
need
to get organized and feel overwhelmed by all the selections - and all the cost. I was in Target tonight and they have an entire section of the store now devoted to Getting Organized in 2013. Obviously, everyone is having the same problem, but while all those plastic totes and baskets are nice, I'm sure that you have plenty of things already in your home that you can use to get your kids (and yourself) organized. Coffee cans, plastic food jars, and baby wipes containers are great for holding small toys and school supplies.
Creative Connections for Kids has a great post on
Repurposing Containers for Kid Storage
. I love how she using things that are already in her home to get her kids organized.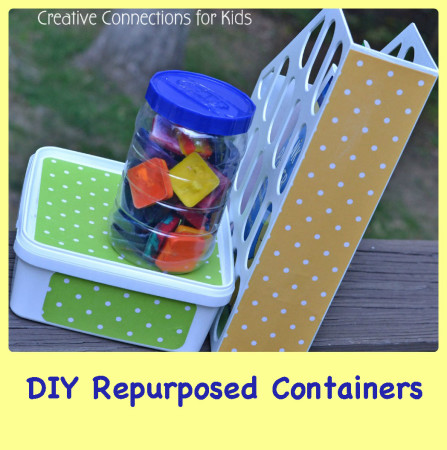 Or, you could paint those old yogurt cups and use them for office supply storage.
And, those old
coffee containers
make great containers for storing Legos and other small toys.
I'm sure you've seen these adorable diaper boxes covered in fabric. They are great for holding toy, stuffed animals, library books, or anything else your hear desires. I have some wipes boxes that I am just itching to get covered! Here is a great tutorial from
DIY on the Cheap
!
V - Vehicle Organization
- If you're like us, you spend a good portion of your time in the car traveling to church, school, sports practices and games, clubs, birthday parties, etc. All that time in the car calls for some serious organization. In fact, I'm not going to even show you a picture of our minivan right now because we made the mistake of giving our toddler popcorn on the way home from Target!!
This is one of the projects I plan to undertake this year as part of my New Year's Resolution Goals. I am in love with the minivan tips from
The Castro Family
. Check out these hanging organizers that are actually shower caddies from the Dollar Tree (score!!). You must check out this link because she actually details what is in each pocket and how she stores other things under the seats, etc. Amazing!!
If hanging organizers aren't your thing, check out these other ideas for emergency kits from
Dirt and Boogers
.
Now, let's talk trash! Oh, how I remember the days when we SWORE we would never let our kids eat in the car. HA! Then, reality kicked in with three hungry kids and only half an hour before soccer practice! Thank you
Better Homes and Gardens
for this quick tip: Take a plastic cereal container and repurpose it into a mini trashcan. I can see us adding a few of these to the minivan next week!
Stay tuned for our last part to this series. I'll be wrapping up with some tips for organizing your family's meals and snacks and focusing on what's really important this year :)
Want more ideas for spending time with your kids? Be sure to follow us on
Facebook
or
Pinterest
and
sign up for emails
to keep up with all the latest crafts, activities, and kid-friendly recipes!