Today we're continuing with our series on Organized Living with Kids from A - Z. If you're just joining in, you can catch up on the previous posts here.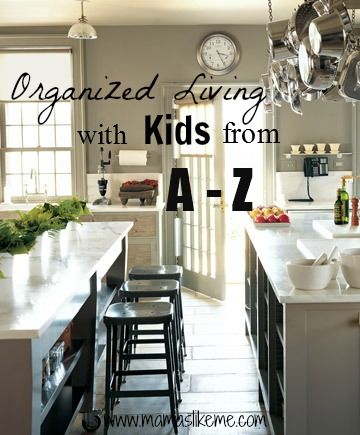 Q - Quit Procrastinating
- Talk about "the pot calling the kettle black". I am the worst about procrastinating. In fact, as I write this, I'm thinking about all the other things I could/should be doing and making deals with myself about how I could finish this later in the evening. I recently read a great book
21 Days To A More Disciplined Life
by Crystal Paine. One of the things she recommends is doing the task you dread
first thing
in the morning. For me, this is
unloading the dishwasher
. The task itself takes less than 10 minutes, but I LOATHE it! If I go ahead and do it first thing in the morning, it's done and the rest of my day is that much more productive. If I let it wait, I end up with a sink full of dishes and the task becomes that much more dreaded! For some of you, the dreaded task is laundry. For others, it's paying bills, making beds,
packing lunches
, or
cleaning bathrooms
. Whatever the worst task of your day is, get it over with as soon as possible and I promise you that your day will be much more productive!
R - Routines
- I once read a blog post written by a first time mom (I'm sorry I CAN NOT remember who or where this was). Anyway, in it she talks about how great it was that her daughter didn't have a routine. She could go anywhere at any time. She didn't have a nap routine or a schedule and she LOVED it! She couldn't understand why her friends with kids were so stuck on being home for naptimes and following bedtime routines. Fast-forward nine months and this mom realized WHY these parents were so stuck on their routines - because ROUTINES ARE IMPORTANT! This poor mother had a nine-month-old who would not sleep for more than 20 minutes at a time. She had no set schedule and now they are suffering the consequences. Kids thrive on routines in all areas of life: school, home, church - everywhere. They are much more relaxed when they know what to expect. If you're looking for ways to get started on routines, you can check out my
personal morning routine
. I also have
morning and bedtime routine charts
for the older boys to help them check off what they need to do every morning and before bed.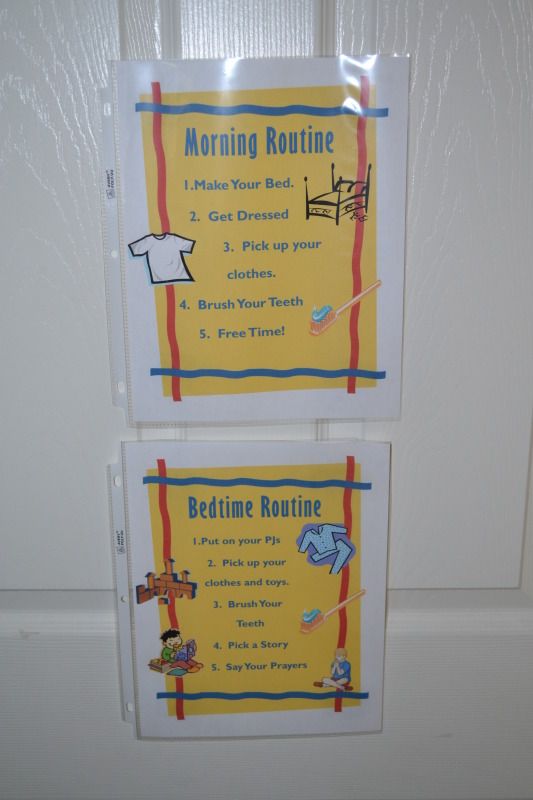 If you're just getting started with routines, check out
Flylady
for a wealth of information, but the most important thing is to remember that
it takes at least 21 days for anything to become a habit.
Don't try to change everything at once. Pick one thing that will make your life easier and commit to doing that for 21 days. When you feel comfortable with that routine, add another habit and be proud of your accomplishments :)
S - School Work
- Currently, we display artwork on the fridge (everyone's place of honor) and let the kids hang some of it in their room on their door. I set up a simple hook and string system downstairs, but our artwork proved to be too strong for our hooks...so, back to the drawing board.
Giver's Log
gives some great ideas including my string with mini clothespins trick. She also recommends wrapping fabric around a magnetic strip and using it to hang artwork with magnets. Genius!!
I also love this idea from
Frill Fluff and Trucks
to use a curtain rod to hang artwork.
And, I'm absolutely in love with this wall display tutorial from
A Little of This - A Little of That
.
Another thing, I want to do is to organize a 3-Ring Binder for each of the kids to keep some of their work in. Once we've displayed something on the refrigerator, I always feel guilty throwing it away. If each of the kids has their own binder, they can use sheet protectors or just put holes in the pieces they really want to keep. When it is full, they'll have to decide what stays and what goes! If we start now, they can have a collection of binders to hold all of their favorite pieces and school projects.
Be sure to check in tomorrow when I'll be sharing tips for organizing your vehicle and using what you already have to get organized!
Want more ideas for spending time with your kids? Be sure to follow us on
Facebook
or
Pinterest
and
sign up for emails
to keep up with all the latest crafts, activities, and kid-friendly recipes!