It's our last day of the Organized Living series and I'm almost sad to see it go. I've had so much fun sharing our tips with you and searching for ways that we can get even more organized this year. So far, I've really been focusing on "Nixing the clutter" because, let's face it, you can't organize clutter! I'll be revisiting this topic throughout the year and showing you the projects that I'm working on at home. Please feel free to share your ideas with me, as well!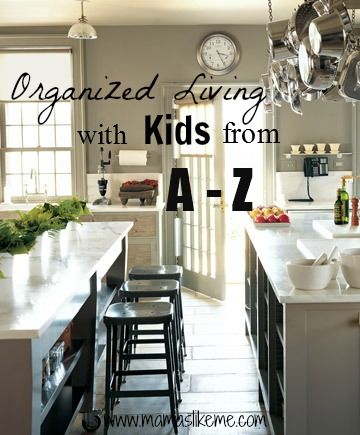 If you've missed part of the series, you can catch up on all the posts
here
.
W - Write a Menu Plan
- This one will not only keep you organized, but save you money as well. Sitting down once a week for 15 minutes to write a menu plan and make a grocery list from it will save you countless hours throughout the week worrying about what you're going to fix and staring blankly at your freezer (yes, I've been there!). It will also save you time at the grocery store and keep you from making those costly "mini-trips" throughout the week. Even if I just send my wonderful husband to the store to pick up ONE item, he inevitably comes home with a bag full of stuff and at least part of it will come from the canned-meat aisle (ewwww...). You can find some adorable printables over at
Design Finch
....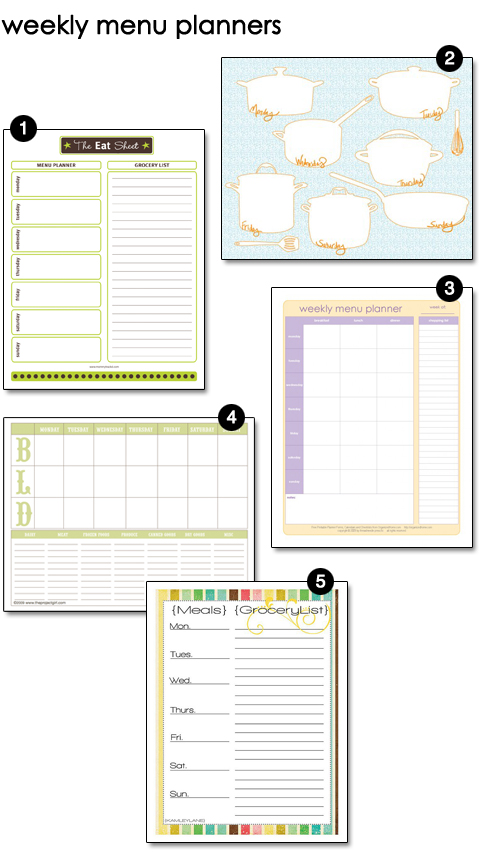 Or, you can do what I do and just jot them down in my planner. I used to write down my menus for breakfast, lunch, and dinner, but now I've been home so long that I have a memorized routine for breakfast, and lunch is often leftovers from the night before. Really, I just focus on having dinners planned for the week. Now, I know some of you are saying "What if I don't feel like eating that?". Well, there's two schools of thought on this: 1) Suck it up and eat it anyway. With a larger family, I'm more apt to go with this one since it just makes things easier. Plus, if I don't eat what we have planned, I'm much more likely to end up with take-out or 2)Make a weekly plan and then just choose which dinner you feel like having each night. This way you have the ingredients on hand for 6 or 7 meals and you just pick which one you'd like to have. You could even let a different child choose each night from a list of meals. This would be a great use for those cute DIY chalkboard menus that many kitchens have! Here's a great tutorial for those from
Ginger Snap Crafts
.
X - eXamine Your Priorities
- Each of us only has a certain amount of time in our days and space in our homes. It's up to us to decide how we spend them. In order for our homes to run more efficiently, we need to learn to say "no" to over-extending ourselves. As moms, we want to do it all: work full-time, take care of our kids full-time, volunteer in the schools, run the carpool, make gourmet meals every night, keep our homes spotless, and still find time to DIY like Martha Stewart. It just can't be done. As for me, I've had to accept the fact that I will not be able to be a Room Mother for my kids. I will not be able to make all the play dates. And, I will not be attending the PTA meetings. It's not that those things aren't important to me, it's just that other things were MORE important. For me, it's most important that I am home contributing to our finances and taking care of our own children. You have to decide what's most important to you and cut out the things that are keeping you from truly enjoying your time with your family. Maybe your family needs to reduce the number of sports and clubs that your kids are in. Or maybe you need to talk to your spouse about the amount of overtime their working. Whatever it is, make the commitment to put your family first and to make your home your family's favorite place to be.
Y - Yummy Snacks
- In our house, our kids can always go to the fruit bowl on the kitchen counter for snacks. If they're hungry, I'd much rather them grab seasonal fruit than anything else. We also have the bottom drawers of the refrigerator that hold string cheese, bags of baby carrots, and other cut up veggies for them.
Since we have so many (daycare) kids in the house, most systems of organizing snacks won't work for us. It's just not time-efficient for me to separate every snack for every child into ziplock bags, but if you only have a few kids, there are some great ideas out there for organizing snacks to make sure your kids can independently choose healthy options.
The House of Smiths
has a great layout for separating individual portions into baggies and containers to help with portion control. For us, this would be most handy for packing lunches, weekends, and summertime. I love the idea of having a set number of snacks for the week and they get to choose which day they want which ones on.
Z - Do it with PiZZaZZ!
In everything you do in your home, let your passions shine through! Our homes are a work of love and all the tips and tricks in the world won't make a difference unless you implement them with love and your own personal style! As for me, I love simplistic living and neutral palettes in my decorating. As the year goes on, I'll be sharing my favorite projects with you, with the goal of bringing more peace and joy into my home! I hope you'll join me and that this will be a year where you put a little more serenity back into your home :) We can all use a little more peace, love, and joy!
Want more ideas for spending time with your kids? Be sure to follow us on
Facebook
or
Pinterest
and
sign up for emails
to keep up with all the latest crafts, activities, and kid-friendly recipes!