Welcome back to our series on getting organized for 2013. If you're just joining in you can catch up on letter A-N
here
.
Today, we're focusing on two areas of my home that I definitely need help with.
O - Outside Play
: Our garage is a mess! Well, maybe not as much a mess as it is overrun with kids' toys. There is literally no room for our vehicles because of the endless amounts of coupe cars, wagons, slides, bikes, tricycles, riding toys, scooters, baby pools, balls, frisbees....you get the idea! Then, there's my husband's (mostly unused) tools, boxes of teaching stuff, and other miscellaneous garage junk. My first step out there would be to declutter, but then I'm really aiming to use some of these great ideas to keep our stuff organized.
I absolutely love this simple idea from
KC Edventures
for getting kids to "park" their toys in the same spot...of course, our garage would require a whole parking lot of spaces, but I think it could work :) She has lots of great ideas for making your home more kid-friendly!
I also love the idea of using cables for storing sports equipment or using a shoe organizer to hold sports balls. I'll definitely be keeping my eyes open for a cheap one at the thrift stores and summer yard sales.
We definitely need to add a set of shelves with buckets like these to store our chalk, bubbles, water toys, and sand toys. Thanks
Child Care Chatter
for posting so many great ideas for storing outdoor toys!
Maybe after we're done getting all the toys under control, we will finally be able to park our cars in the garage!
P - Playroom
- In our house, we have a large playroom in the basement and I hope to add another one upstairs once the baby begins sharing with his big brother. In the basement, we use large bins, small bookcases, plastic baskets, and wicker baskets to organize everything from blankets, to dress-up clothes, blocks and musical instruments. It's all functional, but it's not overly stylish. In fact, it screams "I'm a preschool room". This year, I'd like to update the space a bit to be both functional and a space that reflects our family's style.
First, I'm hoping to add some
extra storage
for the toys. I love these open cubbies to help keep each toy separate and still in view so the kids are encouraged to play. Modern Parents Messy Kids has some great advice about rotating toys and shows before and after photos of her
Toy Organization 101
.
This one even includes colorful baskets to help contain everything while still keeping it accessible. I just love the little suitcases that would allow kids to hide their treasures.
In addition to more toy storage, I'm looking to add ways to get more artwork up on the walls. I'm saving my plans for school artwork for tomorrow, but here are some of the DIY art that I'm hoping to get to...you know, in my free time (with 4 kids
and
daycare
and
writing...)!
Like this
DIY chalk board
from Less Than Perfect Life of Bliss.
And these adorable Book Cover Canvases from
PSA stamp camp
. Thankfully, she gives directions on how she made them!
And, this fabulous Playroom Rules Sign from
Barn Owl Primatives
. I'm not sure my husband will view this as a necessity, but maybe I'll get ambitious and make my own :)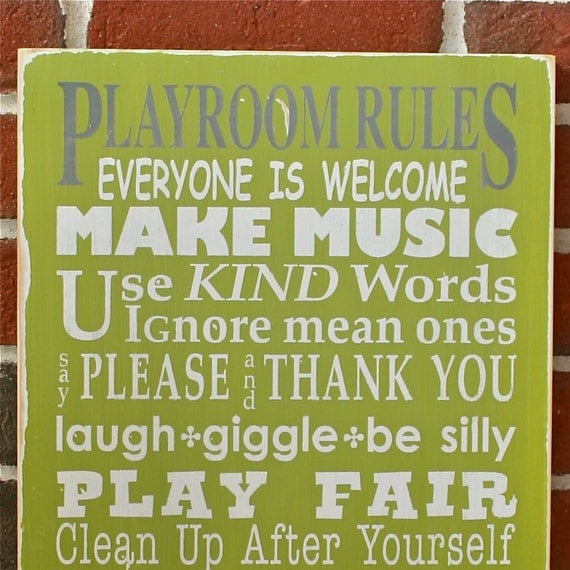 In addition, I want to add a reading nook for the kids. They already have some large pillows and flip out couches, but I just love these great spaces for kids.
If you're not using your closet space, you could turn it into a private little reading getaway! You can find out how at
Remodel Aholic
.
And, how cute is this
tent reading nook
from Ana White Homemaker?!
But, I have to be realistic and realize that we'll probably end up with something simple like this great little corner with comfy cushions and the perfect little bookshelves for kids from
Flor's Blog on Design.
As we make changes throughout the year, I'll update you all and post my progress on my yearly goals.
Want more ideas for spending time with your kids? Be sure to follow us on
Facebook
or
Pinterest
and
sign up for emails
to keep up with all the latest crafts, activities, and kid-friendly recipes!